Juni had slept a few centimeters from me and while moving woke me a few times so my night wasn't ideal but at least I woke a few minutes before the alarms went off.
We quickly got dressed and left the room, and had our luggage carried down and picked up our fancy take-away breakfast boxes. We sipped on our last cup of tea, I walked out to the courtyard and greeted the slingshot man and took in the calm morning and saying my mental goodbyes to Galle Face Hotel for this time.
We got a PickMe car easy, and following the recommendations about one hour travel to the airport and to be there three hours before departure we headed off. The traffic was very smooth and we arrived well in time. The security was a bit beefed up since last time (I assume the terrorist attack last easter was the cause for this) and armed Air Force personnel checked our passports even before we were near the terminal and still in the car.
We had a our luggage loaded on a trolley and pushed for us by a porter to make the best use of our few remaining rupees. After some security scans we were able to actually check in everything without any hassle. I noted that they still have the good old measuring conveyor belts at the check-in desk where you can use your foot under and push up to reduce the reading on the scale but we didn't need it this time.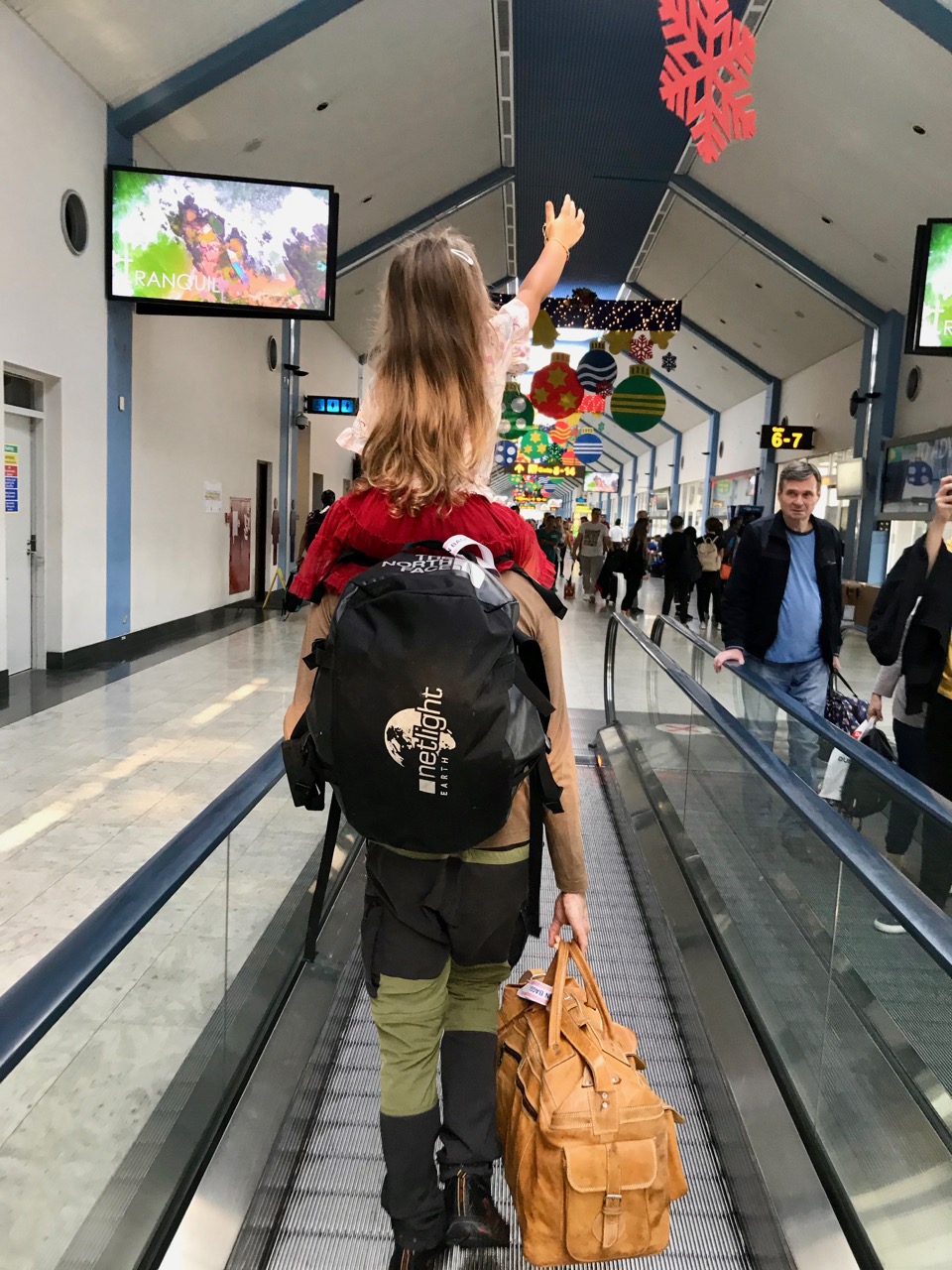 It took three or four scans in total, and we never took out cameras, iPads, computer or opened the lunch boxes with liquids in them. Fun how security always seem to be differently checked, including us having to remove our shoes the third time. Despite all checks we were well in good time. We even followed the call from speakers that we should get to the gate – more than an hour before scheduled departure.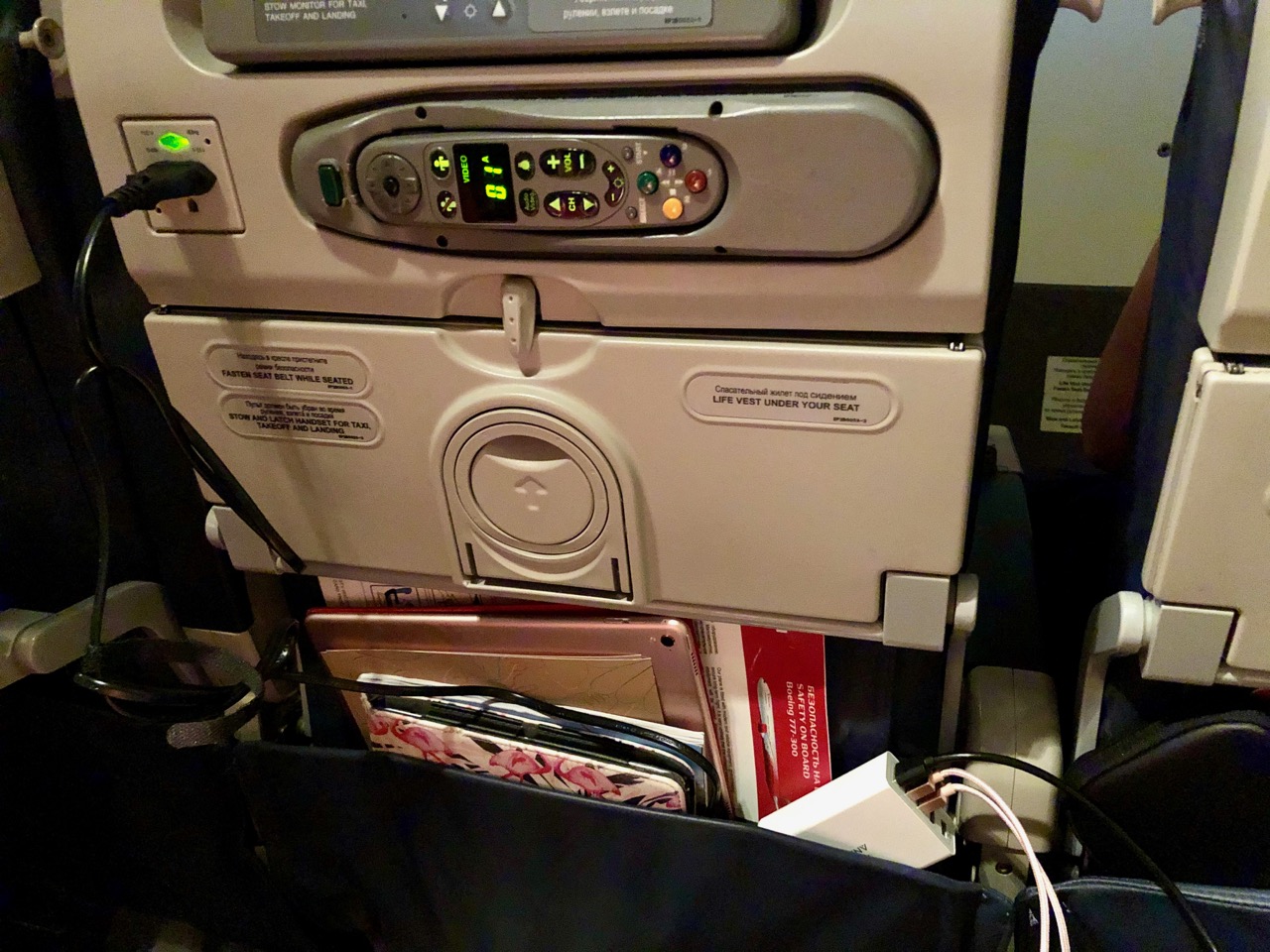 The first leg was the long one, and the infotainment system had perhaps the lowest amount of entertainment possible – but it did have a 110V power outlet which was much better since that would power our iPads and Switch. It was a really tight 777-300 with 3-4-3 seat configuration and we were, of course, in the middle. I had hoped that our seats on line 5 might be extra spacious but, of course, it was the row in front of us. We didn't want to pay for any upgrades and so started to go through the downloaded movies to iPad and the toys given by the staff. The food didn't look much for the world but tasted rather well for airline food. Mona and Juni managed to take a midday nap while I stayed awake for the whole flight.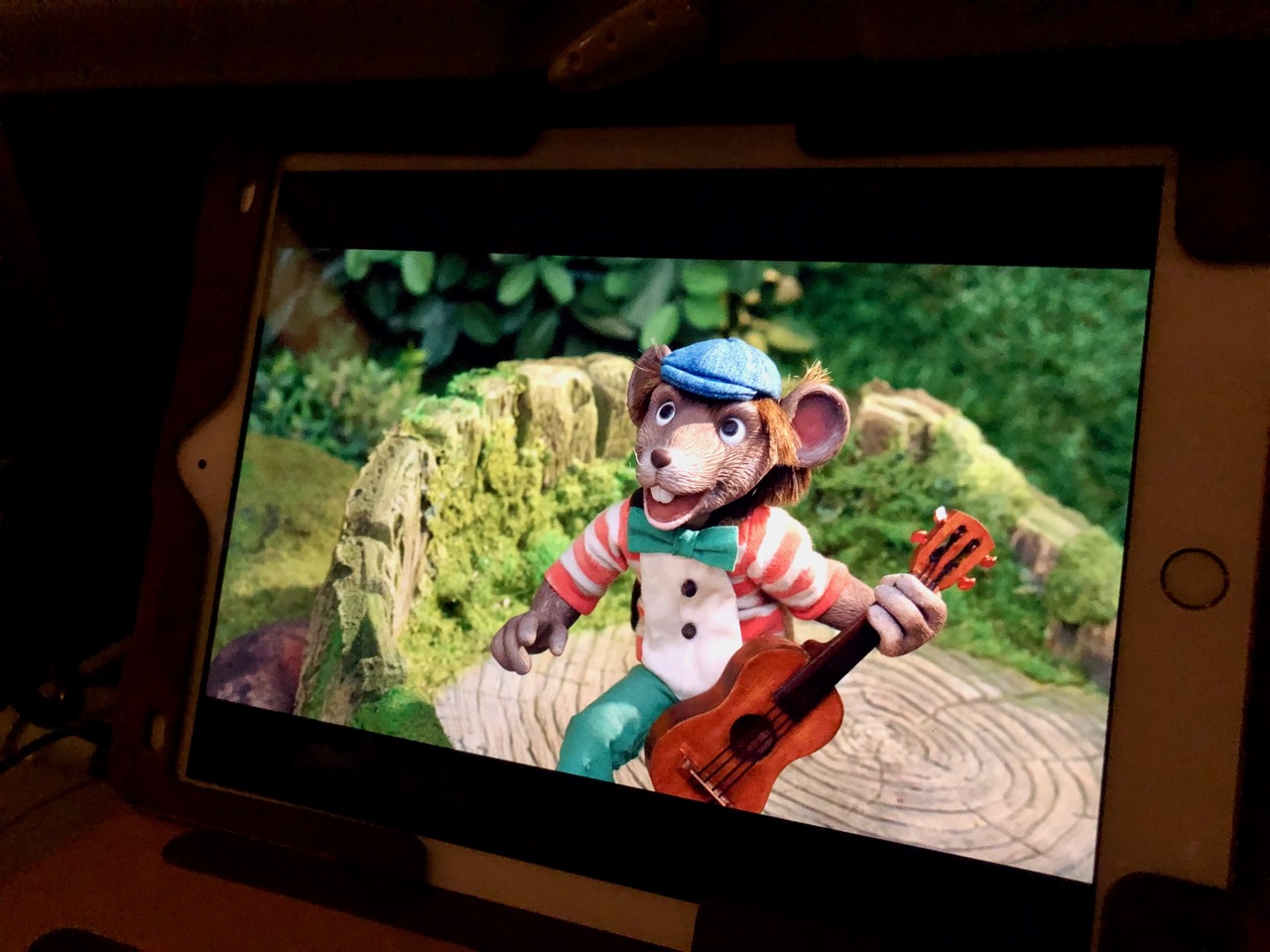 We were among the first out of the plane in Moscow and I speeded for the transfer desk, got our new boarding passes and got us through passport control quickly – only to find out that we had a small walk of 20 minutes or so to get to our gate. We were in no rush but Juni had her sight on the playground from last time so we went there. She made a new friend and kept speaking "English" with her, and every now and then picking up and using a proper word. Moods were good although I was starting to get a bit tired, and when we were at the gate and was about to start boarding and they instead announced gate change and a 50 minute delay I was less than pleased.
Juni was also starting to get sleepy but finally we were able to board the last leg and Juni fell asleep as we were taxing out. MyselfI blinked the eyes, were served some food which and then blinked again as we were about to land and that was a very fast three hour flight.
After going through the last passport control for the day it was time for the true test, to spot our luggage. It seemed bleak for some time after we had identified both our normal bags but no sight of the chair-package but then Mona spotted a familiar package laying on the stopped conveyor belt next to ours (no, not special luggage which I had checked earlier) and it even looked fine. There was much rejoicing and we walked towards the exit, skipping taxfree and thought we would catch a regular train that would leave in a few minutes.
I was in line to get tickets from a vending machine while Mona went ahead, and the clock was ticking mercilessly against the departure time while the person at the vending machine struggled with the concept of entering a credit card. It finally got resolved but with 2 minutes to departure I gave up and jogged to the platform instead. Mona was there, we quickly moved the bags from the trolley into the car – got in and the train departed. Timing is everything, although I felt bad leaving the trolley in the middle of the platform.
As we got to Oslo S it was quite cold and we splurged on a taxi to get us to the doorstep. The long journey was over and after switching the sim-cards and taking out the damp swim clothing we fell asleep concluding it had been a great trip overall. And I've managed to get an unopened water bottle with Galle Face Hotel in the carry-on luggage all the way – take that airport security theatre.