We woke after a good and long night's sleep and crossed our fingers for better luck today. After skimming the fine print of the rental it seemed we ought to contact them so we called Jucy just to check things were cool (we were not really looking forward to handing the car in to their place in Wellington and wait until it got fixed or something equally ludicrous) and we were told that it's all good since we got the stress-free option but we got some forms to fill out and then we will leave the car as originally planned in Auckland and it's their problem how/when they fix it. It was a great start of the day to clear that out and avoid it looming over the day.
The wine-tour was however indeed cancelled, or rather they pooled up with other companies so we  were given the option of an afternoon tour of three wine-estates (Moana, Ash Ridge and Crossroads) and a cheese platter which suited is quite well.
Now somewhat hungry we rushed out and headed out for Breakfast on the Emmerson street (which seems to be their main promenade street), conveniently just around the corner from our hotel and took the first open café. I tried Mona's diet of croissants filled with cheese, ham and lettuce but I really can't get the fascination with croissants – it's just breadcrumbs and air. Anywho, we took the stroller and walked along the street towards the beach. Mona got infatuated with a shop called Storm selling women clothing, I scouted the videogame store but only made mental notes for when I get back.
The beach was almost black and they had a nice platform one could walk out to and get a better view, it was warm but not warm enough for a test of the waters.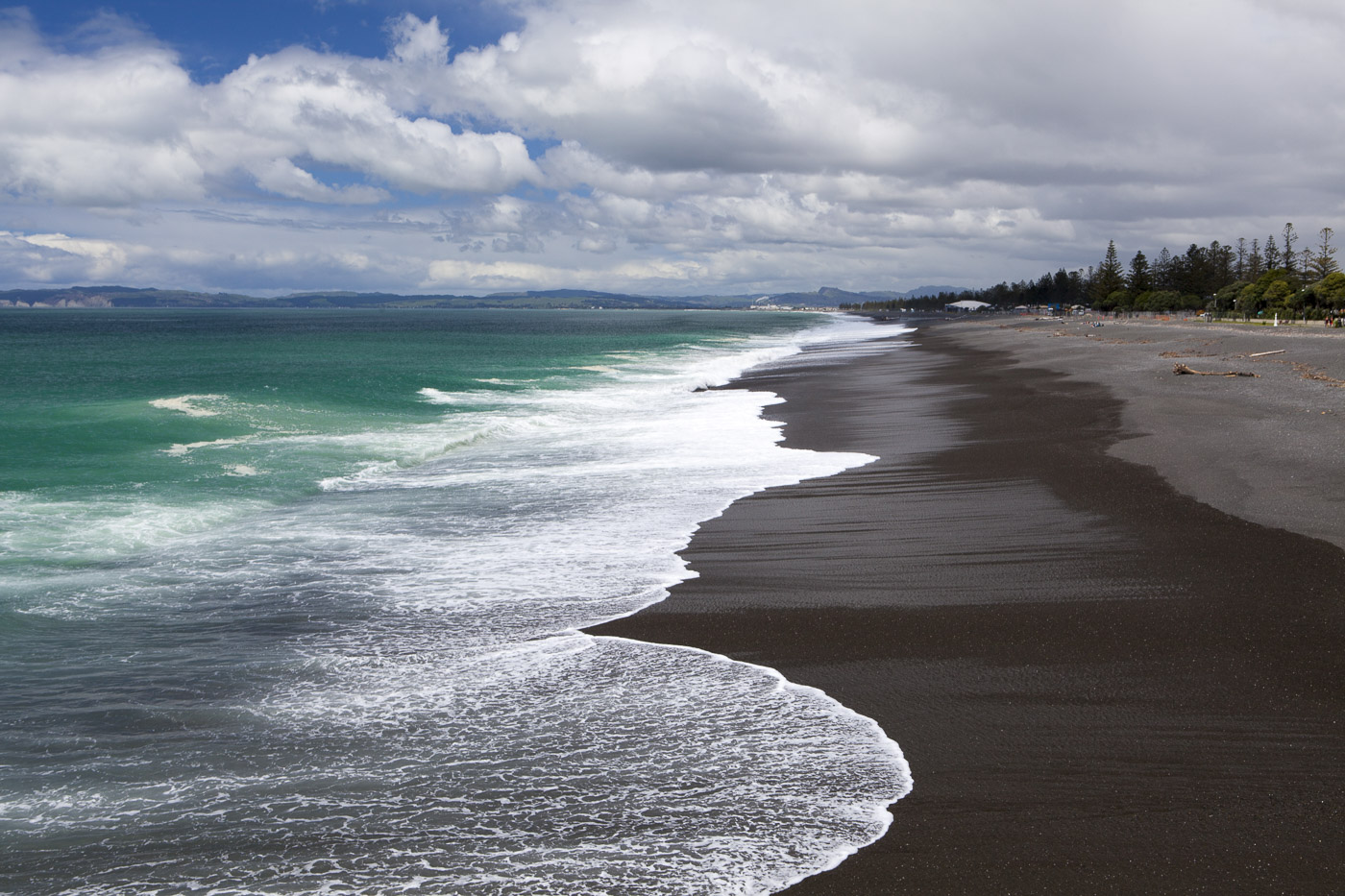 As we strolled back we realized we were a bit short on time, so I went ahead while Mona checked out hats in some art deco inspired store. As I got to the hotel and started change the stroller and take out the car seat for the wine-tour they arrived to pick us up. I was a bit stressed since Mona was just arriving and we hadn't had time to get anything from the room – this is when I realize the keys are not in the packpack where I thought they should be.
Well well, off we drove and after going through backpack and pockets it was safe to say that the room key are not on my person – a good exercise for yours truly in relaxing.
Wine helps relaxation, and as usual the sound volume and dialogue of the group increases over time so pretty soon it was out of my mind. It was a nice group, and lovely wines –  Mona even picked up a very nice bottle to save for five years at Ash Ridge, we'll see how that goes. Two of the group were from Arizona and politically republicans, they were however eager to bring up the political discussion and point out that they never ever would vote for Trump. I still haven't made up my mind whether to sell off all stocks in case the apocalypse indeed comes but then again perhaps that will be the least of my problems.
We got home and were let in to the room by the reception, unfortunately no keys found in the room (I might have left them in the room in the hurry when we left) but reception stated on the other hand that thought they had two for some reason so perhaps the cleaning staff took one? At least all our stuff was there so that was a relief.
We decided to keep the indian trend and picked the #3 on TripAdvisor and top ranked for Inidian take out – Indigo, unfortunately it was not as good as the re-heated one from the other day but a rather mediocre dish, I guess all good things must come to an end.
We debated whether to extend in Napier or not, it was a cosy town with all the Art Deco style but not that much to do so we choose to sleep on that decision.