For breakfast we went to Neo, which was just around the corner from the previous apartment we stayed in. The granola was crunchy but almost too little yoghurt, four out of five cereal bowls from yours truly is the verdict.
We strolled on for a second take of the now familiar Cuba Street and even made a few repeated visits such the comic store. One store that we however missed the last time was Japan City on Cuba street, which focus on japanese products – I managed to not buy a huge plush Totoro (for Juni of course) but when I saw that they sold Calpis Water it (as well as Pocari Sweat) it was impossible to resist.
Since we were on the theme of repetition we walked once again to Te Papa to spend a little more time with the museum and the parts we missed last time. It was well worth a second visit and when we were full of knowledge we realized we were quite hungry so walked up along Cuba street again until we reached Fidel's Café.
It not surprisingly was geared toward a specific crowd but we went for some deal with two pizzas and two beers for 25 NZD – to our (and our waiter's as well) we got the ordered pizzas within approximately 1 minute. Either they looked at the starving family with pity and we stole some poor schmucks order or they had spare pizzas of the exact type we choose. Either way they tasted great and even Juni liked them.
To finalize todays excursion with we walked towards Garage Project on Jonte's recommendation – this is a craft brewery which is hip as few in New Zealand. They had had not one but two places, one store/brewery/garage where they also sold merchandise and artwork for each beer they've made. This was some awesome looking posters and names, but a hassle to bring home so we walked a block further to an actual bar (their Taproom) with plenty on tap and a crowd of beer enthusiasts. We went for a test flight and tried out four different beers.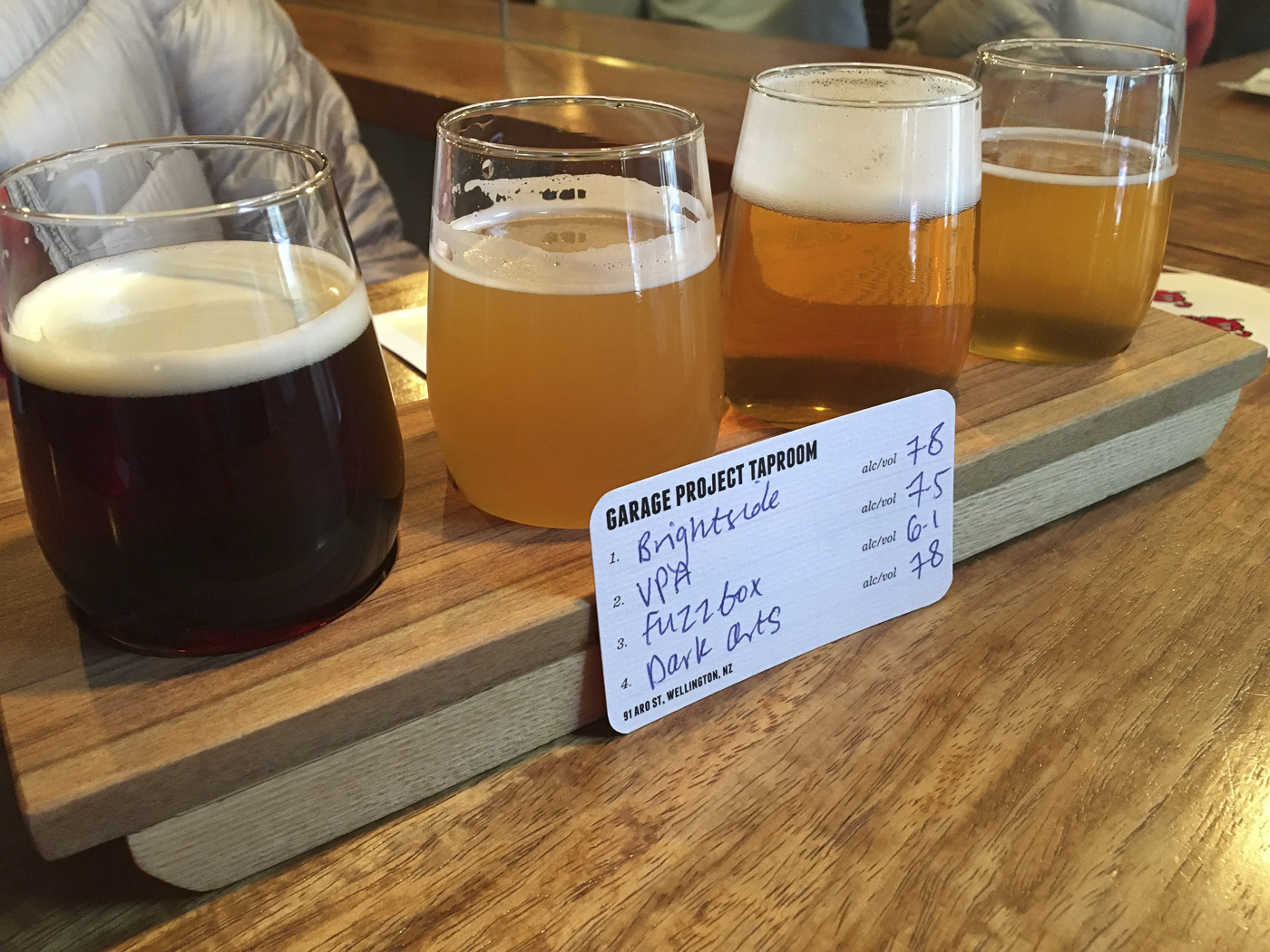 It proved to be enough for the easily intoxicated parents we are so we took Juni in the stroller and walked back to the apartment after a long day.