We got up and gathered our bags for the first time in a few days now, adding a surprise farewell-bag from our lovely hosts. Breakfast and off we were, we would head back to Wellington for a second take while Jonte and Janelle would go with mom and dad to Rotorua and then later Auckland for their return flight.
This time the clouds were on my side so we stopped along the way to snap that should of Taranaki mountain that had eluded me the other day. Juni slept like a baby (which when I think of it now is a very strange saying) in the beginning but woke up after a bit more than an hour and after songs or Babblarna (some sort of hypnotic children show from Sweden I snagged from youtube before we left) started to no longer work we started to scout for a resting place where she could crawl about.
We found a lovely place which sold antiques (nothing that caught our eyes though) and some home-made soup and sandwiches. We were the only patrons so we had a chat with the friendly old lady who run the place.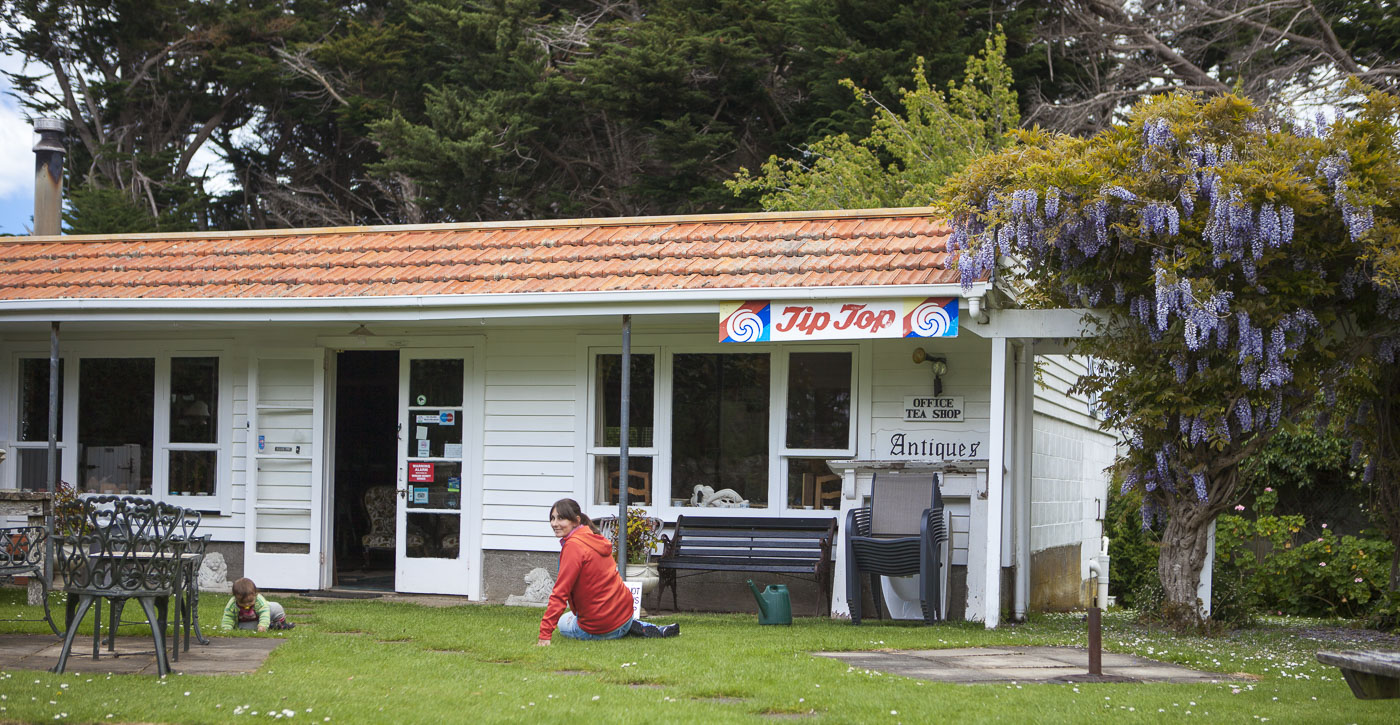 After chilling for a bit we drove onwards to Wellington, and this time for another apartment suite which had a great price for two nights. Their parking lots were full but there was a public parking house just across the street which actually was cheaper so all well. Or at least so we thought, turns out that to pay for more than 12 hours at the time you need to use their app – well enough. Who in their sane mind puts a parking app only on their local app store (and why does Apple make it anything but smooth with national stores)? I'm standing with a international visa-card and am trying to buy a parking spot in a more or less parking house but are unable because reasons.
In the end lady fortune solved it for us though or rather lady unknown approached us as we were unpacking the car – she was working in the area but said we could use her spot in the parking house over the weekend when she didn't need it. That's very hospitable.
We opted for a calm night so settled for picking up indian at The Great India, and on the short walk there I passed our old apartment – Wellington isn't that big after all I guess. On the way back I walked past an gigantic wall poster for Samsung Galaxy Note 7 – aka the firebomb that was recalled and aren't allowed on planes if you happened to buy one and haven't returned it yet. Seems cancelling advertisement isn't that easy.
It would have been enough with one butter chicken to share but why settle for less – the food was top notch – as in let's save this so we can re-heat it sometime in future good. The rest of the night was spent reading and I finished Nemesis Games in the Expanse series. Now I'm however out of luck since the next book (which won't even be the last) isn't released until December. Guess the blog will get updated more frequently as an upside though…