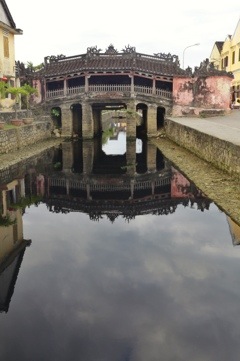 We started the last morning in Hoi An by packing our bags and enjoying another fresh breakfast before checking out. Then fittings at cloth market, we were getting closer but still more adjustments needed to be done. We continued our tradition of biking, and I wondered what material the asses of bicyclists are made of, 'cause my delicate bony behind was starting to protest. While browsing we finally found a suitcase which looked it would last until we hit ground in Sweden as well as easy to spot on the conveyor belts.
Another round of fittings and this time it looked promising, just some final touches left. We were now planning for the last fitting 15 minutes before the taxi to the airport would leave (from our hotel), plenty of time for any potential hiccups. We had planned to have gyoza at the Japanese restaurant from yesterday but found that the owner had just started his preparations, which would take at least two hours which we didn't have (fair to say, we had missed that they didn't open until 17). Well well, we found a food stall just by the riverside which had put up some tables on the street as well. Mona ordered some grilled thin pork slices that one wrapped in rice-paper after tucking in a bit of salad and sauce – similar to fajitas. They were really nice, and I say that as a vegetarian. Mona had to re-order the dish. I had white rose and noodle soup myself in addition to some of Mona's food.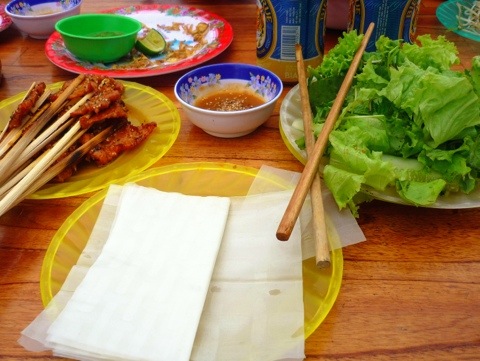 After that lovely late lunch we went back to the cloth market and finally everything looked good enough, so we happily settled our bills before biking back to the hotel – to fill up the new suitcase completely with stuff bought in Hoi An, this city is dangerous. We got to the airport easily, security went smooth and suddenly we were in Dalat. There was an airport shuttle for 2 USD which worked like a charm (our hotel offered a pickup for 30 USD which we declined, not the ideal start as it felt they tried to rip us off). After a bit of walking and access to internet we could also find our hotel (which we didn't have any address written down to and no one heard about the name we pronounced) and checked in. After a quick noodle soup at a place nearby Mona stumbled tired into our room, or actually someone else's room. I promised not to mention when this happened the first time, but I can tell you that this was the second time this trip, and at least this time it wasn't two middle-aged guys in boxers she walked in upon.