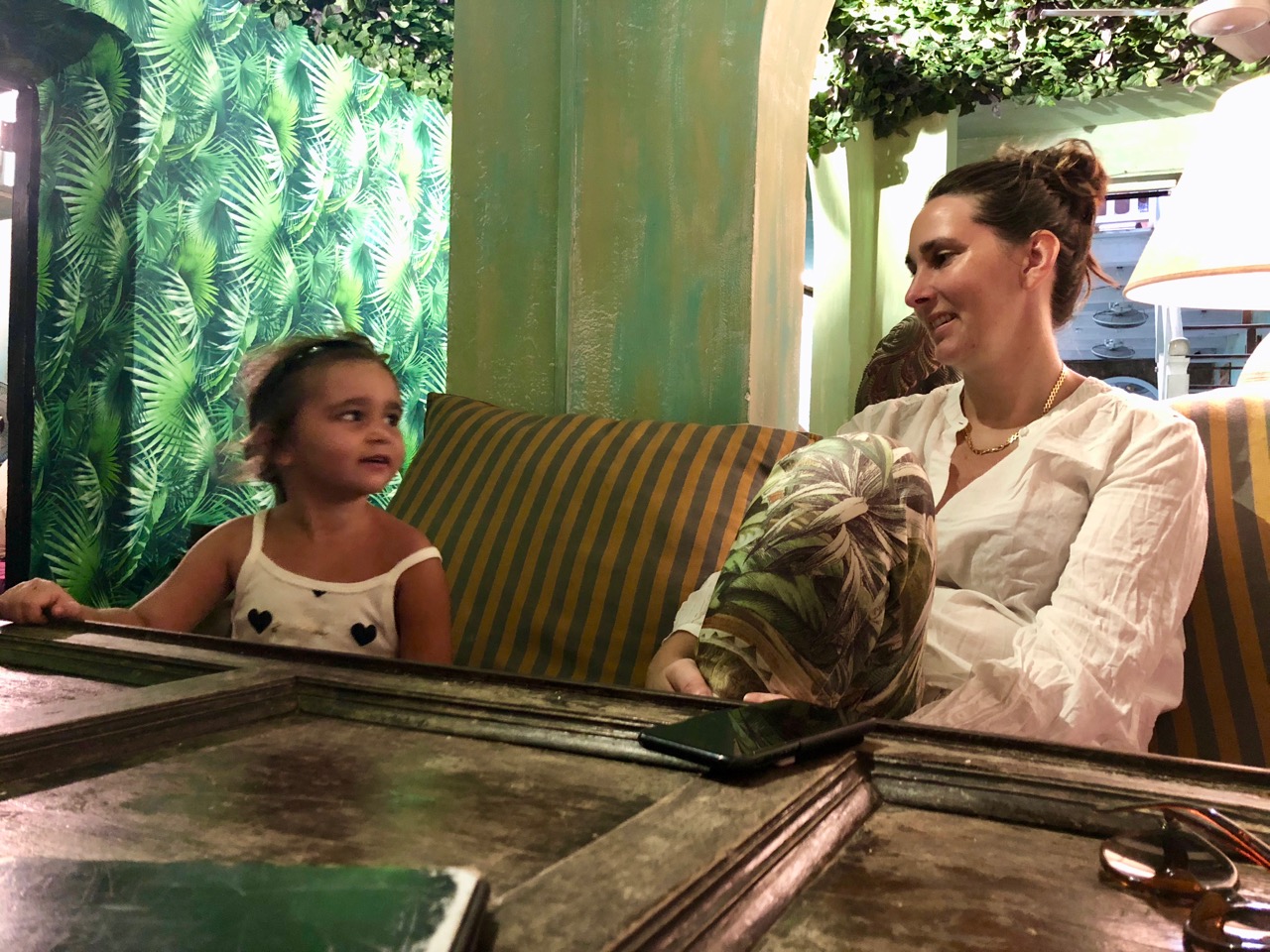 I managed to sleep quite well after that nice shower and felt the steps from yesterday in the legs. Juni was eager to play with all the toys belonging to the girl of her age so while she did that I prepped and packed everything for checkout.
We had our breakfast at Peddlers Inn Café, credit to Mona who scouted that out earlier. Galle's Royal Mail coach service started in 1838 on July 2nd, and since 1908 the property has been in the same family and now converted into a café. It was very nice designed (however we couldn't figure out why in the world one would put up the wallpapers depicting the leaves sideways), good selection and very tasty breakfast. After our primary needs had been satisfied we took the mandatory stroll along the wall of the fort and talked to Juni about the function of lighthouses.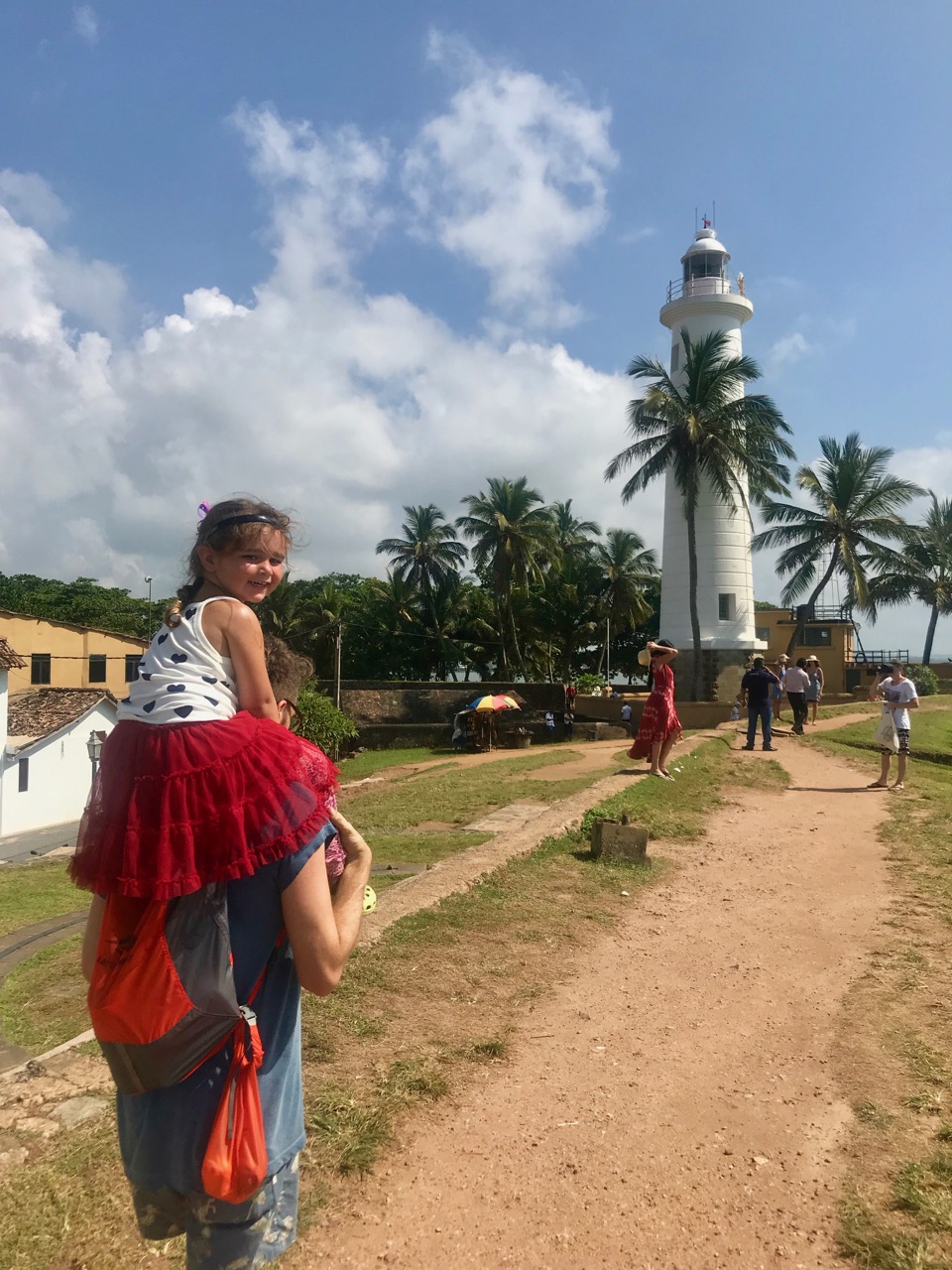 We took our time walking up the now rather well-known streets back and forth but this time with Juni both present and awake. Mona found another dress, and decided to celebrate that with proper gelato – something that Juni also found acceptable.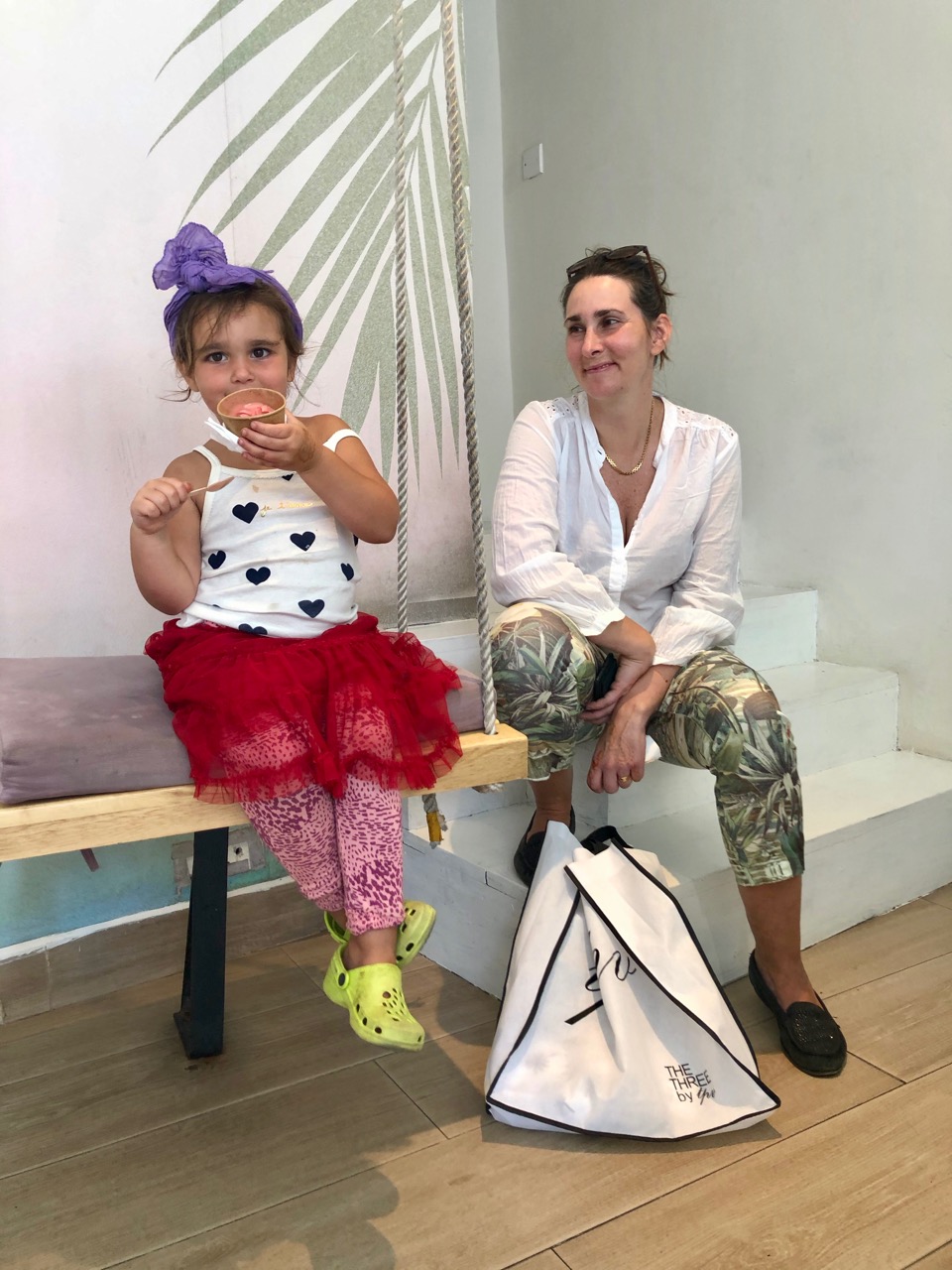 We then returned to our hotel and checked out and met our driver and his car outside the hotel. The car almost matched our requirements – it did have AC, however broken. And it did have seatbelts, you just couldn't fasten them. Some mental calculation of alternatives later, we tied the seatbelts securely and opened the windows. The owner of the hotel had some dialogue with the driver and although I didn't understand a word I got the sense he was more than a bit irritated about the state of the car for his former guests.
It was really hot in the car as we were moving in walking tempo through Galle but once we got past the city core it was fine. After some initial chatting we turned to our podcasts, audiobooks and iPad respectively until Juni fell asleep. The drive was all in all a rather eventless story, which I consider positive given 3-4 hours could have been way worse.
We arrived at Udawalawe, or Kottawatta Village to be specific, and to our pleasant surprise we had managed to get the nicer cabin for two nights and avoided changing to a tent for the other day. After confirming this was really the case with the staff we tried out the pool right outside our cabin and unpacked our stuff.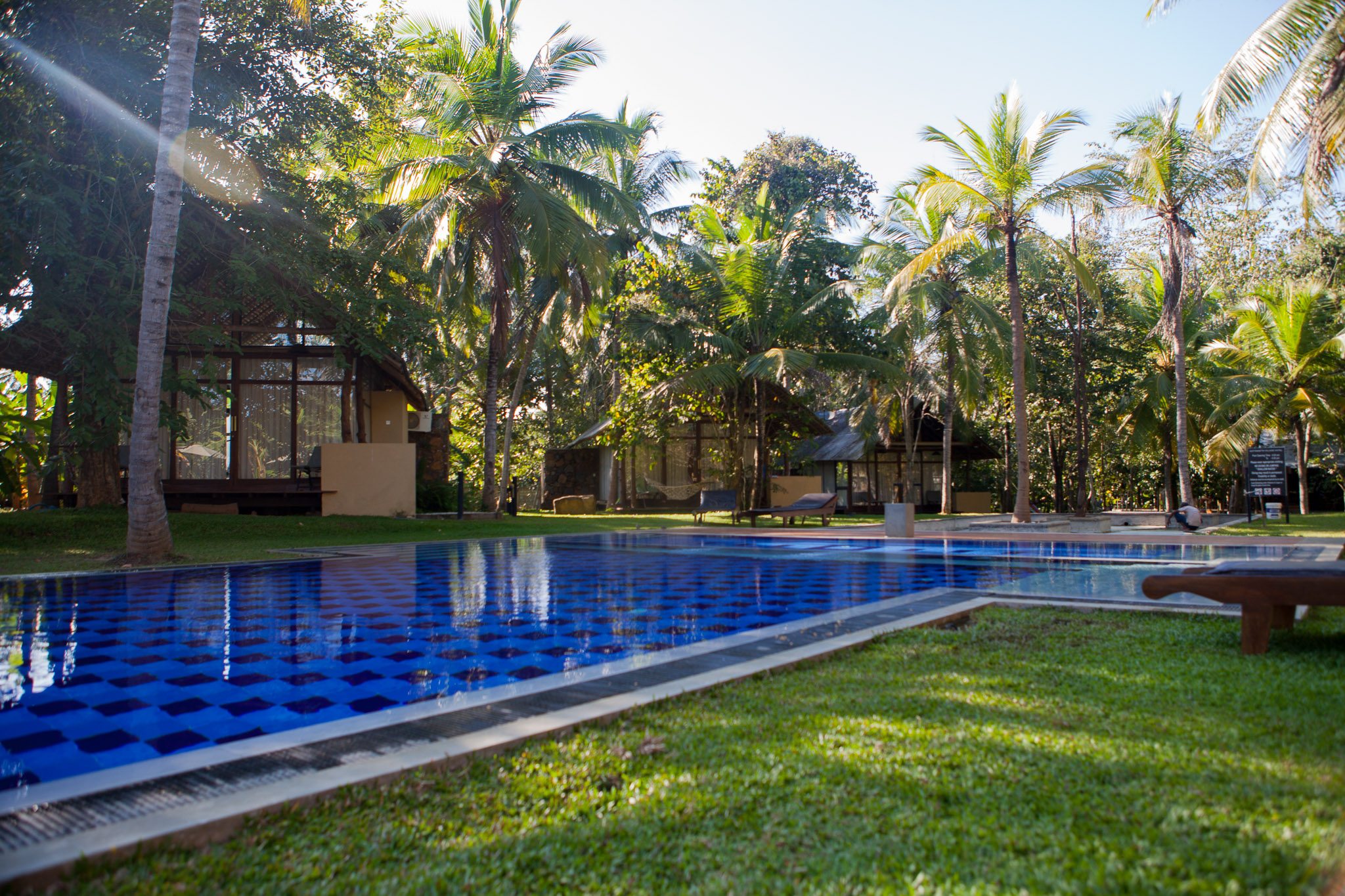 We thought that perhaps we could squeeze in a bit more for today so had a quick snack, prepped the camera bag and tok a Tuk-Tuk and went off to the Elephant Orphanage which Juni has talked about for quite some time. It was a rather nice arrangement, people were seated on a viewing platform, like a amphitheater – but with the stage a bit further away and were able to view the orphaned elephants get their milk (and some grass). This unlike most other elephant watching events made the effort to minimize human contact for the elephants and would release them into the wild once they no longer require the milk.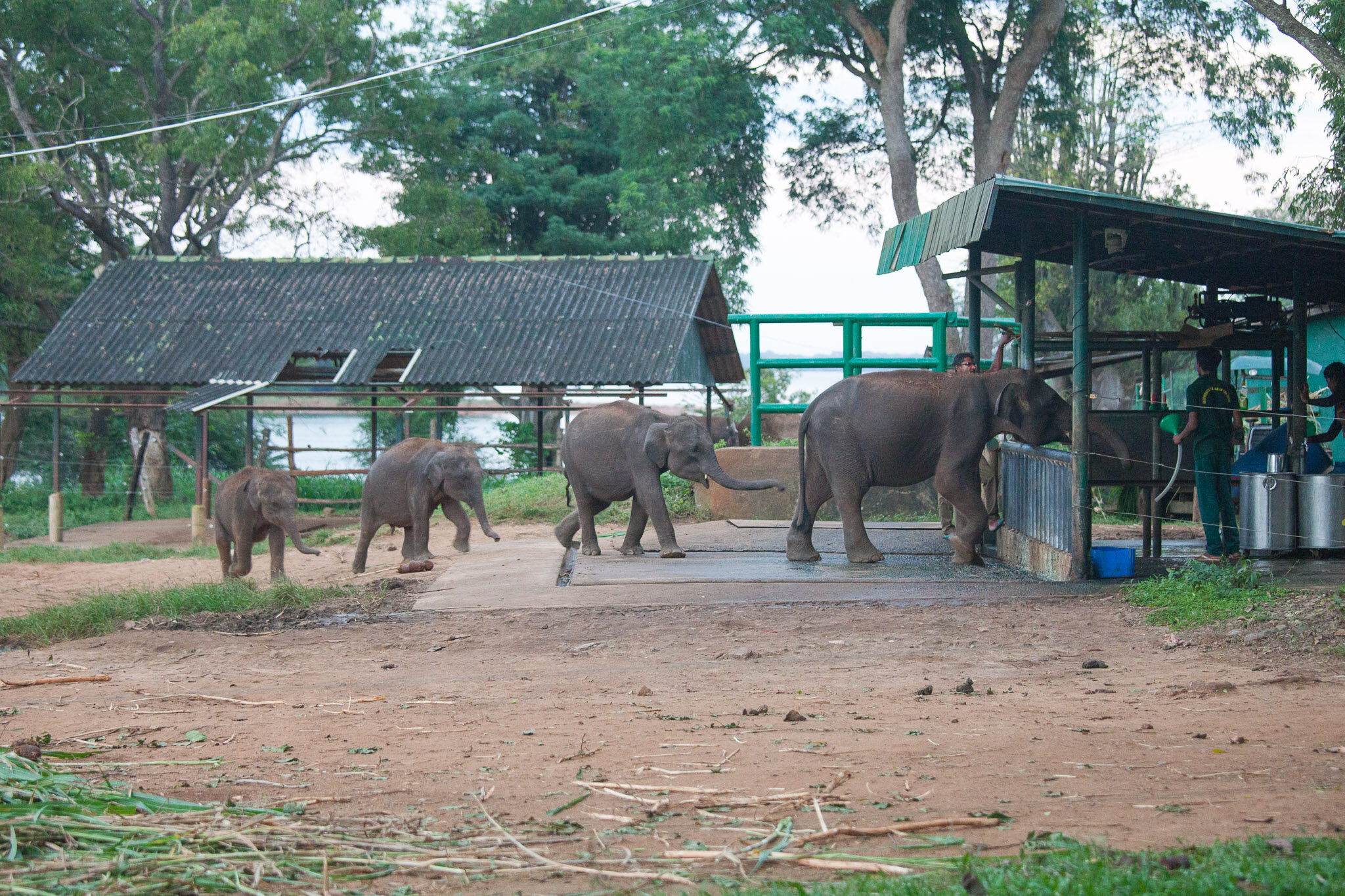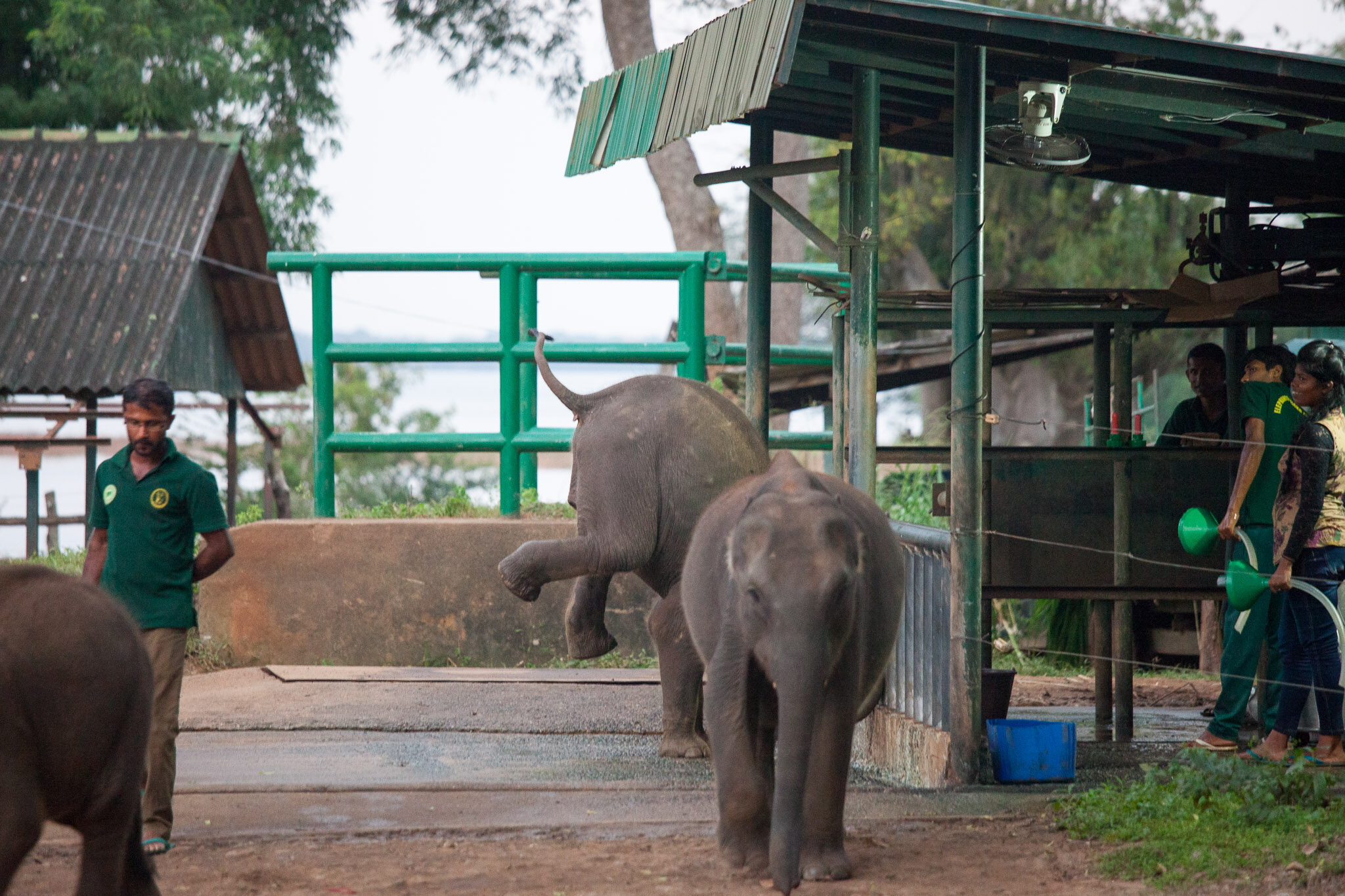 We went back and had the dinner buffet – which when going for the local options was quite above average. There was also next to the restaurant a playground very conveniently so while we finished our dinner Juni could play around still within sight. She made some local friends including a rather playful medium-sized dog. She isn't afraid of dogs but when a puppy not much smaller than her size tries to "play" in her face and put their paws on her shoulders I chose to interfere. Turns out the dog wasn't trained at all, didn't belong to anyone and after I had more forcefully taken it down a few times and given in a knee or two as it tried to jump at me (still playing) I felt this was a matter for the staff to sort out rather than myself and since the dog ran away at the sight of the staff I guessed this is a recurring matter.
As we all went to sleep I realized that it was very clear skies and you could see countless of stars from our outside bathroom which was quite nice – one often get used to the light pollution so it's easy to forget how amazing the sky can be, especially when you're taking a dump on your toilet.