I finished working at half past 23, packed for 30 minutes and was about to hit the sack when I just wanted to check the flight status at Landvetter Airports site. Cancelled. Read it a few times, then picked up the phone and called Landvetter to confirm.
Yep, a strike – "didn't you get notified by whoever you bought the ticket from?" No sir, but thank you providing me with the number to the only open Lufthansa office. A nice lady gives me the option of getting stuck in Hong Kong, Frankfurt or take the 05:55 flight and go all the way. Thats in less than five hours from now. "It would be great if you could be at the airport at 04:30, Mkaaay". Setting three alarms on two phones and a timer on 2 hours just in case.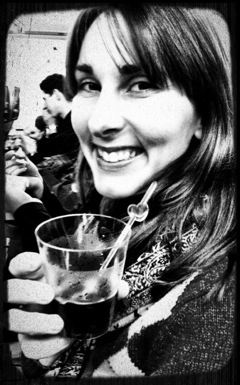 Manages to get up, call the cab and wake Mona up. When we've driven a few minutes Mona realizes her phone is at home – we decide it will stay there. Well at Frankfurt I kill a few hours by reading while Mona sleeps. When we get to the gate we need to get new boarding cards for some reason, but when we board the plane and it finally leaves ground I feel a great relief. We're having drinks to celebrate that we at least got this far, and we're informed we can't order two alcoholic beverages at the same time. When the purser comes back a little later and asks what Mona prefers, she happily replies "rum and coke", not realizing the purser offers different dinner dishes. After the dinner we watch Tintin and then I read a bit more. I'm having cup noodles just because Cathay Pacific offers them.
Sleeping two hours until it's time for breakfast, and realize this connection will be tight since we're running slightly late. We, as well as a few others get herded by airport staff to the last flight with a few minutes to go.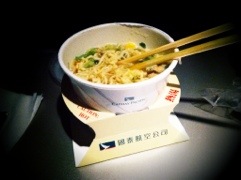 Well onboard I finish the book, The Quantum Thief, and then read up on common scams and hustling tricks that the guidebook warns about until we hit the ground. My luggage never shows up, and apparently some lady called my name thrice in the speakers without us hearing it. Knowing the procedures with lost luggage pretty well now, I ask for ETA and verify that I'm likely to get some cash from the insurance company. We get a cab for a fixed, printed fee and we finally arrive at our room. After a well needed shower we sleep for two more hours before the alarms goes off.
We need to get up but I'm so sleepy I can't watch moving seconds on the timer for one minute without falling asleep. Finally mind wins over body and I get up, only to realize I can't connect to my blog. A little detective work and re-registering of the dyndns.org hosting later it's up and running. I wake Mona and we head out in search for food.
The place next door, 69 something, was rather nice and the luggage have arrived when we're back. I'm happy to switch some clothes before we stroll out again since it's a bit chilly. We stroll down to a posh cafe which is warm and treat ourselves with hot chocolate and baileys. Facebook is blocked in Vietnam but I find this nice app/service Hotspot Shield which seems to do the trick. Twitter wasn't blocked though. We walk around in our neighborhood, Old Quarters, and it's bustling with small food stalls, microbreweries and stores. After a few hours of walking and a few photos we decide we've earned a sleep longer than two hours and head back home.