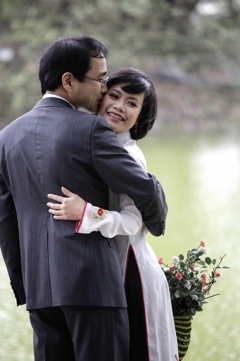 Mona has potentially found a new lover that, alas, I cannot compete with. It started already yesterday, some innocent flirting – perhaps one too many compliments but I'm not the jealous type so I didn't bother. She maintained the interest though and now takes every moment she can to enjoy her newly found friend's presence. It's the hair dryer. Mona has likely racked up an electricity bill which will make our poor hotel owners deeply indebted. Making a small tent at the bed with the covers neatly tucked in and the warm air flowing seems to be the best part of the vacation so far for Mona, but I'm not bitter.
After a long continuous sleep we had breakfast at our hotel and decided we would do some preparations. 45 minutes later we had an itinerary for Ha Long Bay and tickets for the night train to Hoi An after that – very convenient, tip of the hat to Thid who recommended this place, Hanoi Guesthouse. We took a stroll and ended up at a nice red bridge at Hoan Kiem lake, apparently a popular place to get wedding photographs. I had a picture of a guy taking a picture of a guy taking pictures of a couple in the viewfinder but he got up before I could get a good meta shot.

We visited the temple but saw no giant turtles nor legendary sword and decided we'd been cultural enough. We strolled around Old Quarter again, enjoying the atmosphere and looking at locals and tourists alike. On the way back we stopped for lunch at 69 Bar again, and tried their traditional fish soupie-thing. It was really nice, but with spring rolls as an appetizer one meal to share would had been more than enough. We got back to our hotel and were informed that unfortunately the tickets for the famous water puppet show were all sold out. So we took a nap instead.
The evening was spent by walking to a SF Spa (not at the address described in Lonely Planet though), searching dubious areas before giving up. Well back the hotel called the Spa and realized that they had marked the wrong street on our map – we were offered a cab straight there by the spa – nice. After carefully choosing packages we both went for a steam bath followed by an hour of massage, aroma for Mona and Thai for yours truly. It was very pleasant, walking back we grabbed two döner kebabs and an ice tea from a food stall for a tenth of the price of one massage – which was cheap by Swedish standards. One could live a good life for a very low cost here.