This is really the most fun way to travel, and as a bonus really cheap.
Bus 1 from Sealine Resort; A 18-year old boy called Vishar introduced himself and started talking to practice his English. He enjoyed music, and his western favorites where System of a Down, Nirvana and Justin Bieber. You draw the connection there.
Bus 2 From Ernukalum; A short trip to Kaloor Bus Stand, where several helpful passengers describe that we need find a bus to Munnar. At the Bus Stand however, we get mixed messages about buses – maybe it leaves in two hours – maybe there are no buses here?
Bus 3 From the main road next to Kaloor Bus Stand;
A guy gets interested in my iPad as we browse Lonely Planet in order for clues. He explains we should "just take the next bus heading this way" and points. We approach a bus but the guy claims he is not going to Munnar. iPad-interested guy comes back – picks up our luggage and puts it (and us) on the bus after speaking with the purser. Interesting. After driving for two hours we spot the name of a town and realize with the help of Lonely Planet that we at least seem to have gotten halfway to Munnar.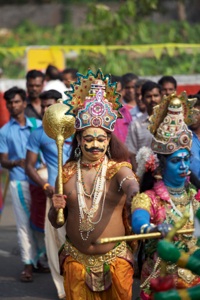 We encounter a huge demonstration – probably religious but could also be political? Definitely fun watching and I snap lots of photos. As the bus stops at some unknown town a guy runs off with our luggage again and puts us on another bus which is more crowded than your regular metal concert at the front rows.
Bus 4 from Unknown destination; After some 90 minutes we end up in Munnar Town – and after six or seven hours of fun conversations, beautiful scenery and a lot of local music we see other westerners again. We ate at Spree, who served some cheap Thali food. As we are pondering where to stay we bump into a British guy who mentions that he is happy with his place and he thinks they may have available rooms.
Getting there, no manager to be found, but someone calls him – he has a shop nearby and sends his 5-6 year old kid to show us the rooms (not speaking English but charming). We choose a rather nice room for the nice price 750 Rs – with additional rebate to 600Rs if we stay more nights. A nightly stroll in Munnar town and then we fall asleep after enjoying a hot shower.