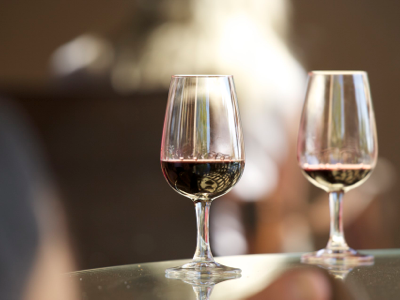 We wake up by drilling man and his friend the carpenter, after a few minutes I call reception who already know about this and already spoken to them. Well well, we got up early but hopefully this will not be repeated tomorrow. After a nice breakfast buffet we were picked up by Easy Rider tours, who operates from Stumble Inn backpackers. So on todays agenda are 4 Vineyards with a total of 21 wines to taste. Add a cheese tasting, lunch and transports to that and 35€ per person seems like quite a fair deal.
First off was Simonsig, good wines with one red particularly good, Redhill Pinotage, requiring to be bought for 18€. After the tasting and the wine cellar tour we headed off to the second vineyard, Fairview. Fairview also have goats and this was the place for the cheese tasting. They also played with words and produced wines like Goats do Roam (Cotterone), Goatfather etc. The wines were ok but the cheese was really nice. We grabbed a bunch of cheeses to have for later and a fair size of blue cheese was not more than 1.5€ or so. Very nice. By know the whole mini-van of tourists were giggling and the volume of chatter had increased significantly compared to when the tour started. Luckily it was time for lunch, otherwise the condition could quickly gone from tipsy to drunk for the lot of the people. In these tastings one does not spit out the wine.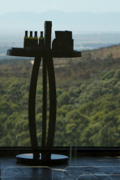 Lunch was at some restaurant in Franschhoek where the Halumi salad tasted really good. After some sobering up it was time to leave for Boschendal, by now quite a few wine tasters only made minor notes regarding the different wines and instead focused on the drinking. The last stop, Tokara had splendid views over the grapevine and olive fields and while sipping the excellent red Pinotage and enjoying the view South Africa felt like a decent place to spend your afternoon in, despite the god awful drums.
As we got back to Stellenbosch we had a little siesta, not exactly drunk but the heat and the wine had made us sluggish at least. Mona ushered me out for dinner and revealed that she had in secrecy ordered tables at Volkskombuis, a traditional african restaurant, earlier during the day. I had calamari for starters and trout for main course which tasted really nice and service was good as well. To drink we had a large carafe of water – for some reason we were not that eager to drink more wine. I had somehow caught a cold or similar as well and spend the better part of the evening blowing my nose, I suspect that the air-con was the reason for this and we decided to leave it off for the night and after walking home I fell quickly asleep.
We woke up to a familiar sound, our indian neighbors had apparently had a little too much to drink and were now busy praying to the porcelain god. The best german word in the english language, schadenfraude, possibly describes my feelings best. It also struck my mind before I fell back into sleep that perhaps not all things are bad about someday possible becoming a teenage parent.