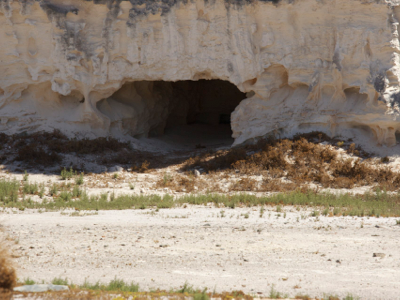 Waking up after another night of well-deserved rest we check-out and drop our stuff at Blue Mountain backpackers, just a block further up on Long street since we will spend our last night in Cape Town there. I also secure a shark cage dive after some consideration. I'm not too convinced it will be worth the money (110€) but on the other hand it's an opportunity not had by many (if any?) other places in the world so what the heck.
We walk along Kloof street for further shopping and have breakfast at a place called Depasco, the almost mandatory muesli with fresh fruit and some greek yoghurt tasted nice as always. I believe it will be hard to get used to the cheese sandwiches at work again. We then walk down to waterfront where the Robben Island tour starts as well. We take the ferry to Robben Island, where among others Nelson Mandela spent 18 of his 27 years incarcerated.
A place originally used for common law prisoners but then was mainly used for political prisoners refusing Apartheid. As always such places are interesting but not necessarily pleasant to visit. The actual prison guides are actually former inmates who have chosen to work there after being set free, which adds to the whole experience since they can describe from their own experiences what had happened there, some good but mostly bad memories. Compared to some other similar establishments (S-21 in Phnom Pen comes to my mind) this was not that bad place to spend your time at, however the systematic abuse, censorship and ill treatment of people fighting against Apartheid brings thoughts of the lacking of humanity among us humans. The guide joked that the first democratic resolution was written in the cave above, where the political prisoners were allowed to eat/bathroom while working in the limestone quarry but instead used for political discussions and teachings.
The tour was interesting and a good way to spend your time, however the 3 hours the tour would take apparently ended at Robben Island. So being slightly late and adding the 45 min boat ride back made the whole tour 4 hours. Which was about all the buffer we had before trying to catch the bus booked for Stellenbosch. So in upped tempo we caught a cab, picked up some of the gear prepared at Blue Mountain and then used the same cab to drop us off at the Bus (and train) station. After checking in while Mona grabbed us some local fish'n'chips we finally got on the bus with a whole four minutes on the safe side.
The bus managed to somehow get 20 minute delayed during the first hour of driving before dropping us off in the middle of nowhere in Stellenbosch. Not at any station which we had expected, well well. We start walking, and after a few minutes met two chaps who had a map, and together we found that we were quite close to our place. We find Rhyneveld Lodge, check in and get an awesome room. We unpack our stuff and start to watch a movie but quickly fall asleep dreaming about the Wine Tours of tomorrow.