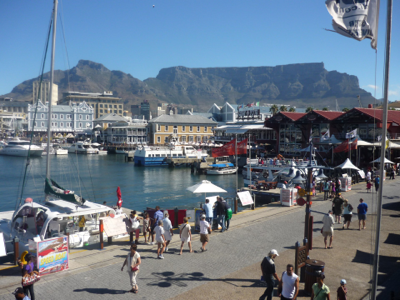 We wake in the dungeon to the sound of knocking and a female voice asking something about cleaning, we explain we will have the room for another day and continue our sleep. Waking up late in the silent, dark room was actually quite nice – the fact that it's hard to tell what time it could be is not necessary a bad thing. We get up and did the casual strolling around Long street and Loop street and ended up at a nice place called Sidedish where we had a tasty breakfast.
Well fed we walked down to the Waterfront, the main tourist/shopping area – there were shoes to be shopped and sights to be seen. On the agenda was also sorting out the transport to Stellenbosch. This seemed not that hard, booking a bus ticket can't be that difficult, can it? It can. After failing several tries using their website, standing in a queue for 20 minutes and then failing with a actual person it was time to go through all the details again over phone to their call-centre, to again fail. Apparently something "was down on some server". Hooray, we gave up and booked a ticket with another operator, slightly slower and more expensive but on the other hand possible to book. Slightly annoyed we headed off to leave but were unable to pay for our time using Internet since the person preferred answering the phone (as we spoke). We gave the person a warning that we would leave and then did so, expecting them to rush out – nope, I've yet to see a south african service employee move faster than a turtle on Stilnoct.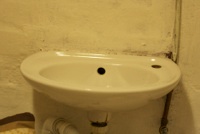 We walked back to Long Street, where we are greeted by our favorite transvestites again, and then returned to the dungeon for some freshening up. Speaking of freshening up, I think that the fact that our room is labeled as en-suite deserves a picture of the sink in our room. It's there alright, not connected to any water or so but still there.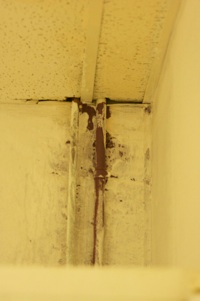 The whole place seems like a very recently refurbished office area, with some random pipes installed to provide water here and there. As for doors or shower separators they have used trusty plywood or other materials known to work very well in damp areas. It was the only backpackers I've seen so far where the majority was colored, or actually we didn't see any whites except ourselves if I recall correct. Another interesting experience, and we looked forward to our slightly higher standard room booked in Stellenbosch.
We had dinner at Fish, a place owned by the same owners who has the Codfather, yet another of Hanna's recommendations. We had King fish chopped up for us and cooked very nicely and the oysters I had for starters where nice although a bit too small. Feeling a bit tired we headed back to our dungeon again, the place most similar to yours truly's flat in Göteborg in a sense.