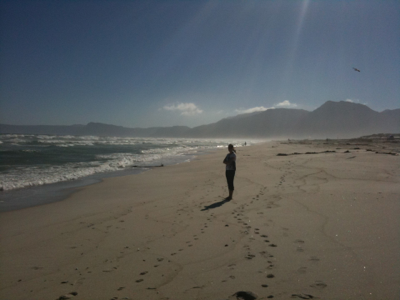 No drilling or hammering to wake up to this morning, yay! After another good buffet breakfast at Rhyneveld Lodge and a bunch of calls we manage to reserve a car at 1st car rental. The price for a full day would be 30€ including way more kilometers than we would need for browsing the Stellenbosch surroundings and head to Cape Town. We checked out and picked up the car after amazingly much paperwork.
Some navigational issues (the GPS units were at another location and how much of a sport would it really be navigating with one?) were encountered but fairly quick we got out of Stellenbosch and drove off to Spiers vineyard. Mona pondered some horseback riding there but were not thrilled by the 30€ for a lame one hour tour so instead we chilled out with a nice picnic and some reading. A couple of hours later we decide to head towards Cape Town but go for the more scenic route along the coast rather than the highway.
We stop at a beach where a lot of people seem to be enjoying the nice weather and ice-cold water. Parking our car next to a couple of police officers we walk along the beach in search for a store for something to drink. A thousand or so people, none white-colored, but no store in sight. Finally we spot a temporarily store, which of course is operated by an old indian lady rather than a south african. The lack of entrepreneurs are understandable
to some degree but also a constant source of surprise and discussion.
We continue towards Cape town, but stop at another less populated beach along the road to just walk along the shore and enjoy the view and smell the salt water. As we continue we realize that driving in South Africa wasn't that much of a hassle after all and Mona has almost gotten used to have the clutch on the wrong side as well as driving on the left side of the road. As we get closer to Cape Town our maps level of detail become less and less useful and following the signs (placed in south african fashion) led to some minor navigational setbacks as well.
Well inside Cape Town, the navigating worked like a charm. We get to Loop street, where Mona decides that two lanes of one-way traffic towards you can't be that bad and follows my mumbling driving instructions from reading the map. A friendly guy on a scooter does the discrete international sign for "wrong way, retards" and Mona manages to quickly turn into another street for temporary safety. We settled for that it was a joint setback in our shared driving rather than fully blaming the other part. After that small adventure we reach our final destination without breaking any traffic laws we know of and park the car outside the car rental shop.
We check in at Blue Mountain backpackers, get well-needed showers and go through some photos and blog a bit before stacking up on snacks and getting a takeaway dish for Mona. Since the shark-cage-dive starts early (pickup at 0645) we decide to watch a movie and go to bed rather early and pack our stuff for the flight home.