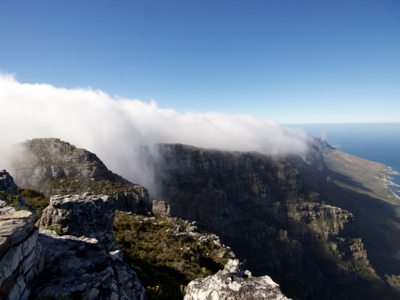 Waking up by the alarm I cross my fingers as Mona checks the weather, – perfect weather she sighs as we both could have used a couple of hours more sleep. Another south african design feature has made it to the Green Elephant; the doorbell to the gate plays a melody that sounds loud and clearly audible for all rooms. Very convenient, add that to the fact that our neighboring rooms are bathrooms which people stumble to lately and slam the doors to (when they don't mistake our door for one and try to wrestle up our door that is). The luxury room didn't feel that luxurious at that time.
Up to Table mountain with a Excite cab (good, cheap and relatively reliable) and we get to the cable station around 0700. That should be 30 minutes before opening but turns out to be an hour, we manage to get on the first cabin up and enjoy the sights. Slightly cloudy at first but after a breakfast on the top the skies are clear and blue. Awesome sights and we stroll around for some time before we decide we had enough views for one day. Going down we see that the queues are still long and slow – good thing we went up early after all.
We get dropped off by the taxi on top of Long street to check that out, we grab some cold drinks at a convenient store and stroll down this kao san road:ish street of Cape down and are encountered by three transvestites who appear very upset that I didn't bring an extra drink for them. We stroll down the street and spot Addis in Cape, a place recommended for eating by Mona's friend Hanna. Awesome ethiopian food, however I was slightly surprised when the waiter turned our bowls upside down and poured out the food but this was apparently all according to their tradition. Despite long street we find no shoes for Mona and give up and start to head home. And find a pair of shoes of course.
We want to continue using the convenient and local-style minibus taxis and after some navigation get to "top deck" – the main hub of these. After some impressive south african organizational efforts we get back to Green Elephant. We hand in some laundry, hassle a bit with bookings and head out to a place in the neighborhood called Ganesh which serves local african food. Yours truly enjoyed pap'n'veg, quite delicious but the portions were sized for half a platoon. Mona went for the Springboek but gave it up after a bite or two, apparently a very distinct taste of liver that wasn't appreciated. After enjoying the dinner it was back to our silence paradise at the Green Elephant again.