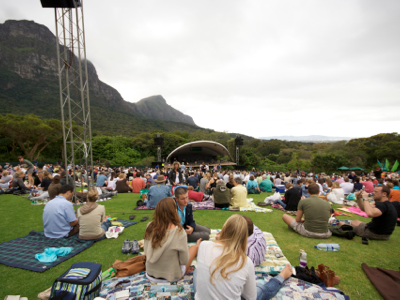 It was now more than due time to get Mona a new pair of shoes and yours truly had missed a dry-sack for his gadgets in the vicinity of water so with those two main targets we headed off to the shopping mall that was open on a Sunday, Cavender or something similar. The minibus-taxis worked like a charm and we started the shopping with a very nice breakfast at Doppio-Zero. Ordering some Mango-yoghurt-shake, some Halumi, Avocado and the other general healthy-tasty stuff ended on a 15€ bill – not like in Sweden yet but certainly more expensive than outside the capital.
There were plenty of stores, as well as employees and wares but nothing that Mona or myself ended up buying so at lunch time we gave up and headed back towards the Green Elephant. A quick change of clothes and a taxi later we got to Kirstenbosch Botanical Gardens, who also hosts concerts on Sundays. After some strolling, we just had to walk the "Smuts-track" for instance, we got up to the concert area and were surprised to see quite a lot of people cosily enjoying their picnics or drinks waiting for the artists. There were three main artists, apparently young up-and-coming artists of south africa, however not more than average in my not so humble opinion. The last guy was technically skilled and had a really intensive voice but to be honest the three-minute plus solos of guitar-masturbation makes it hard to give a positive overall review.
Back to the Green Elephant just in time to avoid the rain we changed gear again and found ourselves a sushi-place in the neighborhood, Sushi-House or something like that, that we had heard of earlier – supposedly best in town. It may be an exaggeration but it was really really nice sushi. Quite a small place with two chefs inside a conveyor belt Japanese-style who although some lax ideas about hygiene were very skilled and made the sushi not only awesome tasting but also a delight for the eye. Completely full and happy we slowly stumbled back to Green Elephant to try to get some proper Internet access for blogging, e-mailing, sorting out remaining accommodation among other things. The stipulated wi-fi hadn't been working for two days so I capitulated and just used ethernet, about 3 meters from a bunch of Swedish teenagers playing cards. Lovely.
After writing some blogs it was time to go to sleep, perhaps one day I will be able to keep up the blogging to real-time but apparently not on this trip. Tomorrow it's Table Mountain and depending on weather it's early morning or late afternoon…