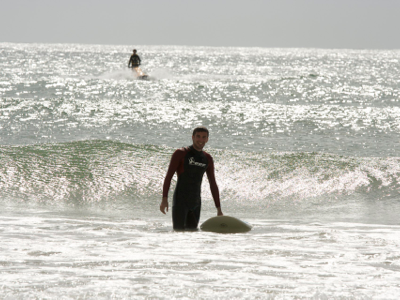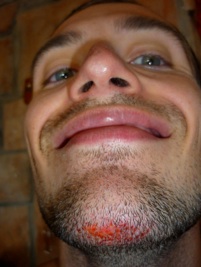 We decided that it was time to struggle on our own with the surfboards this morning and rented boards and wetsuits at Island Vibe, 5€ per hour in total, definitely worth it. I was a little reluctant to leave my camera gear on the beach though so we took turns which also helped to avoid us getting too tired. After some two hours I was rather cold though, and we returned the gear and had a nice big breakfast back at Island Vibe again. A shower revealed why I felt some minor pains at my chin, it seems that the surf board and I had have some close encounters.
We had a bit of a discussion with the reception manager who although understood and agreed that the Addo-trip thing was a rip-off she would not return any money to us. Vernon had offered a 30€ refund but anything above that we would not get, better than nothing I guess and they surely would not use him for those trips (if ever for anything) again. Well well, we decided we had spent enough energy on that matter and took our losses. So if we ever return to Lungile in P.E or Island Vibe in J-bay we know that although helpful they will not take any financial responsibility for the services they provide.
As we were waiting for "Sunshine Express" shuttle to pick us up we were greeted by the very same pleasant taxi-driver that had taken us to J-Bay as well, Nikki. She drove us to Tube 'n Axe in Storms River, a ride taking about an hour or slightly more. We had only been able to get dorms at Tube 'n Axe for the first night but it's better than tents, besides it's always fun to meet people and I've yet to get something stolen in a dorm so after reluctantly leaving my stuff we went out for a walking some trails in the area.
The exotic thing with Garden Route is the forests, they have these very unusual pine trees and stuff, not only the Savanna style with sparse Akari trees but many trees rather closely together. Sort of like every forest in Sweden in other words, but it was still a nice trail and the weather beats the Swedish one for sure.
When we got back to Tube 'n Axe we decided to skip their dinner offerings and head to a nearby place, Protea, instead. They offered yellow tail but I'm not that boring yet (although I've given up on their local beers and always order Savanna Dry to drink now) so instead I had prawns in curry sauce. After the nice meal we went back to have a now classic early night.