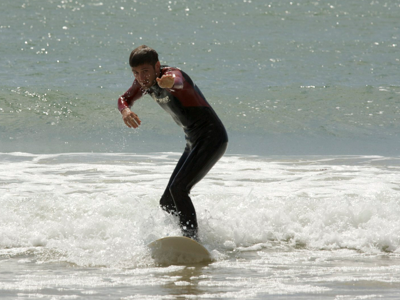 We woke up by the sun shining on our windows making the room more than comfortable hot. We then headed out to the beach and met up with Dale, a hibernated surfer with dreadlocks and a laid back attitude who would learn us how to surf. Two surfing lesson hours later we both had stood up, not that bad for two total newbies.
As usual we had a large and very nice breakfast, it seems that eating breakfast and dinner or sometimes just a huge breakfast is the way we both prefer, and those tasty tasty Simba chips doesn't help keeping your regular eating hours either. When we were able to move again we walked into the city, only a ten minute walk but not recommended walking if it's dark. Felt kind of silly but then we met a guy in the reception who had been mugged last night so we agreed we would heed the security advice like last night.
After strolling, browsing the surf shops again and enjoying an ice cream we went back to Island Vibe and gave them two bags of dirty laundry which we'd accumulated during the trip. Convenient and cheap, only 5€ for both of us. For dinner we decided to be boring and go to the Mexican again, but try their fish this time.
The line fish was Yellowtail, and it was simply awesome. Without doubt the best we had so far in South Africa, the oven baked fish was complemented with a baked potato and a healthy dose of garlic butter. We got our cab and just like the previous day had a early night to be able to get some sleep before it would get to hot in the morning.