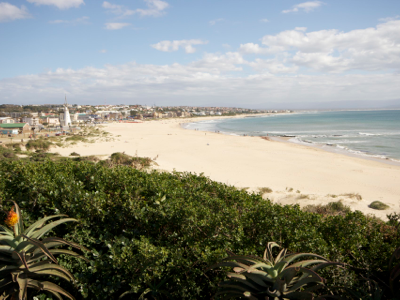 Waking up early due to the sun heating up our room we had an early breakfast at Island Vibe before walking into the town. It was a 10 minute walk to get to the city centre, i.e. the main street. Jeffrey's Bay is a surfer place most of all, where Billabong has (one of?) their factory and the only stores apart from restaurants and clubs on the main street are surf shops of different brands. We got back to Island Vibe to mentally prepare ourselves before our Surfing lessons we'd booked and after placing my camera and other expensive stuff in a safe in the reception (with, off course, the had the label "use at your own risk") we headed off to become mad-skilled surfers.
Unfortunately the wind had picked up and when the teacher had checked with the group before it seemed that surfing was do-able but far from good conditions. We chose to postpone the two hour lesson until tomorrow 0800. Somehow we already knew as we said it that we would most likely end up partying at this place and be hung-over like hell at that time but well well. After magically finding another double room we extended our stay in J-bay to three days (at least? ;))
The rest of the day was spent chilling at the beach, (not in the frickin ice-cold water though, 21° C or something?) and browsing the surfing shops. After hoping that we would have evened out the sunburn we had a siesta. Life isn't that bad after 30 after all. We had dinner at a place called the Mexican, very nice. For starters I had mussels in some creamy sauce, and Mona had a tequila, for main we went for enchiladas and fajitas. The food was really good and attentive staff made sure we kept drinking.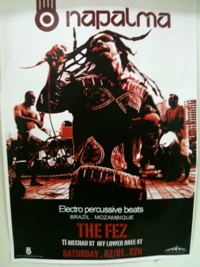 Then some band called napalma (or The Fez ?) come up on the stage and there was a concert by these guys from Mozambique, it was quite ok – some electronic beats backing the main guy singing. It was quite ironic however when the band played "Rap Das Armas" and the crowd went wild singing along. Mostly white rich people using cabs to avoid getting mugged are singing along with a dreadlocked black guy from Mozambique in a tune glorifying the violence against police in townships. It put a smile on my face at least, and after taking a cab back we had another early night.