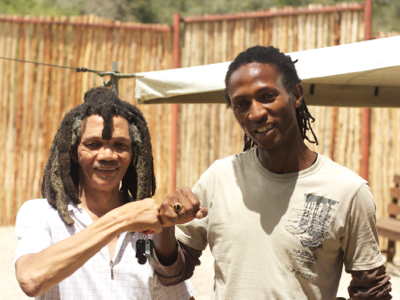 We got up in time and wrapped up our stuff and met our driver Vernon and paid Lungile for the tour as well as dropped our other gear there until we would get back for a shower before getting a taxi/shuttle to J-Bay later.
As we are driving on the highway Vernon talks about the stuff we can do at this place we're heading – we had actually only one demand for the tour that we told Lungile about, who then found this Vernon guy, we wanted to have a bush walk in Addo Elephant Park – not only game driving. It seemed strange that we could use canoes, ride quad-bikes etc but well well, however when he said that the place bordered to Addo Park we reacted. "Bordering to Addo Park, you mean we're not going to the actual Addo Park?". "Weeeelll, no, you're not – but this is actually better yadayadayada, – Lungile knew this since I told them from the beginning". After a very quick chat in Swedish we decided that what the hell, let's make the best out of the day and then have a chat with Lungile about our tour.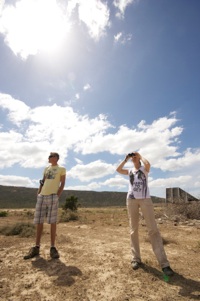 We got to the place just started up by a guy called Dave (who used to manage Kings Beach Backpackers in P.E apparently) who was a real friendly and relaxed guy who offered us breakfast as Vernon drove off. We did a "bush walk" with him, that is walk in the bushes on his property – and spotted three impalas that he had introduced to his property. Not exactly big-five classified. When we told Dave how much we had paid for this (130€) he was shocked and said that it must have been some kind of mistake, he usually charge 13€ per person for a lodge for two including breakfast – and although we would get lunch we were only here for the day.
We did some canoeing in the river next to Dave's place which was very nice and tranquil. After an hour or two we felt we knew that though and had lunch. We met some of the other guests, including Gramps Rasta with his family. Awesome guy who were very hospitable and although we didn't quite follow his sons' explanations regarding the relation between the length of his deadlocks and his ability to see in the future (he was not kidding) they were really cool and a bunch of those people you wish the rest of the world had more of. Saying our goodbyes to the family who drove off in a packed car after celebrating their Christmas at Dave we did some brief quad-biking followed by a little air gun shooting.
Mona was quite good at it but yours truly managed to hit the empty beer-can every time despite us continuously increasing the distance. Luck or some skills left from my military training, who knows?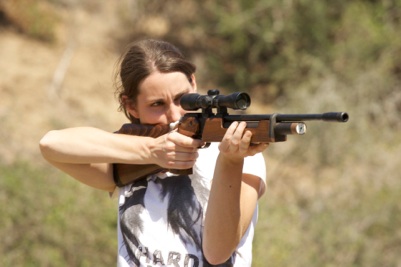 We then chilled with Dave and the others working there in the shadow, as we realized that we had burned ourselves nicely on the sun, while waiting for Vernon who would pick us up at 1715 or so. He came around 1820, not before Dave had called him and had a quite intensive discussion – probably Dave was not very happy by the service Vernon had provided. As we were to leave Dave refused to accept money for the beers we had despite we explained that he had nothing to do with the tour-mixup and shouldn't have to loose money on us because of others mistakes.
We decided that we would take the discussion with Lungile rather than shoot the driver and thus when we got there, already delayed with the taxi/shuttle waiting, and explained our memory of the deal and that we were not happy with getting something completely different. Bibbi in the reception was very surprised to hear we didn't go to Addo Park since her memory of the deal was the same as ours and called up Vernon to verify this. It seems that Vernon tried to get a larger profit than usual this day and were caught with the fingers in the cookie-jar. However Bibbi couldn't really take money from her pockets to return to us (and Vernon flatly refused) without hearing all sides of the story and getting approval from her boss. Did I mention that we were asked by the taxi-driver to pay her 5€ since she had been waiting for an hour? Bibbi promised to sort all this out somehow but as we were leaving we would get any money from Island Vibe which we were heading to since they shared owners as well, Bibbi would e-mail us the outcome of her discussions. Fair enough – she did what she could but why she didn't beat the living shit out of, ass-hat of the day – Vernon, I don't know – perhaps her boss and Vernon were best mates. We will see what happens though…
We had a really nice cab drive to J-bay since the lady driving us apparently were in the same business as Vernon but didn't know him and were intrigued by what she had overheard from our discussion at Lungile. It ended up a good hour of trash talking idiots around the world, grumpy passengers and people trying to rip others off. We finally got to J-Bay and we crossed our fingers that our booking was solid (the reception guy who booked us yesterday was more than a little tipsy at that time – the staff parties with the guests here and it was Christmas celebration). It would be an epic ending of the day trying to scout for empty hotels at night but the room was there and we even managed to place an order for a pizza home delivery. Awesome.
As we packed up our stuff both the items I had misplaced earlier during the trip, i.e. the luggage tabs (see 19th of december for details) and a tube of toothpaste suddenly popped back into existence from *drumroll* – Mona's packing. So after all that hassle with the luggage it appears that the boarding-passes I threw away were perfectly fine to throw away, the fact that it felt good to be perfect again removed the need for any harsh comments to my sometimes slightly lightheaded girlfriend 😉