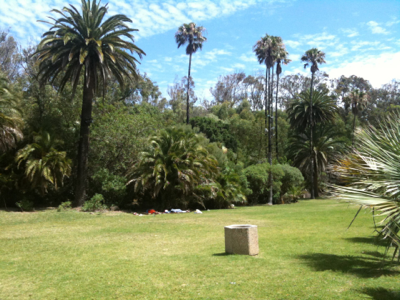 Today we both managed to get some sleep and after some slacking outside next to the pool we headed off for another breakfast. We went back to the Boardwalk and checked out their somewhat posh-looking café/bar called The News Café. It had very very nice fruit shakes, as well as pancakes with yoghurt and I had some fried Halumi cheese together with fried tomato slices to my perfect eggs sunny side-up, yummy!
Impressed and completely full we strolled back to spend some time in a park called "Happy Valley" where it was not allowed to drink alcohol (or burn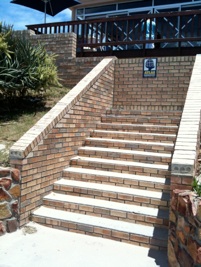 fires, or five other things) according to signs. South Africans have a thing for signs. Not in the way you can see in Japan with cartoons for everything but it just seems very unorganized. Big placards with information about e.g. a Cafe – and then there is no café to be found with that name within a block. Not mentioning their fear for getting sued – signs such as "Use the Safe at your own risk" or "Use the Steps at your own risk" seemed somewhat over the edge. Regarding unorganized, these awesomely designed stairs deserves some kind of prize. The idea is that one walks up to … a wall?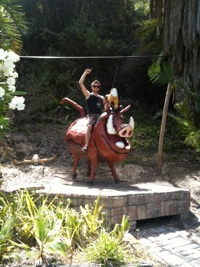 We chilled in Happy Valley for a couple of hours and when I found a statue that more or less said "Climb me and ride me" I followed my gut feeling. Watching the photo from my phone after Mona snapped it I realized that I wore the exact same tank top, similar but not exact same pair of shoes, shorts and sunglasses as on a photo from Ulf's and mine trip to Japan were I rode some robotic dog or similar. Feels good that me turning 30 didn't erase all the personality traits at least 😉
As we went back to Lungile to perhaps try out the pool in the nice sunny weather it of course got cloudy and instead we made plans for the upcoming day and sorted out accommodation in J-Bay for the following days as well as the first three nights in Cape Town. It really helped that Bibbi in the reception called to all places (for slightly more than an hour) rather than us doing it from a payphone or using e-mail. We thought we would eat more than one meal today and when arrangements were finalized we headed off to a place called Gondwana Café for a quite nice meal as well as a couple of drinks. The bill ended up at 22€ for two people spending an evening there – very nice. The idea of leaving for Addo Elephant park tomorrow before 07 and pack our stuff before that seemed like a less ideal plan after the drinks than before but well well – no rest for the wicked.