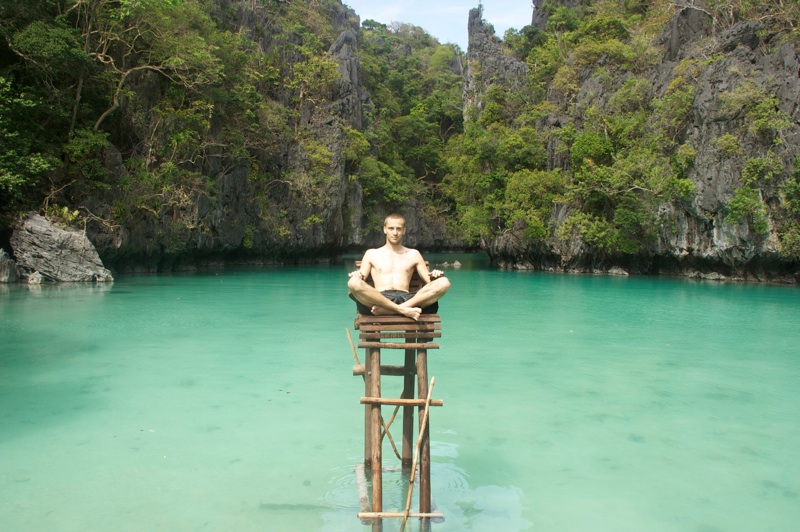 We'd signed up for island hopping, Tour A, at the reception – it seemed like island hopping was rather organized but we didn't mind. The theme for this tour was lagoons and snorkeling, which suited us just fine. We were paired up with a trio of dutch, a couple and her mom, and left El Nido beach.
Apparently the shootings of Survivor weren't completely done yet and some constructions and buildings were present and sometimes areas were off-limit due to filming. I have no clue as of the purpose of a high chair we found in a lagoon but it made a nice picture at least. The snorkeling was really good, weather was superb and the surroundings amazing. Razor sharp rocks and cliffs next to swaying palms and white beaches together with water in different shades of blue and green makes every angle look like a postcard.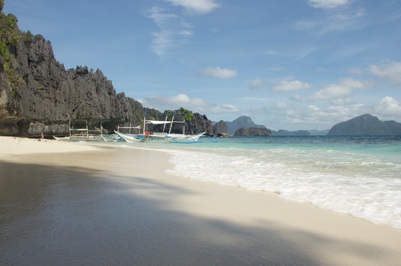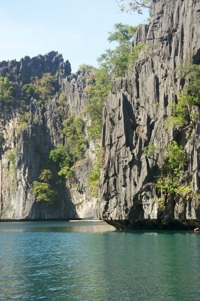 The dutch trio was good fun, however the fact that at least one was trembling badly in the beginning of the day and the couple had around 10-12 beers each while we were drinking water made us feel almost religiously healthy. The beer had little effect on them though so I guess it's just a question of habits, it just felt like being sober at Roskilde or something in their company. Is it just us who don't drink excessively while on vacation?
As we got back we made a little discovery, due to some change with payments for our apartment in Sweden, no money had been transferred for the December rent. Of course the bank having all our contact details hadn't bothered to let us know this, bah. And the host name for my computer at home had also vapored in cyberspace (causing this blog to become inaccessible). So getting wifi access presented not only solutions but also new problems.
According to weather forecasts it would rain the following day, but since it also stated it was currently raining we chose not to trust the report and signed up for another day of island hopping, this time we went wild and chose Tour B.