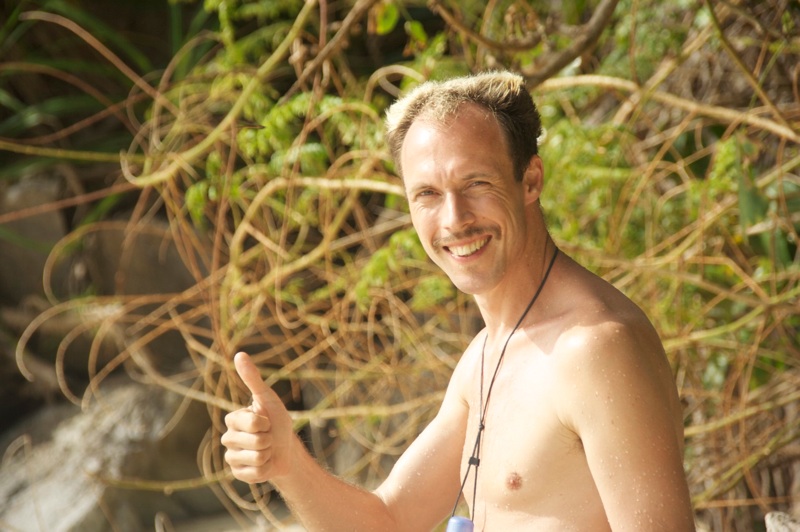 As we were waiting for our guide to pick us up at the hotel for the island hopping we saw a familiar face. A guy who had approached us the first day we got here asking us something meaningless and in general gave a slightly strange impression. We were now to go for island hopping together and like many people lacking or having severely impaired social skills he was eager to talk, regardless of whether audience appreciated or not.
On the island hopping were also two russian girls we'd seen in our Hotel earlier and two american guys. The weather was somewhat cloudy and the sea was slightly rough but it wasn't raining by any means as the forecast had predicted. We started off with snorkeling and saw a sawfish among other fishes, I really should find some underwater casing for my camera. As we got back on the boat one guy was missing (guess who?) but after loud whistling by one of the american guys the missing guy realized that everybody was waiting for him.
I seldom go on ranting about particular people and it wasn't really that bad, but when Mirsada pointed out the similarities I just simply realized that this truly was Borat, but for real. Similar accent and appearance, same limited knowledge of cultural and social norms, not afraid to voice racist ideas and all the same time showing symptoms of a heap of letter-combination diagnoses. He just kept on astounding the rest of the group with comments, questions and actions. Do I need to say the guy wasted the better part of a full tube of physical sunscreen while rubbing it over his body for 30 minutes? Or that he took pictures of himself showing thumbs up in every possible and impossible pose and situation? Amazing.
The island hopping was nice, although the day before was better – it really is a weather depending activity. We saw a cave, a nice lookout but due to rough sea we were unable to go to some locations and ended the tour with a nice slacking at Papaya Island beach. Reading (Best American Essays 2007), listening to good music and relaxing in the sun isn't bad at all.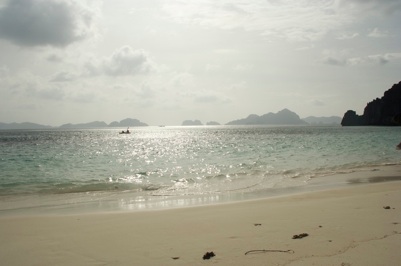 Tomorrow we would skip island hopping but rather stroll around in the area and get some ideas on how to move on from here. Currently we are thinking of swimming with whale sharks in Donsol or do some diving/slacking in Puerto Gallera before the mandatory shopping in Manilla. And we really need to pass an ATM on the way to either of the destinations.