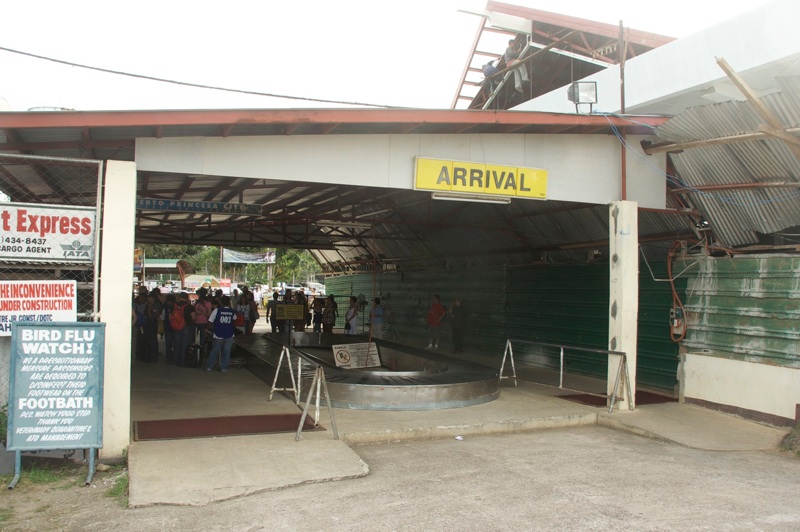 We woke up in the room without windows just in time to fetch the last of the complimentary breakfast. The plan was to get back to Ayala mall for some shopping. Mirsada needed to replenish her supply of moisturizers and we both pondered investing in some snorkeling gear to avoid the hassle and cost of always renting. Apparently they don't make masks fitting a handsome face like yours truly. We found Mirsadas goods however and also a store bearing the apple-logo. The items inside was not cheap by any means though, in general game consoles or Apple products seems more expensive here than in the US or even Sweden.
We headed off to the airport and were surprised to find out that we were flying with PAL Express, now that 10 kg limit applied and we had to buy ourselves an extra four kilos due to excess weight. Good thing they at least didn't weight my hand luggage where the bulk of my weight was. The propeller plane we flew with got there on time, and when we saw the arriving airport we were glad that we'd used the ATM on the departing one. Gothenburg City Airport sure isn't big but it's a giant compared to this one.
The next planned step was to head towards Port Barton as soon as possible, however we were told by local tricycle drivers that these transport only left early in the morning. This could be true so we decided to stay put for the night. After refusing the 1.5€ ride into town (1km or so) we started walking and learned that the rate actually was 0.1€.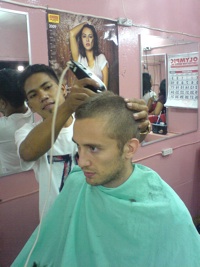 My hair had lost all shape and form and badly required professional help. Little did we expect to find this help in a pink plywood box but inside was a metrosexual Filipino guy who cut my hair like it was his destiny to do so, and all for the bargain price of 0.5€. Nice.
We had dinner at a local place and tried their Sashimi, it wasn't that bad when it actually thawed. We went to bed early since we needed to get up before 0600 the following day.