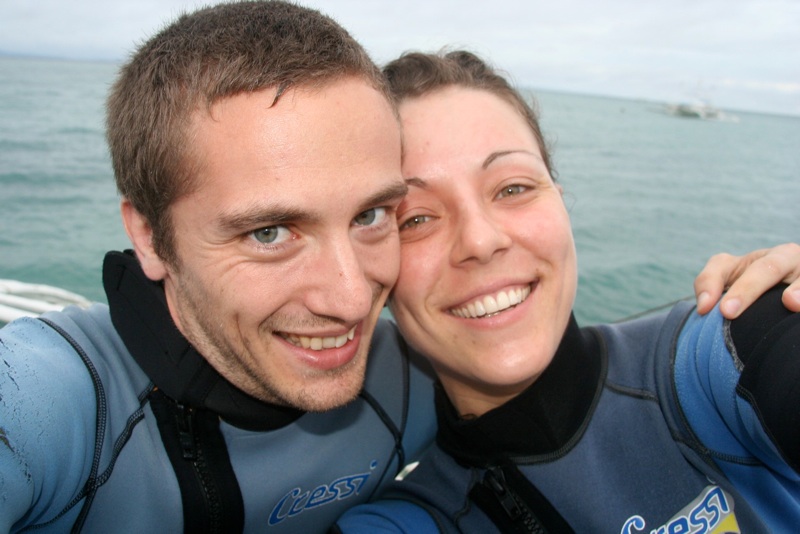 The dive was not cancelled! However the fact that up to some 30 divers had congregated pushed the dive shop to it's organizational limits and beyond. Yours truly was not so forgiving to find out that despite direct instructions both our wetsuits were changed to a larger size without notification. This meant I could more or less skip the wet suit and freeze.
In the end we both managed to find wet suits one size below though (more tight than snug) so I guess it worked out. I don't have to mention that we were three guys doing an adventure dive with one instructor (Davis?) who didn't as much as look back at us while descending for our deep dive. Well at least I got a certificate so I can go down to 30m in the future without instructor now.
We waited for the sharks, and waited, and waited. Suddenly someone pointed out that we had four big mantas swimming above us though, looked nice but visibility wasn't great. We had to ascend without spotting sharks. Back on the boat some guys had actually spotted and filmed a shark though that we hadn't seen. So close. Overall it was still a ok dive, but I'd rather do it with a smaller group.
After breakfast we left with boat for Maya where a public bus already was waiting. After some 45 minutes Martin and Karin, the Swedish couple got off and we said our goodbyes. We had good comfy seats, blasting Philippine remixes of old school dance music and for the first time the sun was shining bright. The bumpy roads wasn't so bad after all and in general things looked quite bright. That's when the bus broke down.
This bus wasn't going to get fixed anytime soon so it was time to refund the tickets (perhaps 3€ for both of us) and start hitchhiking or get on the next bus. The next public bus arrived only after 10 minutes but was completely full. As the next one most probably would be as well. When a private bus stopped by we decided to get on while it was possible and gave away our refundable tickets to a local as a late christmas present.
I think I'll try to contact the guy responsible for cramming passengers and livestock into the bus when I get back to work. I'm quite certain he'd beat the lot of our optimizers and probably a few of the physical laws as well. Finally we got to Cebu Northern bus terminal though and a quick taxi took us to the spot where a good hotel was supposed to be according to our guidebook. The hotel was nowhere to be found and the address was correct, again we were tricked by the guidebook. We decided to check in at the closest hotel we saw which was good enough although lacked any windows.
As a last activity for the long day we strolled around in Ayala, the gigantic mall opposite the hotel, browsing electronics, clothes and searching for snorkels and masks. An interesting sight or lack of was when there was a blackout while we were eating at Chowking. The whole mall went black for a couple of minutes, I wonder how shoplifting alarms work without power? In the end I bought a hat and Mirsada some accessories for her iPod earphones. Tomorrow it's off to Puerto Princessa, Palawan with Philippine Airlines inshallah.