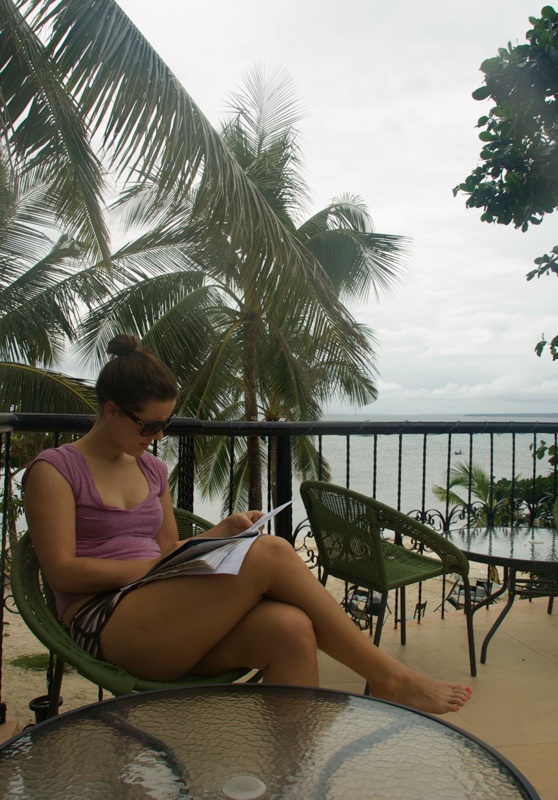 Sleeping long and well was a good start of the new year. Mirsada had scheduled a refresher dive to regain her confidence in her skills but otherwise the day was without any plans.
A prolonged breakfast turned into hardcore slacking with the brief exception of when Mike the instructor came to check Mirsadas theoretical skills. Even the sun greeted us with its presence for an hour or two. While Mirsada was doing her dive I'd try to upload the blog, check or book tickets to Donsol and check my mail. Then I'd take a swim or just work on my tan.
In 45 minutes I did not manage to login to gmail, I managed to transfer my blog (2.7Mb took about 40 minutes) and see that there was no direct flights from Cebu to Legaspi. While whining about this to the owner she asked if we had verified that the Whale sharks were present in Donsol. Apparently our guide book was dead wrong by mentioning Dec-Jan as perfect time, this varied from year to year and was not until February last year. Mental note is to double-check present conditions and not trust your piece-of-crap guidebook. When Mirsada got back the sun had, of course, hidden behind clouds again.
An attempt to take a swim was aborted after it started raining, the rest of the evening was spent studying and enjoying the daily dose of cinema Malapascua. We got to bed rather early since the thresher shark dive tomorrow was scheduled for the almost unholy time 0530.