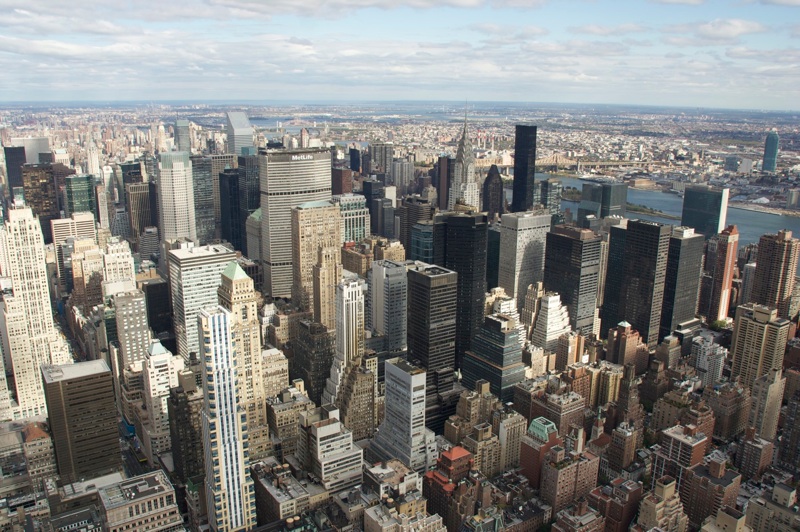 We headed off to buy some creams from Dermalogica to Mirsada after a brief breakfast. I was surprised by the amount of different facial creams that existed and thankful for me not needing to pay the hefty price for them. Three small tubes and little more than hundred dollars later we were done, and this was apparently really cheap compared to Swedish prices.
We continued with some strolling along the 5th, some nice stores but we kept to window shopping since nothing really fabulous was displayed. The weather was nice so we decided to take the trip to Empire State Building today. The pre-printed tickets saved us standing in the 4 minute long queue, well planned of us.
The view was very nice, one could recognize familiar buildings from the skyline and I enjoyed walking around getting nice photos in all directions. Twice of course, on for each lens. It will take some time to master the 50mm, but I did get some nice bookeh on a few photos on Mirsada in my newly bought blue jacket at least.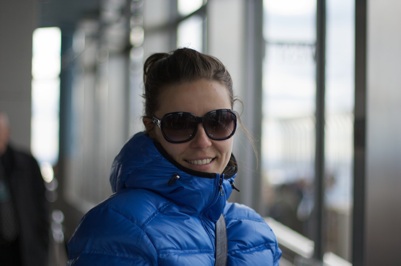 Despite the nice weather it got quite cold after some time with the ever-blowing winds so we got down and sniggered at the tourists heading up in t-shirts as we went down in full winter gear.
We decided it was a day for culture and headed off to the Contemporary Art museum and got tickets. I still have a lot to learn in appreciating red squares on white background but there were some nice paintings. We were almost ushered out though since they announced that the place would close in 15 minutes when we had done only little more than half the floors. We had a very nice latte like the artsy partsy couple we were at a nearby café.
To complete the culture we walked in a fast pace to Times Sq were we bought cheap tickets to the Broadway show Gypsy. By cheap I mean half the price, not the price itself. We headed off to St James theatre and seated ourselves in our, very nice I must admit, seats. The show was about the rather frantic soccer-mom who really wanted her kid(s) to end up on Broadway, rather ironic to read about the actors "this is a dream come true" statements in the information leaflet but it was a nice show, and quite an experience. Not sure I'd like to spend that amount of money every night on theaters though.
Rather tired we strolled around Times Sq and then Broadway home searching for noodles but were only greeted by closed restaurants, to lazy to walk back we got some yoghurt for Mirsada and hit the sack.