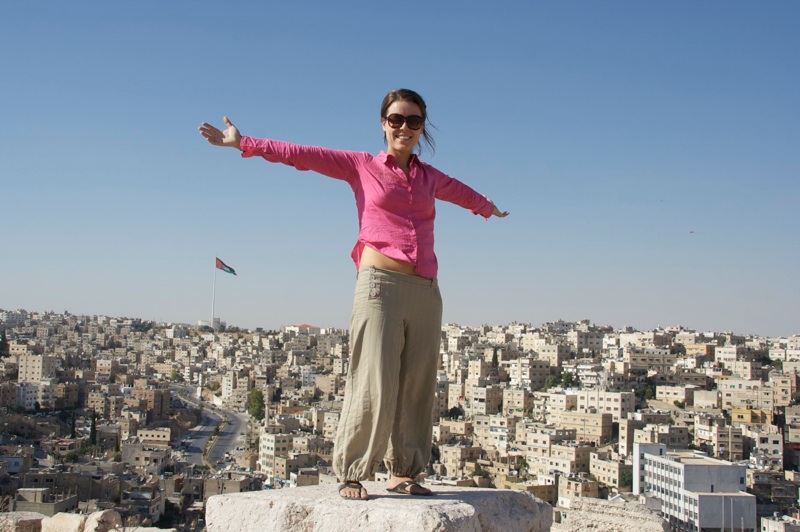 We woke up after a well-needed sleep and planned to go to Jerash after breakfast. There was an arranged tour including Jerash but we decided we'd only do a short tour and pay a fraction of the price.
We got to the bus station and got on the bus to Jerash but got off since Mirsada's shoes broke. This left her with only high heels so we postponed the visit to do some shopping. I bought another pair of flip-flops just in case since mine also were falling apart. The afternoon was dedicated to the Al-Pasha hammam.
It took some time to find the place despite/due to our combined mad navigation skillz and when we got there we were informed that if we'd booked three days ahead we could go there as a couple but now the first available spot was saturday afternoon. We instead booked consecutive times for the following day and decided to do some more shopping and sightseeing.
We got to the up to the Citadel by walking through some locals garden but a friendly boy guided us through to a proper street again. The citadel wasn't that impressive to be honest, there was the temple of Hercules which was nice but I guessed we'd become a little spoiled with sights. The panorama view over the city was however rather nice.
The late part of the afternoon and the night were spent at Hamzeh's grandfather's place. It was a very nice place, the terrace was the big enough to fit a bus of people and a pool. We had some practice of eating the local speciality, maansaf, properly (with one hand from a common plate) as well as some nice mezze. The gathering was quite dressed up since some people where wearing the traditional national dresses, we and the rest only were suit and a dress though.