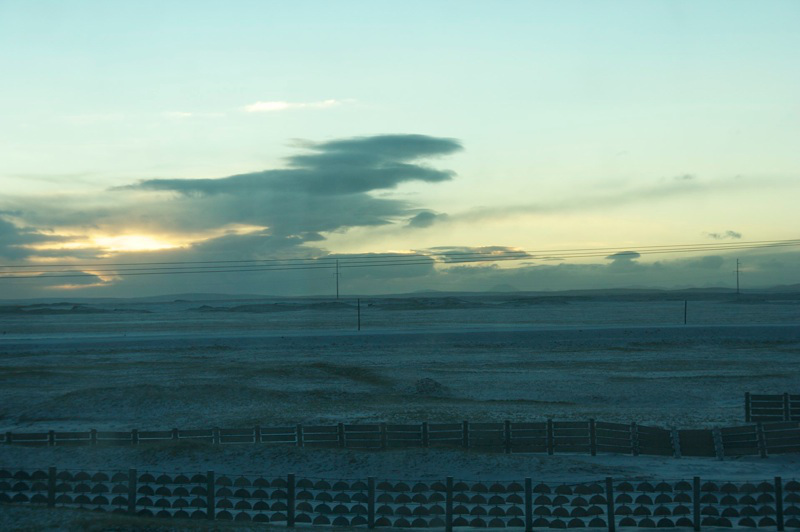 Waking up rather early again, this time the bright light didn't only come from the lamps. It was white on the outside, we were now on the Tibet Plateau. It was beautiful with the snow-covered steppes, the blue sky and here and there some frozen rivers or lakes. I'm writing this from 5000 meters above sea level on the highest railway in the world.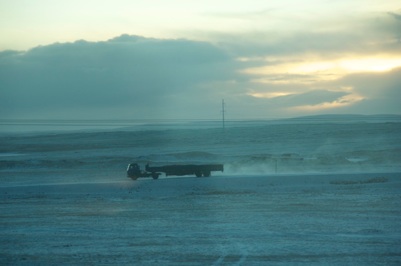 The earth here is consisting of permafrost, which in addition to being an unpopulated area and limited oxygen proved a tough scenario for the engineers constructing the railways which have several long tunnels and a good share of bridges. "Impossible is Nothing" posters in Beijing proudly declare regarding the upcoming Olympics with all the challenges it brings and it seems like the same spirit was used when building this railway. The permafrost is also studied by geologists, movement of glaciers and the having continuos earth samples from a frozen piece of earth for over 40 years I guess is valuable for some science.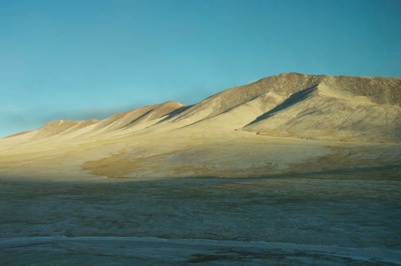 To get back to more concrete problems I magically lost my toothpaste right after using it. We are talking about 15 meters walk but after vigorous search there is still no clues.
I had some brief conversations with my korean room-mate Jung-Wook but most of the day is spent being amazed by the views. We passed the highest freshwater lake in the world which was a sight. The coolest thing was when I saw through the narrow slit the real colors of these scenes. All pictures so far are shot through windows which discolor and add dust and smudged fingerprints, the real deal is simple magnificent and I think that I will try to capture the beauty with obscenely many pictures during my stay in Tibet.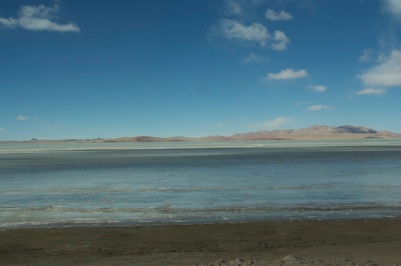 The high altitude doesn't show any signs on me yet, although my korean friend went to sleep since he was getting some headaches due to altitude sickness. I help Jung-Wook to transfer some of his photos from his camera to his iPod with my computer when a girl comes by and strikes up a conversation. Her name's Sakura (cherry blossom) and lives in Japan when not traveling.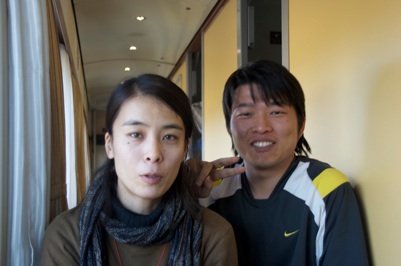 After some nice chatting about permits and travelers tips we close in our destination and we say our goodbyes. After returning my ticket to security at Lhasa train station (I decided not to question this to me strange behavior) I searched for a guy holding up my name or similar. Right. The station closed and I was kindly asked to wait outside in the brisk Lhasa weather. I had no idea of who would pick me up or how they would know who I was.
A guy comes and ask me if I know a japanese girl called Sakura who took the train from Xi'an. Weird coincidence, I say I think I've met her but can't see her now. He calls his agency to make sure that she didn't steal my guide and vice versa. No such luck though.
After a few minutes I took the liberty of calling my travel agent in Beijing. She promised to call back within five minutes but another call comes in and my driver apologized for being late and assure me that I will be picked up in a minute. Two guys close up on me and ask for my name. Jackpot, I get in and end up at the Kailasih Hotel. I get a nice double room with shower a small TV. Definitely above my standards.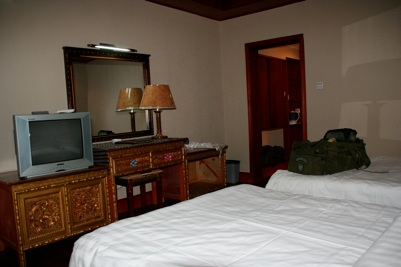 I get out to hunt for some local food and pass a guy looking rather lost on sidewalk. A guy who looks a lot like Jung-Wook, he had taken the bus to close-by and was now searching for the Yak hotel which he planned to stay at. I had nothing better to do so I joined him in his search, we stopped for food though and I ordered something that the group the table next to ours eat. It tasted quite nice, rice and some fried pork/vegetables. It costed 0.8 € which I think is quite affordable. I guess the fact that the restaurant didn't have a door but instead a missing wall against the street causing the temperature to be a comfy 3-4 degrees had its effect on the price though.
Jung-Wook asked for Yak Hotel in my reception and it was apparently rather close so I wished him good luck and went up to my room. After writing this I think I will get a good sleep, the breakfast will be brought up to my room at 0830. Sweet.