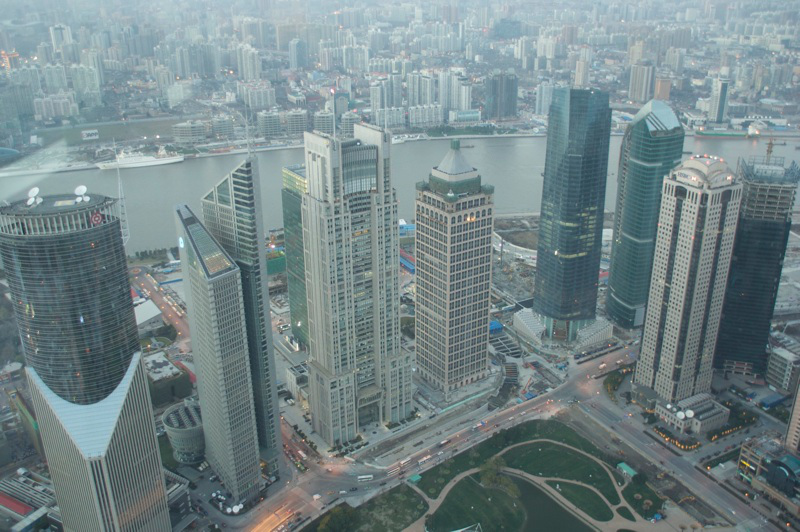 Today the plan was to visit the Shanghai Museum and before that locating the canon quick repair centre to clean my camera's sensor. Google is your (chinese) friend and I managed to get an address in chinese writing. We also booked our flights back to Beijing but shortly after that being done we were called up and informed that the flight was sold out. The alternatives was late the 1st or the 2nd, with a slightly higher price for the 2nd, we decided to go for the 1st.
After finally getting ourselves from the hotel the cab driver left us at the building which would have canon on their 13th floor. After entering it appeared that the elevator only went four floors. So we entered the adjacent building and asked for canon and pointing at our cameras. We ended up in a department store selling cameras. It was time to explain that I would like to clean my sensor from dust without a common language.
They gathered more or less the whole floor and with their combined language skills they said it was the building we started in, on the 13th floor, and actually walked us to the entrance of that building. This time we walked pass the first elevators and found where floor 5-40 had theirs. Finally; the only problem was that the bellboy communicated that the camera-people were sleeping and back tomorrow-tomorrow-tomorrow. That would be the 2nd, that is the day after we leave Shanghai. Bummer.
After some thoughts of rescheduling our flights we postponed the idea and instead had lunch at a japanese place on the main shopping avenue HuaiHai Rd called Ajisen Ramen. It was cheap and tasted really nice. We then got picked up by Mathias, Tara and Helen who took us to the Jinmao tower since the museum was closed over the weekend. Once the 3rd tallest building in the world the view is quite spectacular and the skyscraper itself rather impressive. Again it was nice that Shanghai didn't have the same amount of smog as Beijing so one could actually see quite far.

Back at the hotel we met up with the Canadians who just arrived. We were heading to a mongolian restaurant for dinner, then back to the hotel where we would have a party in a presidential suite. The suite was 320 square meters, had a sauna, a jacuzzi and a bar. Rhys was the designated bartender although we had bought some beers and breezers to make things easier.
The combination of sauna, drinking games, tequila, bourbon and a pack of party animals has proven to be a good recipe for extraordinary night before and this was no exception.