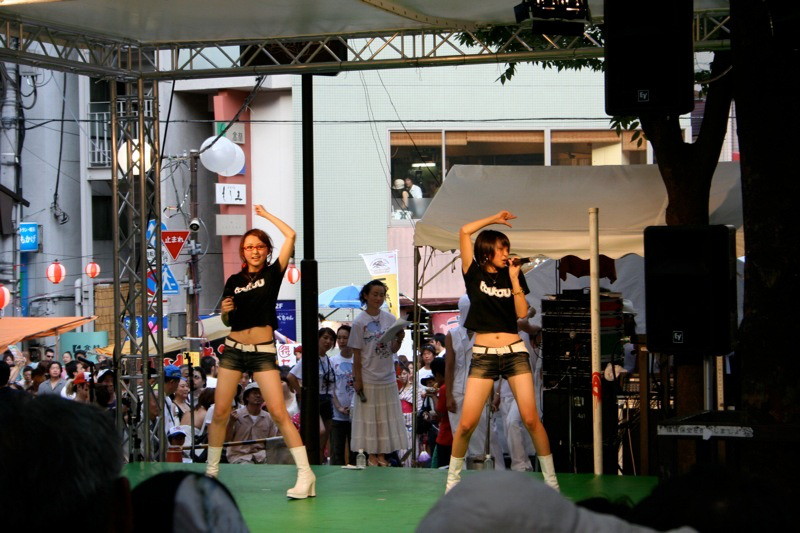 After four hours of long and nice sleep we had to get up in order to avoid the anger of the management of our hostel since it there is a lock-out between 11 and 16. Which is very irritating but for several other reasons the hostel is quite nice.
We tried to get some cash since Ulf's master card stopped working on friday. Which proved to be a bit of timing since my Visa card decided that it wouldn't 'verify my pin-code'. I guess last day's sacrifice to Mammon in Roppongi Hills wasn't that well appreciated, which should perhaps try to consume more in order to satisfy him? When I tried to login to my bank via internet I got the message that they were updating some systems or similar so I couldn't log in. And if I had questions regarding my personal account I should log in it said on the contacts page.
It worked again after the service was done though, my card that is. Ulf's still refuses to work in any way, he's quite happy that he didn't travel alone. We met up Megumi again, the reason for her early departure was that she had wounded her knee and needed rest. We didn't know this but she had plans for us anyways. We would check out a festival in Azuba Juban, a part of Tokyo. Lot of folk dancing and people herding each other on streets cramped with food stalls. Sounded like something cultural as well as fun.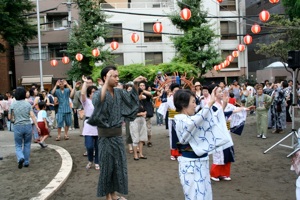 We took some photos, and Megumi told us that the reason for us seeing people wearing kimonos quite often is that this period is as big as new year in comparison. Apparently the ancestors of the japanese people come and visit them during this week and this is saluted in different ways (like the fireworks in Miyajima we saw earlier). Our timing was good as always. The folk dancing was mostly local japanese songs but they did some dancing to reggae from Hawaii as well. Quite interesting to see.
After that we decided to check out a place that Megumi said had really nice BBQ. This was an understatement. It was really really good and the the owner / main chef seemed enthusiastic about having two gaijins there and asked us if we liked the beef rare since he thought that was best. We agreed (he was the chef, who would know better?) and he prepared it for us at our table to show how rare it should be. The concept was that we were given pieces of raw meat and then grilled it ourself at the table. Very nice and tasty.
We did some more walking around at the festival and then strolled towards Roppongi Hills. During the walk we mentioned our experiences with the girls offering massage yesterday and while Sho was a bit shy on the subject Megumi explained laughing what was considered to be included and that it was very popular and common among salary men. But it was for guys only, after some thought I'm not sure that the japanese distinction between sex and massage is incorrect (and the Swedish correct).
I do think that the openness they have towards sex and pleasure in general is healthy but it seems like it's quite focused on the male part of the population. But when we were at Roppongi hills and received some evidence on the contrary, some give-away fans that we thought was advertisement for hair dye. Megumi explained that it in fact it was advertisement for a sort of male escort firm supporting girls with guys. I am not sure if there was a hidden message in the fact that the girl gave those fans to us.
We reached Roppongi Hills and decided to watch a movie at the cinema there, the others hadn't seen Pirates of the Caribbean 2 so that was the choice. That it was in english and only subbed to japanese a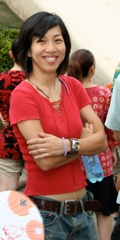 nd was the only sane alternative also played a role in the decision of which movie to see. After the movie we thanked Megumi for the evening and left for home.
Megumi would try to schedule up a night of Karaoke for us later in the week and show us, or give us the name of, a famous sushi-restaurant we should try. What a great guide and a fun girl. I guess it was good timing that she had hurt her knee so she couldn't train Tae-kwon-do as she usually does a lot.