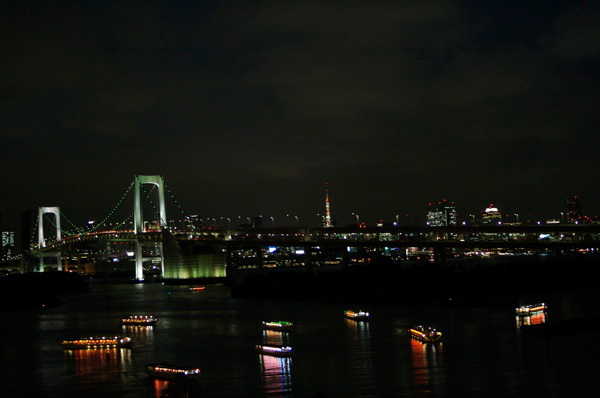 I realized this morning that it's actually really nice to sleep more than four consecutive hours. We decided that we would check out Odaiba, which is an island in Tokyo, today and we had heard that it would be quite a view from there, especially at night.
We passed Shimbashi on the way for a transfer and decided to check it out a little. It was as most stations in Tokyo, nice sky scrapers on the outside, stores on the inside and some event going on.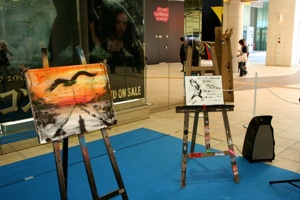 We saw this guy painting fiercely to the sound of some fast and pumping electronica that he wore on him. It was the end of a show but it seemed that he started out with a blank canvass and then painted to the music. Kind of cool but next show was like an hour away so we decided not to wait for that.
Odaiba was nice, we didn't do as much shopping as usual but instead spent some time reading/blogging in a park. After that we did some walking along the seashore and took pictures of Rainbow Bridge, the bridge to Tokyo mainland. We then had dinner at a restaurant with a really nice view, I guess we were the only ones in the place not being a couple though. Later we headed back and I've done some blogging and now plan to jump into my bed. I got a mail from the drum'n'bass DJ at Womb saying that I should meet up with him tomorrow and he would give me a cd with his music. I hope it works out, then I will try to spread some culture to Gothenburg 😉