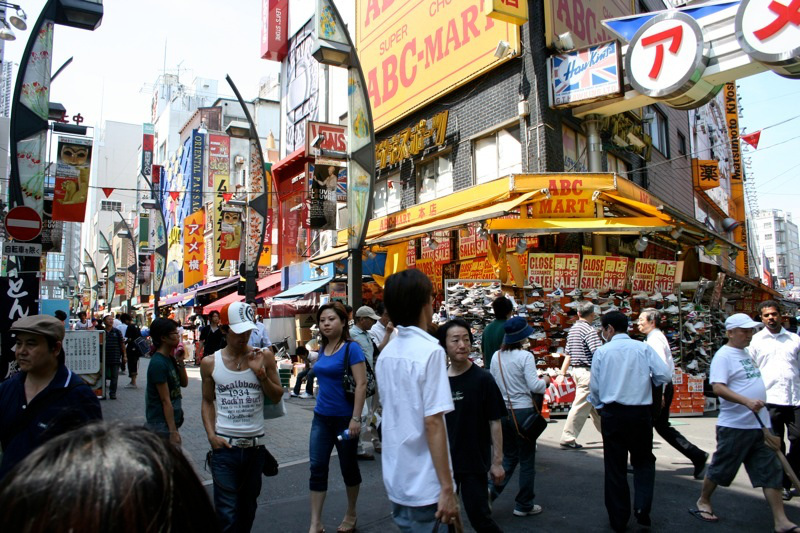 Waking up in my little capsule was not that bad at all, we could probably do this tonight as well. We had managed to make reservations from the 19th and forward at Tokyo Backpackers, which we stayed at last time we were in Tokyo. Cheap, free internet and no curfew, and a little healthy dose of slum.
Ueno station which we are just a decent throw of a rock from seems like a living part of the city. In all possible senses. It was centre for the black market during the war and obviously remained a popular marketplace. There are food stalls, clothing stores like a flea market where the merchants try to out-shout each other. Not my style of shopping to be honest but worth a visit. And we managed to sneak into a regular department store for some shopping as well. Since we saw a sign for internet just outside our hotel I didn't bring my laptop with me but thought I could check mail and so on there.
When we got there we were asked if we spoke japanese, which we don't. They then pointed to a sign explained that in order to use the computers for internet you had to speak japanese and have an ID. This made no sense at all, but we took a picture of the sign and left the building. I guess it wasn't racism since it was based on knowledge but still it's strange that they have signs in english on the outside and then only allow people speaking japanese entrance.
After some strolling/shopping and food we decided that we would backtrace and but two bags we had been checking out earlier. This proved a bit difficult since the streets seem to have re-arranged themselves with all the food stalls coming and going.
We decided to go for the capsule hotel again since that also gave us some chance to dry/wash our Fuji-gear which still was in a moldering state. I guess I saved some clothing but my shoes are in a critical state, we will see how they look and smell tomorrow. We have notified the locals we have had mailed to so hopefully the following week will include some new japanese friends. For the evening after some blogging and futile attempts to use the coin-tumbler at the capsule we went searching for food and internet as usual.
Since we recall the location of the the internet café where we were let in I didn't bring my laptop this time either. Now all food stalls where gone and most shops had closed so our signs for navigating through this maze were gone with the wind. Instead lots of drunken japanese people were strolling around and we were asked by two women, far from good looking if we wanted massage. We kindly declined and debated if it was only massage or not, since only massage would be nice but to explain this in limited english seemed quite risky.
After checking our mails for any answers without luck we decided that we would get some food, perhaps a beer and go back to the capsule hotel. We found a restaurant that served pizza and realized that we hadn't tried these so we gave it a try. Pizza is more expensive than other, more common dishes, in places as classy as this, as compared to Sweden where it usually is considered quite cheap in comparison to e.g. sushi. Anyways the pizza itself wasn't that tasty but well drenched in cheese. We concluded the night with some japanese whiskey in a nice bar in the area.
Tomorrow we are planning on clubbing, we will see what Lady Fortune has prepared for us. There is also a few shopping districts that we need to cover…