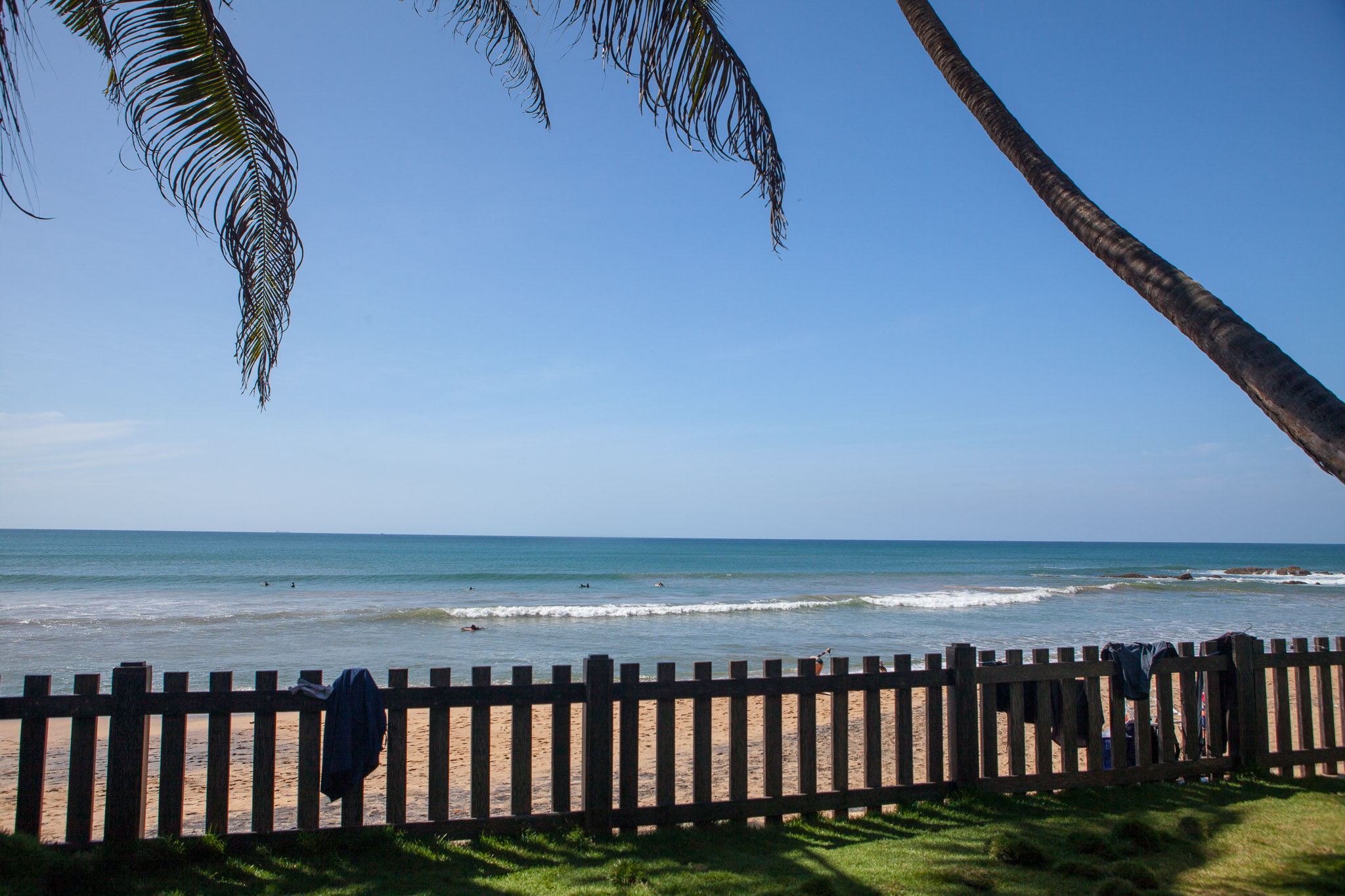 We woke up and unfortunately Mona hadn't slept well with the ocean so close, but the breakfast was nice and it felt good to sit just by the beach and enjoy the view. That said I could tell that a tired Mona who had too little sleep for two nights in a row would be less than ideal preparation for New Years. After weighting some options we decided to splurge and booked a 5-star hotel in Unawatuna, Villa Thawthisa The Boutique Hotel for two nights for us and one night for Kalle & Gunnel.
I told our host that we've decided to leave since it wasn't really what we were looking for but that it was due to no fault of their own. He understood but felt sorry for us, and clarified (what we already knew) that he couldn't really refund us in this case. I explained that we didn't expect that but wished to cancel our stay so he could in theory rent it out to someone else – that didn't cost us anything. After some wrangling with Booking.com it was done, turns out they don't ever share card details to the host so if we had just left our cancellation e-mail stated he would have had to hassle a lot with booking.com to get his money. He was very appreciative about our gesture and said that if we needed his help in any way for anything in Sri Lanka we should let him know. So I went to the local ATM while Mona packed our stuff, I double-checked that nothing was left in the room and we checked out.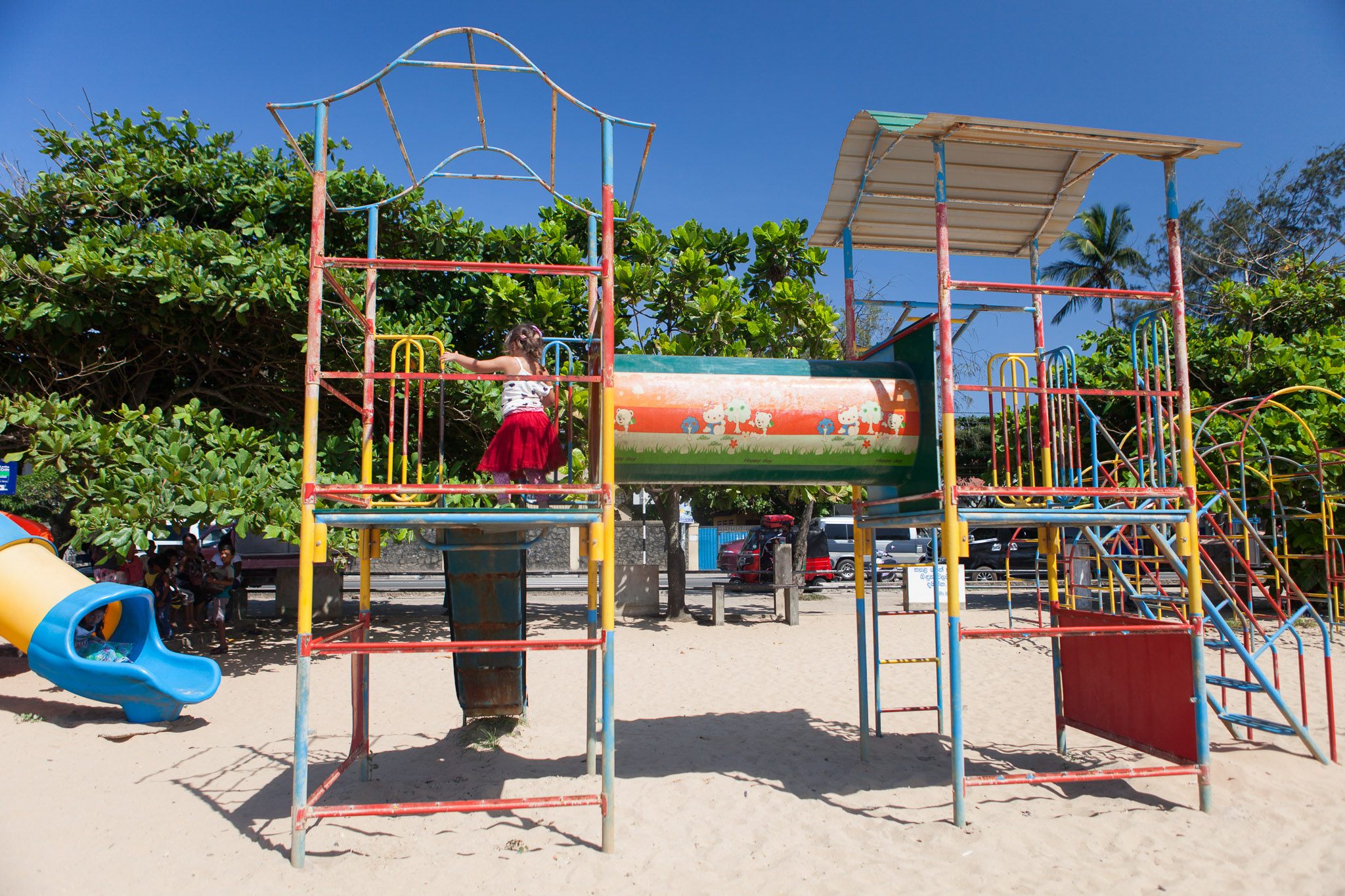 We took the same tuk-tuk we had yesterday and strapped Mona's large suitcase and my old military bag on top and the rest inside. Travel in style to the five-star hotel was the idea. We first however stopped at Matara beach which had a kid-friendly beach with long shallow beaches and also to Juni's keen eyes a impressive playground. After having her run around in the playground for some time, then a bit of swim to cool off she soon fell asleep in the Tuk-tuk and slept most of the 1.5 hour ride until we finally arrived our new hotel.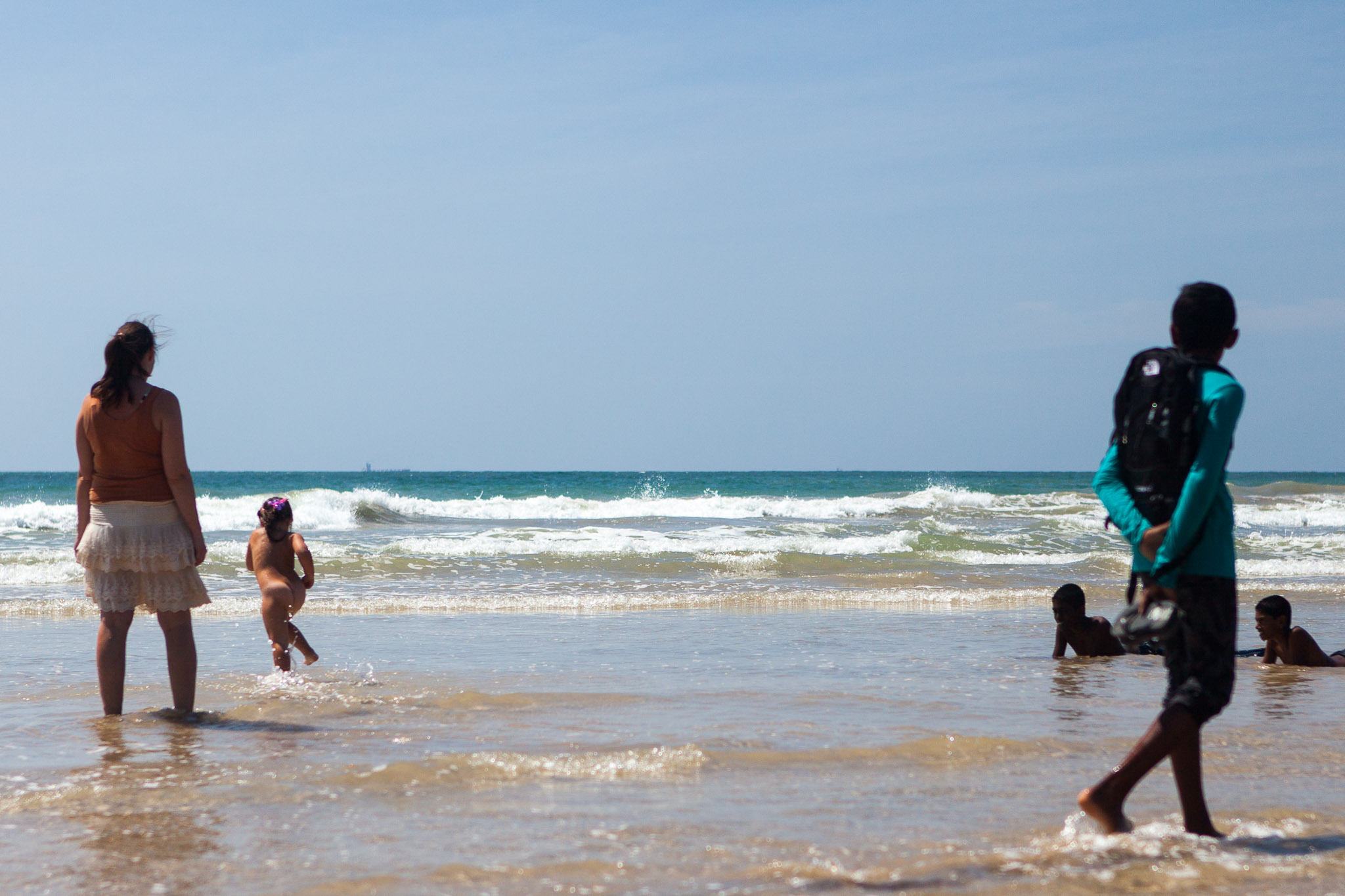 During check-in they were slightly plussed about our booking, they hadn't checked since this morning but then found my name and bookings. Then came the somewhat worrying question "How did you manage to book this room?", it seems that our room with its own pool was undergoing renovations and weren't supposed to be rented out today. Also, had I noticed the mandatory gala dinner for all bookings the 31st (it was hidden somewhere in my booking under "important facts", but there stated this was for 2018 New Years Eve) – it was more than a little pricy by Sri Lankan standards but it would solve our quest for a nice dinner so I said that sure, fine, we will have four adults for the gala dinner – but let's first resolve the small matter about our room(s).
We were showed an option and they suggested we stay one night there and then move to the other room. I suggested instead that we swap my rooms – given that they would be finished today with the room for Kalle & Gunnel. That was no problem and everyone was happy, the pool was awesome and it felt like we have done the right choice. It was around this time I realized that my swimming shorts were missing – and asked Mona if she when she packed also had put down them and Juni's swim trunks that were hanging outside on the fence to dry. She had not, and I had only double-checked the room. So I pondered a bit what to do, then texted our host and explained that if possible I would like the tuk-tuk driver who probably was back around now to take another trip to us with the shorts. Our host said that of course this could be done, but it would be cheaper for me to buy new shorts – which perhaps was true, but I like my old ones so I asked him to please send the driver back to us.
We checked out the restaurant on top, realizing it was scorching hot on the outside since there were no protection for the sun, and less than adequate railing so I'd rather not have Juni loose. That said, the view was really nice from here – with the small detail of a huge hotel being built almost by the beach, apparently the hotel is owned by the presidents brother – which I guess explained how anything like that could ever get a permit to be built.
Mona ordered a lukewarm feta cheese salad, and I had some fried rice and Juni some pasta. The cooking staff managed to forget Mona's order (we were the only ones in the restaurant) somehow, and when it came the feta cheese salad missed about 50% ingredients from the menu – including the feta cheese. Mona asked the chef whether he had read the menu, which he smiled and said yes to. No bad tempers but to make a long story shorter we were told that we were only to be billed for my meal – the salad and drinks was on the house. A bit strange start to the five star hotel combined with the room mixup but anyone can make mistakes.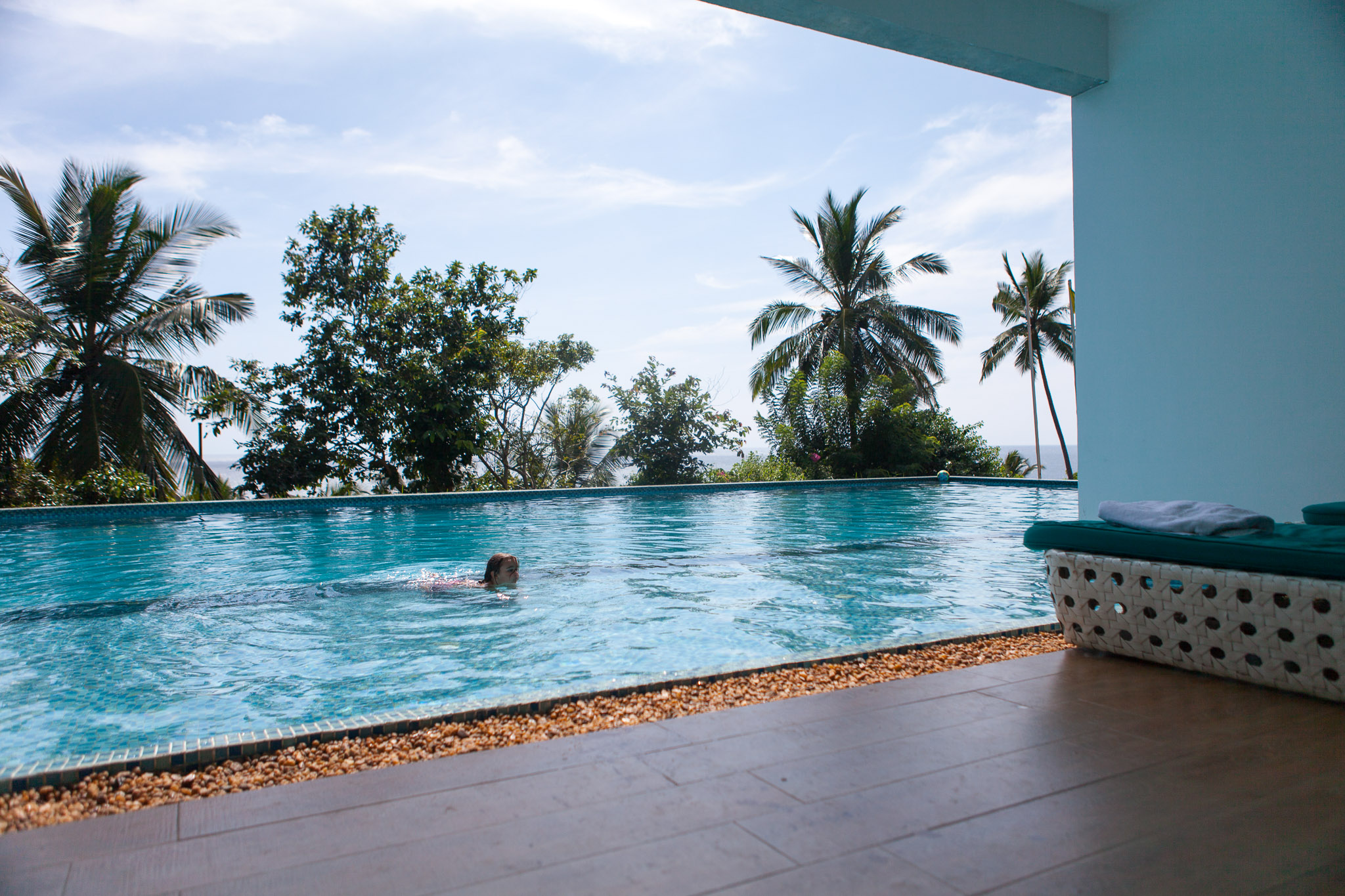 We enjoyed the pool some more and relaxed, got the swim shorts delivered (and I tipped handsomely and said that I hope I don't see him any more times this year), and generally had a good time. There was quite a struggle with the lock, which I reported to the staff and they would look into. While there the staff explained that they wanted to get paid for the gala dinner and rooms in advance but given the issues we seen I said I was fine with paying the dinner and half my room for now which they considered fair. Strangely enough they had no paperwork at all for their requested payment, nor any change or had calculated how much but after ten minutes I gave up and just handed them the money and said they didn't need to bother with a receipt right now.
Mona had researched some "Koha Surf's Lounge" that we tried out for dinner, it was nice, but nothing fabulous and we walked home to the hotel for the night. I decided to treat myself some more gaming and played Hollow Knight for an hour before hitting the sack.