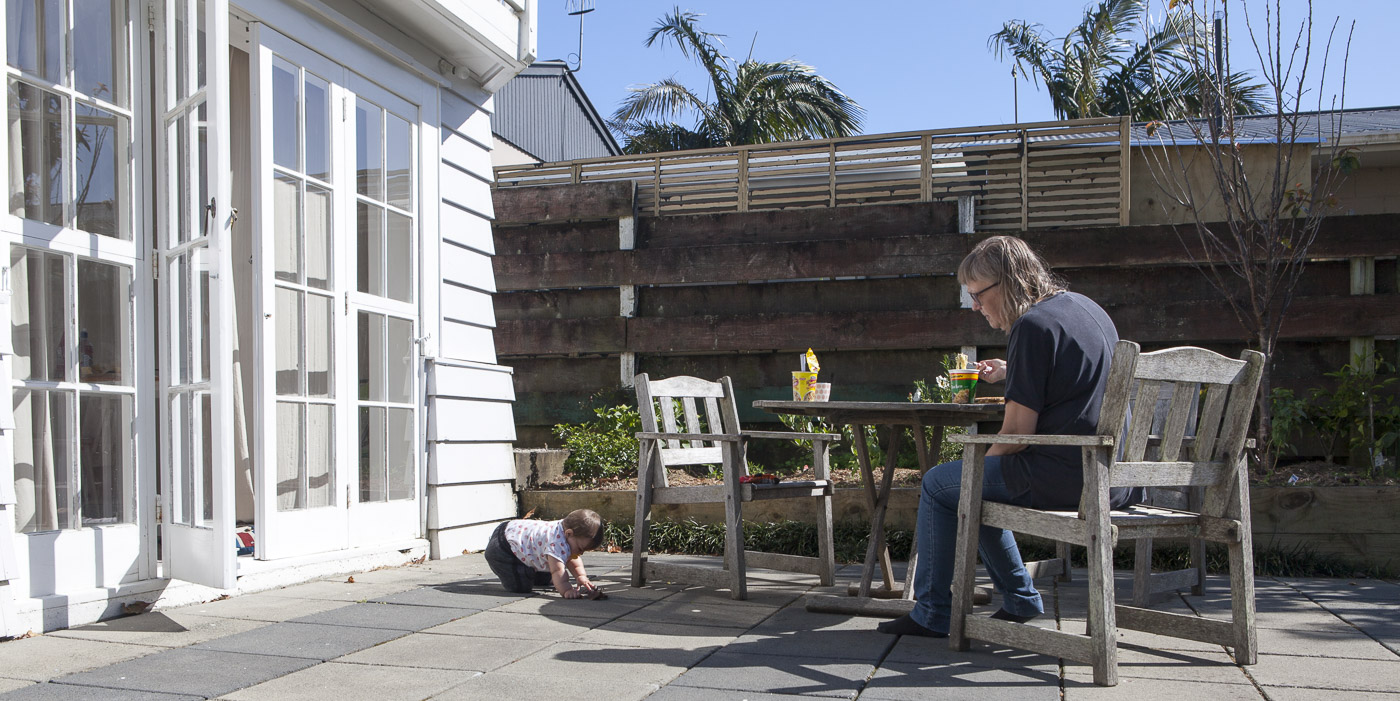 I started the day with a lovely first breakfast in the backyard with mom and Juni. After enjoying the cup-noodles (or actually they left a few things to be desired but still) we woke up the others and packed out gear and checked out. We had a few hours to kill before returning the cars so we drove to Devonport Naval Museum but honored the great weather and took a stroll along the waterfront.
Walking by the sea made us hungry and it was time for second breakfast. After enjoying a tasty meal we continued along the sea promenade to the ferry and then turned back. It was time to return the cars so we drove off to Jucy Rentals and a nearby petrol station. This time we arrived at Jucy in decent time, but not enough time to stop at a supermarket for more baby formula for Juni – but we had some in the diaper bag and what could possibly go wrong?
There was no hassle at all at Jucy with the damages from the parking incident, apparently all the paperwork was already done and the 75 NZD for administrative costs had been deducted the day we called so that was a smooth matter, and we got a shuttle to the airport where we had plenty of time.
Idle hands are the devil playthings, and this is when I checked my Twitter feed regarding the US elections. Things were starting to look really grim really fast and a growing realization that enough people voted for a male, fabulist, sexual predator with no experience in running office over the most experienced candidate but being female and not enough populist. That put a damper over things to put it mildly.
The flight went OK but Juni wouldn't fall asleep until we were minutes from landing. I have to say that Emirates do know how to provide good service – everything from check-in to the dining options were great. We managed for the second time to go through border security with a green note (no check) so next mission was to locate cars and new sim cards.
That proved to be easier said than done, the sim cards were a breeze but the pickup desk for the cars we walked back and forth before we finally were able to locate their disk – which was closed so back to where we were with all luggage and a foul mood. We opted for maximum insurance and packed the cars and headed off different ways since parents were going to Torquay while we had Melbourne as next stop.
We took a quick detour to a supermarket to pick up some baby formula (remind me to always have  roaming or sim-cards when traveling in the future – Google Maps is a lifesaver) before they closed then drove towards St Kilda in Melbourne. Since it was rather late we had a self-check in with instructions, and then it stated that the parking spot was a bit tricky to park they weren't kidding. After a bit of commotion with a hungry and tired Juni, tired parents we finally got into the apartment, provided power to the router and went to bed after an exhausting day.