For the first time in a while the alarm was digital which felt a bit weird but we quickly packed our stuff and headed out for a super breakfast at one of Jonte's favorites down by the esplanade, The Pond Cafe. It did not disappoint, and we were now well loaded for taking the train to Melbourne and chill there over the day and then the midnight flight to Christchurch, New Zealand.
As the train got closer to Southern Cross in Melbourne it became more evident that this city had close to 4M in pop, a tad larger than Torquay. Per Jonte's instructions we did not user the automatic lockers but went to the lockers next to SkyBus where one could get a cage for 20 USD by an actual person which fit our 9 bags (traveling light is a long gong memory) snugly.
Melbourne. We need to spend more time here but a the initial impression is I really like this city. We started by taking the old school tram (with audio pointing out areas and viewpoints, sort of like a mini hop-on hop-off but it's free and an old tram) round the inner city to get a feel for the city and then strolled around in the districts that caught or eyes, ears or simply was nearby.
Some scattered thoughts
Trams in the inner city core are free. For all. Public bathrooms are also free in this area.
Bicycle helmets – everybody is wearing them and I really want one with cat ears for Juni when she grows up.
Architecture – it reminded me a bit about Barcelona (or more likely the other way around), shapes and colors are experimented with for some the high-risers but there is also a mix of the old building sprinkled out. I really liked it.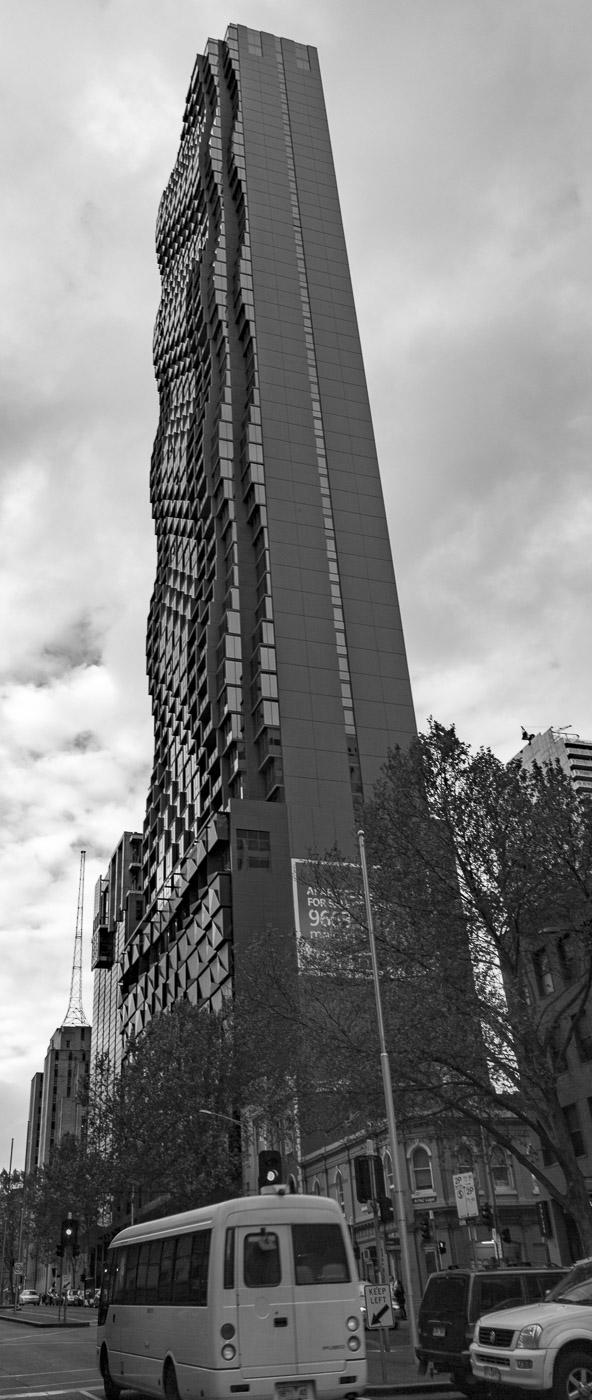 Chinatown, or perhaps more correctly "blocks of delicious food from all over asia" was huge and I could probably get used to live there. Next time we will go for dumplings, this time it was chicken soup for yours truly and Mona had Bibimbap.
On the other hand I completely understand why Jonte moved away from Melbourne to Torquay as well. It's much more busy than easy-going surf, but it's still pretty easy-going compared to other cities.
After walking around for a few hours and shops started to close we decided it was enough for one day and grabbed us some food and took the bus to the Airport – with plenty of time to spare. Which turned out to be a really good idea (again).
<Rant>
Apparently Jetstar is the Ryan Air equivalent in all douchebaggery manners and of course they latched on to the fact we only had a single ticket to New Zealand and explained we would not be allowed to check-in unless we bought a return ticket which a colleague of them of course was happy to help us out with. I still don't know if this is a formal requirement, but the fact that this is mentioned to me as I check in and not while I book my ticket (and present my nationality) was a bit irritating and the general attitude of their staff is just amazing.
So armed with laptop and a calendar chasing wi-fi while the clock runs down before last time to check in we finally managed to book some tickets with Emirates through random travel agencies on the net (no way in hell I would give more money to Jetstar if I could avoid it). So much for "see how we feel and decide later" – and of course the max 7kg carry-on luggage could not be shared between us so we needed to move around in our carry-on bags. Because reasons.
</Rant>
On the plus side, the actual airport staff was really nice and "baby coming through" was yelled as we jumped all sorts of queues and in general got the VIP treatment. Well, of course the infamous border security had to ruin the trend but we had everything in order so no real hassle there.
As we finally boarded the plane and realized there were quite a few empty seats left and our gamble with leaving an empty seat in the middle paid off. I quickly switched to the row behind and stretched out over three seats for winding down with my book and tried to get some sleep – next up New Zealand…