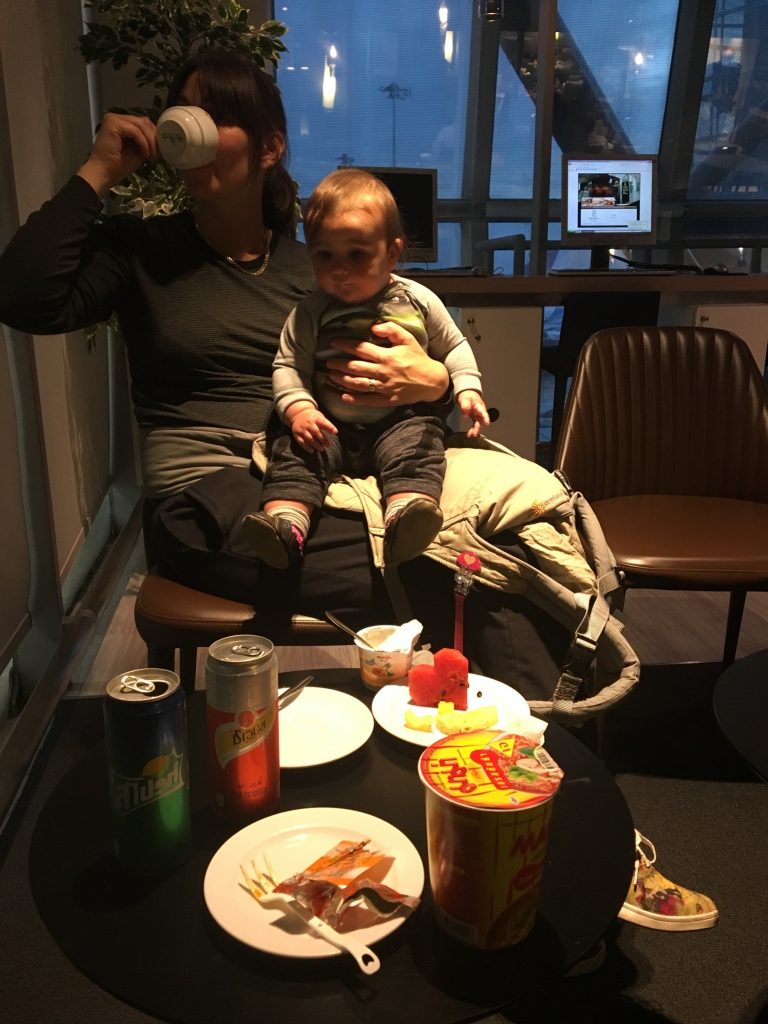 So, a new chapter begins with Juni, who enjoyed her first lounge in Bangkok.
To rewind the tape a bit; Mona was pregnant during the last trip to Tanzania and Zanzibar but to avoid concerns we decided to go public first after passing the first trimester and showing a ultrasound to our parents. Juni is now 7 months old and have survived a few trial trips and hikes so as I started my parental leave it seemed like a good idea to visit Jonte and Janelle in Australia together with my parents.
Some lessons learned – Thai Airways requires an infant to be no older than 6 months to receive a bassinet and be able to book good seats from the start. At some random time between one month and two days before departure it was possible to reserve nice seats (behind a wall with space in front) so it worked out in the end – for mom who had nut allergies it was trickier to check in over Internet but as long as she stated clearly that this was only when eating we were allowed to check in at the airport.
Security went smooth (family queues ftw) and the first leg to Bangkok went just fine. At the last breakfast the cabin crew informed that it was not allowed to have Juni sleeping on the floor, which she had been the larger part of the trip, but in general things went better than expected. The transfer was 90 minutes so enough time for a quick stop at a lounge to text Jonte, get some refreshments (instant noodles for yours truly of course) and another round of security before getting on the last leg.
More alert crew spotted Juni sleeping early in the flight so we had to have her in our laps for safety (masks falling down, but not on bassinets?) which was less convenient but we managed to get some shared sleep. Last but not least passed through the infamous border security without even having our bags checked – and all luggage were present as well as a hippie-brother with a large minibus who drove us straight to Torquay were we had a beer and a chat and hit the sack after some 30 hours of traveling…