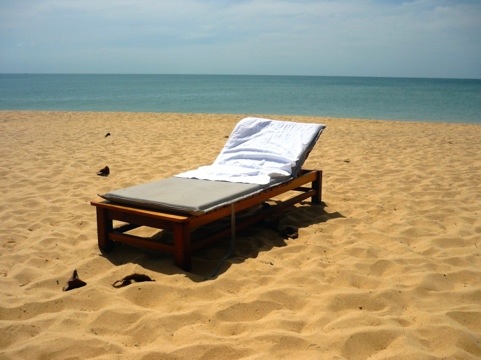 I woke a bit earlier than Mona and did some blogging, after two failed attempts of slowly waking her I informed that we had 10 minutes left before they closed breakfast at 10. As we packed our stuff we had company of our Vietnamese technician who I kindly helped after he had tried rebooting my iPad and fiddle with its network settings for some ten minutes. I suggested that he would try a testing device of his own since I thought it was rather improbable that all our iThings messed up their network connections at the same time. We checked out from the hotel, got a cab to the airport where again it was time to fiddle with photos and blog.
We landed at Phu Quoc Airport and were welcomed by a heatwave as well as taxi promoters while we still were waiting for the luggage from the conveyor belt. My patience trickled with 8 taxi guys standing in a circle around me with none managing to provide an answer to the not so controversial question of what the price was. In the end I resigned and just took the least annoying guy who had a taximeter. When we got to Arcadia they were overbooked, which was interesting since we had paid in advance. We were offered to be upgraded but then move the next day, we explained we didn't want to move around but were happy to be upgraded for the entire stay. They agreed after some resistance, and we got to the room which was awesome – newly built, balcony and nice shelves for clothes. We quickly scouted the area and dipped the toes in the sea, about 27-28 degrees. We also saw the ladies offering massages on proper beds in the shade for around 4USD – things looked in general pretty good.
Mona had done a bit of research and we wanted to eat something non-Vietnamese but had not yet reach the pizza craving state. So Indian food it was, a restaurant called Ganesh who had OK reviews in tripadvisor. Masala tea, my precious, and garlic naan with some paneer in a spicy tomato curry, milkshake for desert. Nomnomnom, we may come back here before leaving. We decided to walk the 2km back rather than getting a cab, a breeze made the temperature feel like maybe 26-27, in contrast to the 33 when we landed. Life was good.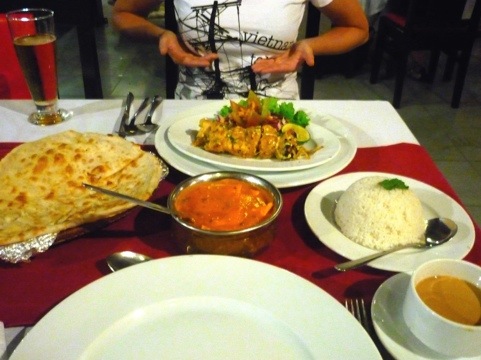 Then came Karma and her ugly step-sisters. The wifi reception was fine in all other rooms, and outside as well but no connection from our room, and this was not something temporary.Annoying but not the end of the world, after playing Civ for an hour or two I lost the achievement (virtual trophy if you like – important stuff!) due to not being online while winning. Then came the next blow as I would just upload the blog from last day in Ho Chi Minh City. Somehow versions had got mixed up due to network issues, the result – I got the first three sentences but the rest was gone. This is where nerd rage enters, and I decide to comfort myself by going outside to order a dishwasher. Which has increased 1500 SEK in price, at this time I realize I should give up and so return to the room in order to charge the iPad and go to sleep – guess if one of the chargers had been left at the hotel in Ho Chi Minh City?