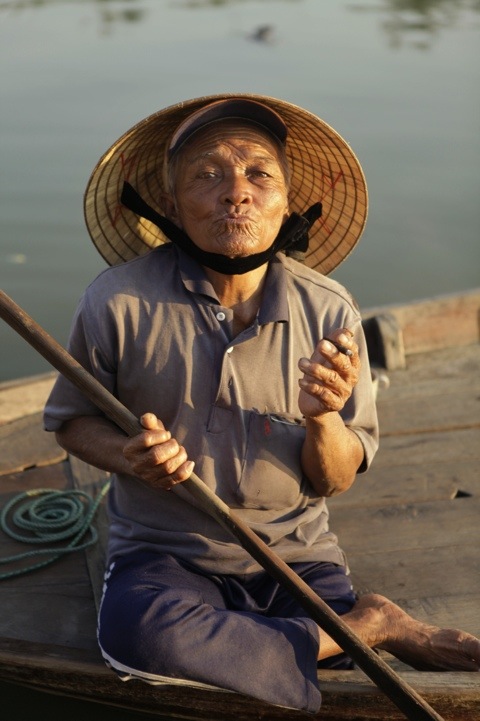 This morning we understood the breakfast concept, it's a menu with prices, but everything you eat for breakfast is free. Why the hotel bother setting out prices for breakfast dishes if it's included in the price for all rooms I'm not entirely sure. We had over the course of a week now survived dubiously fried eggs, fresh vegetables, food from street stalls and even ice cream without a single problem so we decided to make things a bit more interesting by renting bicycles. We're still taking bets at 1-800-Retardos by the way.
Today was a day of fittings, first 90 minutes at A Dong Silk, then we went to the cloth market to check out Mona's dress. Since it was pretty nice and only needed minor adjustments she started ordering more dresses, and I somehow made the mistake myself of asking the price for linen and suddenly I was taking measurements for another suit. The plan was a white linen to, for the lack of better words, go colonial – we'll see what the much cheaper tailor can whip up. Another hour and a half later we biked down to the beach. It was a nice road and traffic wasn't bad at all, we after some hesitation ignored a not-so-officially-looking guy telling us to park our bikes with him and settled in the dunes.
The water was cold enough for me to not dip more than my left foot, and most of the clientele seemed to enjoy the sun above the sea. A tasty lunch just by the beach didn't cost more than an additional 10% compared to Hoi An city center which was a nice surprise. A bit of reading later and we headed off for more fittings at A Dong Silk. It was really wonderful weather so we took yet another stroll down the river and it was really nice to see the yellow painted houses glow as the sun set. For dinner we decided to skip Cafe 43 and try out a recommendation from Thid, Hoi An Sai An, just by the riverfront. It supposedly was run partly by a Swedish guy who had some Swedish dishes. There was however no sign of swedish influences or staff, and although we paid premium the food was on par with street stalls, so likely the guy sold off somewhat recently. We decided to have drinks and desserts at Cargo Club instead. Their Mojitos was so-so but their chocolate pastries were on the other hand superb.