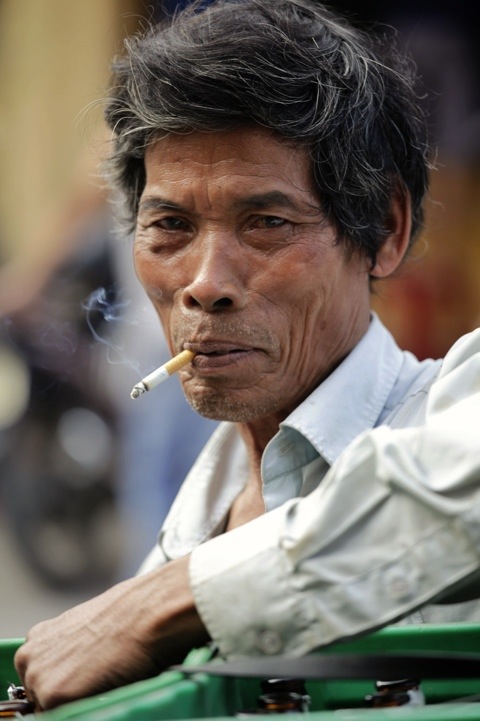 We started the day with a nice breakfast at the hotel, pineapple pancake with strawberries. Health is important to constantly keep at bay with various available vices. The primary and first goal of the day was however A Dong Dilk. After checking with Claes it seemed that they were pricey since they used more expensive fabrics, in addition the ratings on Tripadvisor was outstanding. As my friend Henrik often puts it "If you buy the most expensive thing, it's seldom you get the worst possible quality".
Two three piece suits and a shirt was the first order for me. Skirt, trousers, blouse and some alteration for Mona who somehow managed to spend a sixth of what I did. We walked the suggested walking tour in Lonely Planet and took our time savoring the atmosphere. The cloth market was interesting, it was the first place the sales people come close to harassing in their attempt to get buyers and it was more entertaining than irritating but it was still a tangible difference compared to other tailors or shops. I think they sensed weakness in Mona who ended up ordering one dress, cheap and hopefully of OK quality. A Dong Silk for all their Italian cotton lacked some interesting designs, it was more traditional patterns and fabrics.
We ate lunch at green moss, cheap but nothing extraordinary in taste. We headed back, and I wanted to take some more photos of a market so Mona went ahead and we met up at the hotel after half an hour or so. We did some Spa research, the plan was to get that feet pedicure done for a bargain. As we were about to leave I asked Mona where she had put the bag with my clothes from earlier. She first froze, then got a bit stressed and finally ran off to pick it up where she'd left it. Unfortunately no luck, but there is a slim chance that some of my business cards where in the bag. The bag contained my Tiger of Sweden suit and the "legs" to my pants/shorts, but nothing belonging to Mona. Well, you buy some you loose some as the old saying goes.
The Spa, Hoi An Day Spa was nice and I gave my feet the best treatment available while Mona enjoyed a relaxing facial. Total price 19 USD. After the luxurious treatment we decided to pay Cafe 43 another visit. Their set menu VI was really really nice, rice dumplings, a curry, a wanton soup and a plate of fresh fruit. Add four beers and tip and you have a dinner for two for the price of just under 6 USD. One could live a very good life for a small amount of money here.