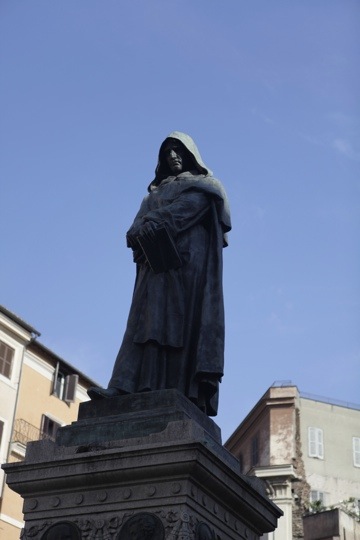 This statue is placed at the piazza just a few meters from us, Campo de Fiori, and was not as I first believed a monument to honor the Assassin's Creed computer game series but some Giordano Bruno. He was a philosopher and scientist who proposed around the late 16th century that the sun was a star and other crazy ramblings – fortunately authorities sorted this out and he was burned at the stake 1600 thanks to the inquisition. Anywho, we enjoyed a tall glas of fresh fruit and some coffee for breakfast while basking in the sun.
After breakfast we went strolling in the area and found Pantheon which was rather impressive, it should be noted that the excess of basilicas and buildings who at least look like they've been around a millennia dulls your mind a bit. Rome really is a sight to behold, and not only the buildings – the people seem to take care to look their best with a sense of style. It seems that being in your late sixties is no excuse for a man not to wear cool sunglasses, a stylish suit and shine like an original player. Somehow it seems that most women are a generation younger though, I guess this is a good place to grow old. Apart from looking good the Romans know to treat themselves, be it cigarettes, ice-cream, fashion or food but it's a rarer sight to see someone working hard, a rather healthy attitude. Then again, their infrastructure and general maintenance could sure use some upgrades…
We went for some shopping at Via del Corso and I found two rather nice shirts, however not my credit cards so we will have to go back before we have dinner – we have made reservations at Osteria dell'ingegno, which is close by. This is supposedly a favorite spot for politicians and their glamorous entourage so we better suit up. Now it's time for siesta though!