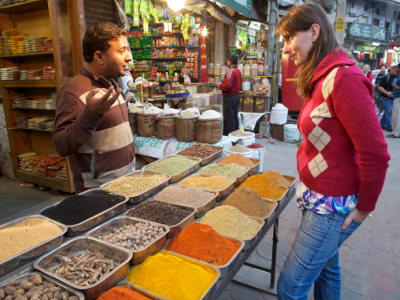 After five minutes with the water I deemed the hot water to be out so no steaming shower for me in the morning, the Internet was still not working as well – apparently the Hotels Internet Provider had issues. Slightly grumpy we headed to Humayan's Tomb with the Metro.
This is apparently same same as Taj Mahal, but in red marble rather than white (?) – it had a nice garden where the locals played cricket or had picnics. The entry fee was only 10Rs, for Indians and whopping 250Rs for foreigners. Sometimes you have to be pragmatic though so we paid and entered. It was impressive but in bad shape, it was only rather recent it was pronounced a Unesco world heritage and before that little preservation seemed to have taken place. As an example they had in the 1950's put grey standard concrete over the old original stone floor to "even it out" – if you listen carefully you can almost here the cries of a thousand archeologists. The concrete was now removed and work underway to restore or replace things in general, such as the intricate doors which had been used for firewood.
We had lunch at Connaught Place, a chinese/thai place which was really good – close to block A if anyone ever wants to go there 😉 We learned during the day that in the local vocabulary "a mall" as well as "shopping centre" refers to big store with handicrafts. I lost count of the number of Pashmina shawls that Mona looked at as well as the number of times I've said "no thank you" but fair enough. Walking home along Main Bazaar street we found a spice-selling guy who held a surprisingly fast and good lecture about his spices and recommended us to check out his homepage, thespicemaker.com.
Rather tired we spent the evening at the hotel flicking through the 100 channels of Bollywood, Indian commercials and Cricket news while munching on Indian snacks. I'm looking forward to cheeze balls as well as proper Swedish candy.