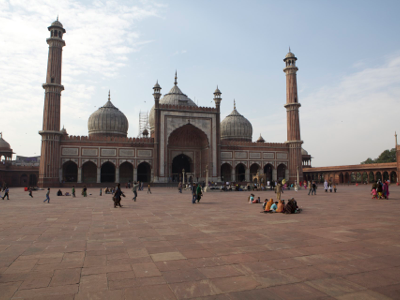 The beds were really nice to sleep in but we wanted to enjoy the complimentary breakfast buffet so went up around 09. Surprisingly, no unpleasant surprises about the room yet 🙂 Did I say steaming hot showers? Nom-nom.
The agenda for the day was to check out Red Fort and Jama Masjid (their biggest mosque) and explore the bazaars a bit – perhaps some shopping. The streets had a completely different look in the morning and rather than unsafe I'd now describe them as buzzing with chaotic life. Which is a fair description of Delhi as a whole.
The highlight of the day were strolling around the mazes of the bazaars – or not actually bazaars but long winding alleys where people sometimes lived but always had stalls or shops. We found some exquisite doors and a friendly Riksha driver explained that this was the jewellers district and these were doors of the rich jewellers and gave some stories from how they were nine brothers etc. Interesting and lots of photo opportunities.
The Mosque was somewhat of a disappointment, first it was not as grand as the one in Damascus by a long shot and more important they levied fees of 200Rs for "cameras – including mobile cameras" as well as for entering a tower the old 20Rs for Indians, 100Rs for foreigners. I'm happy with tipping, or paying a little extra as a rich tourist – but I'm not paying five times the price. The Red Fort was closed for security reasons (Republic Day something?) but was sure impressive just walking around.
We saw a sign for Tibetan refugees / market place which seemed to be a strange combination and checked it out. It was an accurate description though and I thought this was a good place to donate a pair of pants I no longer used to a family. Despite all the hardships these people must suffer every day they still had smiles on their faces, were polite and tried to keep up their barbers, food stalls, shoe polishing etc and no signs of violence or thefts.
After a long day of walking we concluded with some shopping at Connaught Place for Mona and then took the Metro (convenient but crazy full of people) back to our nice hotel. After 15 minutes or so we heard ridiculously loud Hindi Techno music and saw that someone had used the quiet alley outside our window as a party-location with tents and stuff. According to the reception it was a wedding party, yay. I managed to take a nap despite the noise (old army-skills) before we headed out for a quick dinner.
We had so see the wedding, which turned out to be a party for kids (?) and were invited for dancing and eating. We checked the place out passed the opportunity and ate at Diamond Cafe on Bazaar street. When returning the music still played but stopped around 23 so it was no real trouble falling asleep anyways.