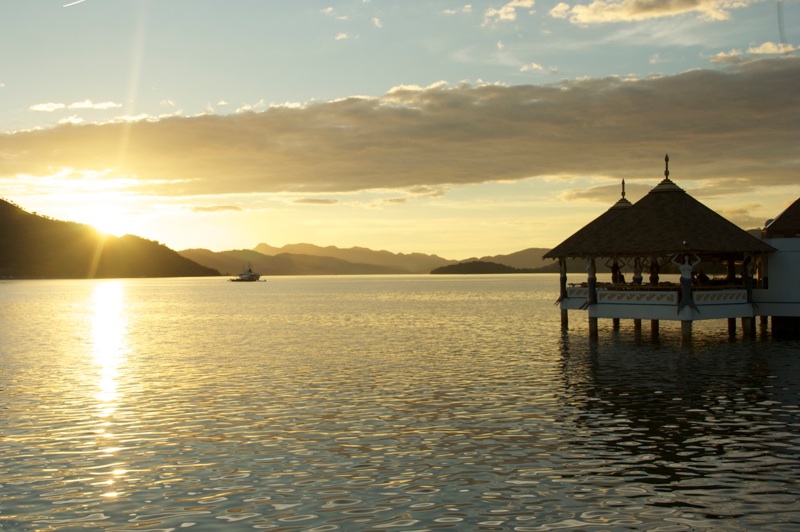 As the alarm woke Mirsada up (I could have slept through a civil war) we had breakfast, checked out and headed towards Sea Dive for another day of wreck diving. It was nice weather and the hour out to the dive site was pleasantly spent slacking on the deck.
The first dive was Kogyo Maru, another 2nd World War ship which had housed fortification machines and material such as cement bags, steel wires and a crane. The visibility was nice for a wreck, perhaps 8 meters and in addition we saw Lion-fish and the little silt there was didn't stir up the water so one could really see with the help of the flashlights. Nice one!
The second one, Tangat Wreck was slightly shallower which allowed longer bottom time. The visibility was worse though and there were some currents so it was an okay dive but not as good as the first one. There was no third dive so we headed back to Sea Dive rather early where we had dinner. We suddenly had more time on our hands than planned but realized that they had the best fresh mango juices so far so we did some reading and blogging.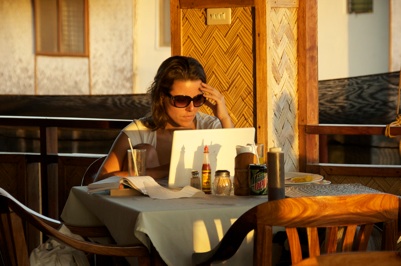 Rather hard to capture on photo, but there is this time around half past four till five when the sun really fills the café with a warm glowing light which is just amazing; usually this is followed by the common but still beautiful sunset…
We were to check in for the Superferry four (!) hours before departure so headed there, curious whether it would depart on time. The staff there assured us that as long as we were back an hour ahead of scheduled departure it was safe, so we went back and had another nice detoxing massage at SPA Paradise. Afterwards I decided not to walk barefoot with my newly cleaned and massaged feet so I changed into my running shoes. Or at least I tried to, I could only find one of them in my bag.
Loosing your shoes once is a nuisance, especially if they're stolen. Two times is a irritating coincidence. Three times is a conspiracy. Out of three pair shoes I brought from Sweden I was now down to a single right running shoe. This wasn't bad luck. You know that creature that usually lives in your washing machine and steals socks? Well I think that someone let it loose after pumping it up with steroids, and now it's got an appetite for shoes. One day it's gonna be your shoes disappearing first seemingly by accident until you're out of shoes and only too late realize the awful truth.
But I digress, after some delay we got on the Superferry which actually turned out to be the size of a proper ferry. They had rather tight security with loads of paperwork, bag-searching and picture taking. Most of the hassle was to make trafficking harder although the military armed with assault rifles I think was more related to Philippines Muslim/Christian conflict. Well aboard we had a nice little cabin of our own with queen-size bed and private bathroom. We were quite tired after a long day and fell quickly asleep.