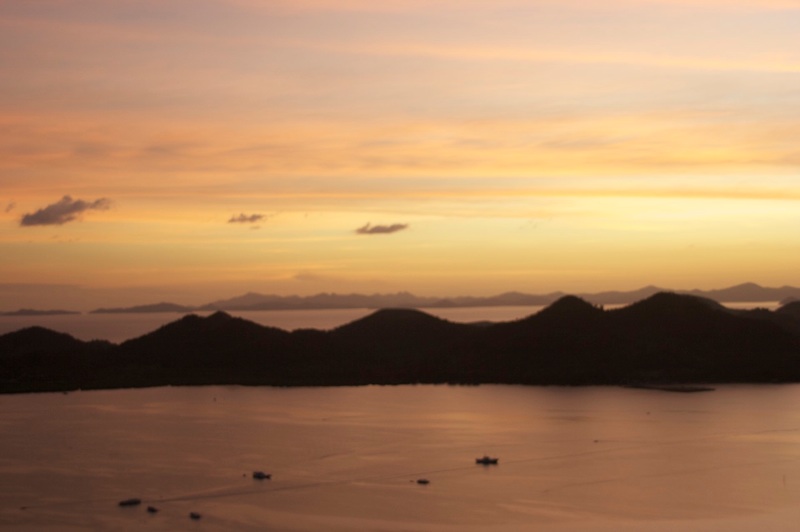 After a deep sleep with earbuds tucked in I'd managed not to notice that our room had a heavy-trafficked road as neighbor, Mirsada had and were fast as a drugged iguana lizard in the morning. After breakfast we headed off to Sea Dive to get an idea what options we had for diving. We pondered pros and cons with a wreck diver speciality course and just fun dives but in the end went with fun dives – if we enjoy it we can take on the speciality course another time.
After an early lunch at Sea Dive we decided to quickly check for alternative accommodation on the way back. Mirsada asked a local vendor and instructed a tricycle to go there. We were dropped off at the base of a huge staircase and after walking for a few minutes pondering whether there really was a hotel at the end I asked Mirsada what the name of the hotel was. Mountain View. I pointed out that perhaps the tricycle driver hadn't understood that we were looking for a hotel but perhaps had drove us to a mountain view. We decided to turn back and got back to our hotel where we at least managed to switch room to one away from the street.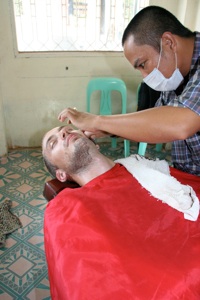 To our surprise we had gotten a response from a reservation in Manilla at Oasis Park Hotel (swimming pool, outside Jacuzzi and wifi) – no ambiguities either! We celebrated this rare event by finding a barber for yours truly, since my trimmer broke down in El Nido I've started on what well could turn out to a fully fledged homeless look. This needed to be remedied by a professional before it got out of hand. I survived the operation and for this we decided to celebrate again, this time with a proper spa. We had a nice detoxing massage at Spa Paradise center – a real massage parlor with soothing music, eucalyptus aroma and flip-flops to borrow. Not bad at all, especially not for 10€ each.
We figured that we would give the Mountain view another try now when we didn't have to bother about a check-out time. After a nice walk we got to the cross, I was tempted to climb it but the awesome sunset got the better of my attention which perhaps was a good thing. After walking down and back to our hotel we headed back to Sea Dive to gear up for tomorrow. Well there we also enjoyed a very tasty three course dinner with steamed Lobster as main dish. Very nice for 5€ each. We postponed the planned hot springs and got back to the hotel for an early night.