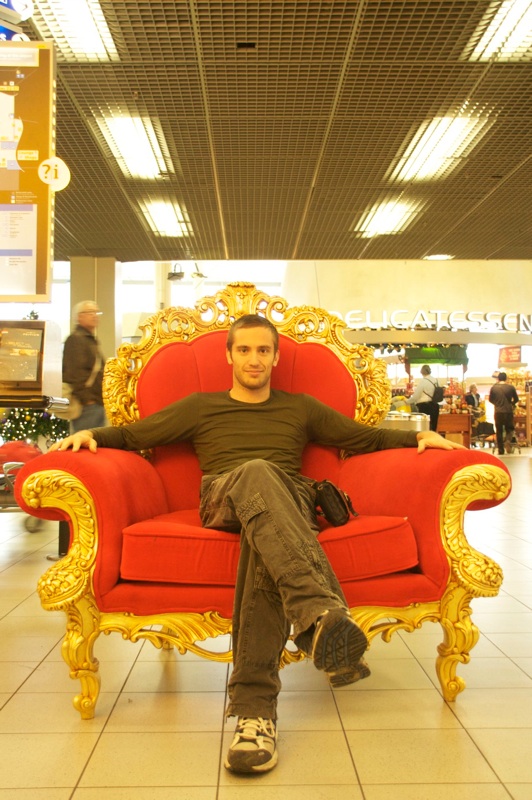 Christmas day started at a few minutes to 04, not by the perhaps more common search for Santa or socket-inspection but rather an alarm. We got a cab and had a chatty driver to Landvetter Airport. First leg was to Schiphol Amsterdam and went like a charm. Now it was only a six hour wait, or so we thought.
The flight was delayed an hour which didn't sound good since the last leg was booked separate which meant no responsibility would be taken by KLM if we missed that connection. Well not much to do, we found two really cozy armchairs and read through most of the time with a pause for some really over-priced-over-rated thai food. While strolling around we also found a awesome chair depicted above. The next time we passed it we saw Santa himself sitting in it with children in a slightly disturbing way.
After the help from a friendly KLM employee we got rather nice seats for the long flight and after finishing the book I was reading, Matter (Ian Banks) I saw Pineapple Express and Be Kind Rewind – which I really can't recommend though. I managed to get some sleep on the floor below the seats and not before long it was morning.
The flight got a little bit more delayed, but we still had a slim chance. Mirsada's luggage appeared alone early which made me think of the return trip from NYC where my luggage was "misplaced". We quickly decided we would meet up in Cebu city if only one of us could make it in time. Thanks to mad ninja skillz I managed to beat Mirsada into the bus (of course we needed to change terminal) despite her head-start.
To our demise we were not able to barge our way through check-in some 20 minutes before take-off, the flight was also overbooked. Damn those KLM bastards. We're now waiting in standby for a later flight but if we don't get that we'll get business class tickets. I guess most my winter vacations start off with a little hassle – and this time I'm not really sure I can blame myself.
I'm writing this from the business lounge in Manilla. After passing some familiar faces from the stand-by line I realized the luxury of consider this a nuisance rather than a show stopper. Another treat was that we no longer had to worry about weight limits since it was tripled. Now it's time to indulge some of the treats provided in the lounge. Hopefully we end up in Cebu tonight, and Malapascua by tomorrow…