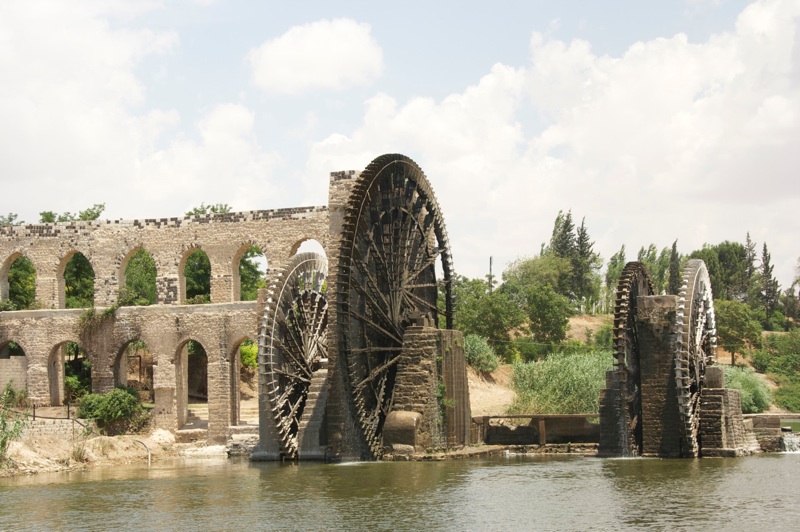 Mirsada did feel better, but not by much, it was still a rather slim diet and frequent bathroom visits. We made a quick visit to the central park a block away and watched some Norias, the large wooden water wheels used to get water into an aqueduct where it then could be used for irrigating the surrounding fields. Quite impressive for being 13th century design.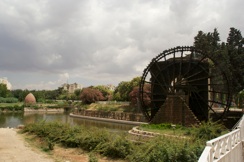 Despite taking it slow and slacking in the shadow, Mirsada was fatigued and we decided that we would book another night in Hama. Possibly leave later in the afternoon but not before noon which was check-out. I went on a stroll to get the time tables for the buses to Damascus as well as check out some more Norias.
After getting another round of rice for Mirsada and a chicken wrap for myself we did some resting at the hotel. Having rested a whole hour after eating with no bathroom visits we decided that it was now or never we should leave for Damascus. The hotel manager did some very friendly handling of our bill since we paid less than the two days and we had also bought food and drinks. If you ever stay in Hama, check out the budget hotel Cairo, nice and clean for a good price!
We got to Damascus without any incidents and bartered for a cab to Al Diwan, the hotel we had thought we would end up at the very first night in Syria. Prices had gone up a bit and the room quality down, we haggled for some time and ended up paying 44 dollars per night. Fair enough. We asked about the laundry service and thought it was a bit expensive but needed to wash clothes so handed them in and went out for a proper meal this time. Before we left we moved the beds together however revealing a not so well cleaned floor, we asked them to vacuum this before we got back.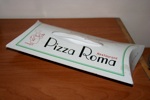 At Pizza Roma I got more cheese than my poor body could handle but I did a brave attempt on the pizza hut clone and considered it a draw. When paying the bill didn't match up and when asking what the items on the bill was we were informed that one of items were apparently napkins. First time I'd seen that one, not that we ordered that or so. Rather than arguing about it, we took the whole box of napkins with us.
After stumbling back crippled by the fat bomb in my stomach we saw some dvd-stands and figured we treat ourselves with another calm night. As we were discussing movies we were approached by a guy, probably in his late teens, who starts a conversation by asking us not to call him stupid in good english but please answer his question. He had a keen interest in my shoulder bag (white one bought in Beijing, with the animal from the anime xxxHolic) and asked if I perhaps had bought this in Syria or if it was from abroad. I told him that it was bought in China and he shrugged and explained that it's very hard to find such stuff here but thanked me for answering before vanishing in the crowd.
Speaking about fashion one thing that's a big difference here in Damascus and the rest of Syria is the Burkhas and head-cloths. I've maybe seen 5 or 10 ladies showing their hair in total earlier and now its maybe 20 in an hour. Some girls also wear make-up, tight jeans and t-shirts. I thought the idea of wearing make-up and covering your hair kind of contradicted each other but apparently not. I guess it's the same thing in any country, people are more aware of other cultures and less conforming to the norms in the major cities or capitals than the less privileged outskirts.
In the elevator back at the hotel there is an older arab man who when we get off asks us in swedish if this was the second or third floor. A quick flashback to what conversation we had in the elevator brought back the memory of me using the always classy and useful phrase "vakôster'u?".
The laundry was already done and we got it back drenched in perfume and with a bill larger than the total for the very nice dinner we had in Aleppo at the posh place. The room was not vacuumed, but before we could complain a bellboy arrived with a broom and tried his best to clean the thick dusty carpet.
We haggled concerning the laundry bill and reduced it a bit but it seems we had misunderstood the prices as well. No big money in the long run but still a bit lame. After watching the movie we were about to hit the sack when we realized that there are no sheets in our beds. We notified the now well-known porter of this and he after some explanations understand what we wanted and gave us sheets. Did I mention that there was no toilet paper before we mentioned this neither? Depending on our laziness we might look up another hotel tomorrow.