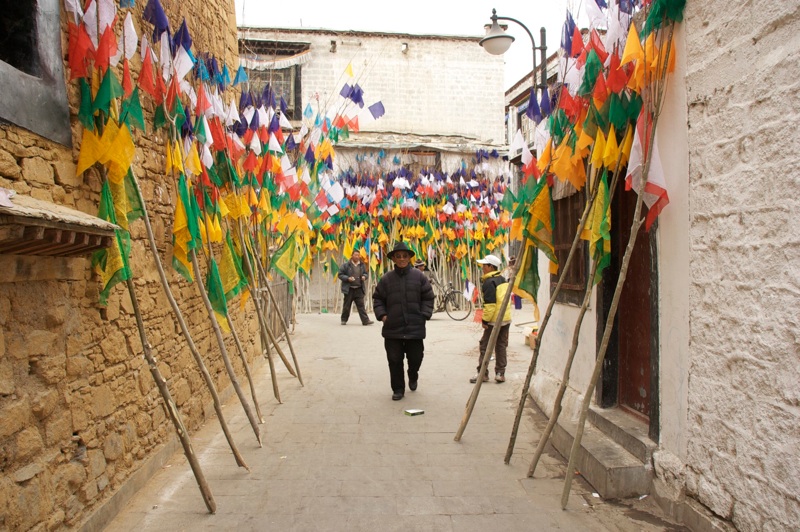 I woke up during the night for due to some retarded chinese couple crying/howling in turns. In addition my body had apparently gotten used to lower temperatures or something since it took some hour to fall asleep again. Next time I woke up by Yoon-Ki knocking at my door, it was time to grab some dumplings for breakfast.
After breakfast Yang and Yoon-Ki would head off to the train station to get tickets, this would take about an hour so I'd chill at the hostel surfing. After about three hours they show up and explain that if they'd know that it would be half the hassle they gladly payed the service fee (1.5 €) I did. It also proved to be a full train so they will leave one day after myself.
Yang had had a laugh when Yoon-Ki was trying to figure out the cost for the bus. Chinese use one hand to count to ten (e.g. six is the thumb right out and the little finger straight out) but Yoon-Ki wasn't sure what the driver was gesturing so he asked repeatedly how much the fare was. The driver kept doing the same gesture with growing frustration and finally a girl behind him explained that she was the one to give money to. The driver had simply gestured "backwards" rather than a count.
Yang, like any lady out traveling it seems, wanted to check out the local markets and bring some souvenirs back home. I knew the streets by know so we took a long stroll near the Barkhor area. Resisting any urges I managed to only buy two pieces of bread that would be nice to have on the train. To listen to two chinese haggling long and well is also something that I've checked on my list, Yang is an awesome haggler but I don't comprehend where she gets the energy for it.
Back to the hostel for some slacking and drop of a bunch of knives Yang had bought. The fare of the bus to the train station was a staggering 0.1 € so I figured I would cancel my booked car from the hostel and save 3.4 €. However the travel agent girl was first busy and then nowhere to be found. Well, not much of a loss anyway.
Dinner at Pentoc again, love those fried noodles with yak meat and vegetables, this time with interesting discussions regarding promiscuity, marriage and other cultural differences. When strolling home I stopped at the supermarket to ensure I would go neither hungry nor thirsty on the train. Back at the hostel Jue-a had dropped of my beanie in the reception, sweet! I spotted the travel agent but didn't have time to ask her to cancel my ride before she apologized herself for not letting me know earlier that she had been unable to set up a car for me. I said I would let it slip for this time and that I probably could make it with the local buses or a taxi.
I was expecting Yang and Yoon-Ki to drop for a last chatting session and was therefore a little surprised when I found two elderly ladies knocking on my door. The wondered with a lovely old british accent if I knew about a chinese girl who supposedly was traveling with a korean and a swedish guy. I explained that I probably was the swedish guy and pointed them to Yang's room.
Next time it was Yoon-Ki and Yang at the door, they explained that the old ladies had been the ones Yang had helped to the hospital for rather bad food poisoning the day before. They had given Yang a bracelet and sincere thanks and also mentioned that they had been unable to sleep this night due to some cats making sounds. It might be that there were no retarded/drunk chinese couple after all.
After some beer and clementines, music lessons by yours truly and a chinese action show we said our goodbyes for this time. I set my alarm rather early since I wanted to catch the bus at 07 and thought that a little more margin than last time wouldn't hurt.