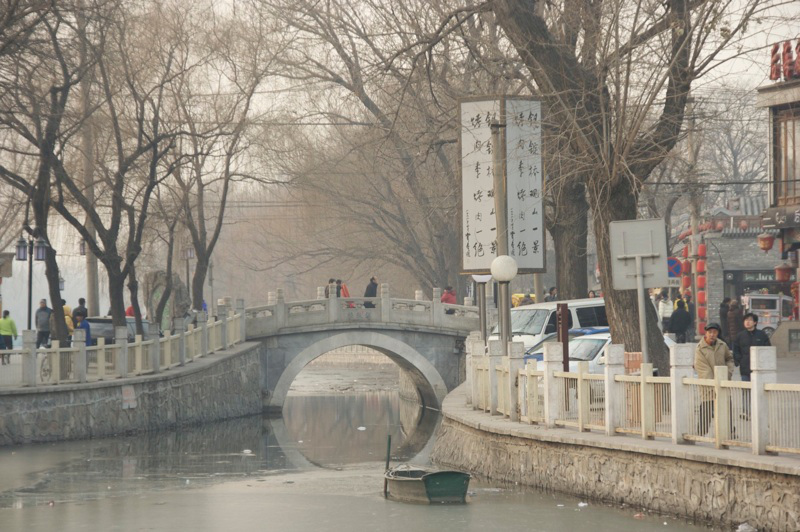 Ulf, Laura and myself planned to get hot-pot for brunch, aimlessly strolling around didn't actually lead us to a hot pot place but at least a local place. I had some sort of noodle soup which tasted sweet and payed 1 € for that, the others didn't have that much luck with their orders though. I guess my karma helps me out now and then.
We bumped into a Dragonfly parlor and decided that we would treat ourselves a massage again. This time I actually got the chinese one when ordering instead of the japanese. They were both nice but I think that the japanese one was the winner of the two. A couple of hours crisp winter walking is just a start for me and Ulf but Laura decided she would join Alex and Helen for a visit to a market.
We felt that we should pay our respect to mammon as well and headed off to a t-shirt store that Rhys and Alex had visited and recommended. We bought some quality t-shirts there, took some photos, bought a few more t-shirts in another store and generally explored the area.
After wandering around for some time, partially searching for a park we ended up in old Beijing (bringing the lonely planet would be cheating so we had no maps) which gave a few real nice photos and interesting buildings. It seemed that quite a lot was being torn down for new skyscrapers though.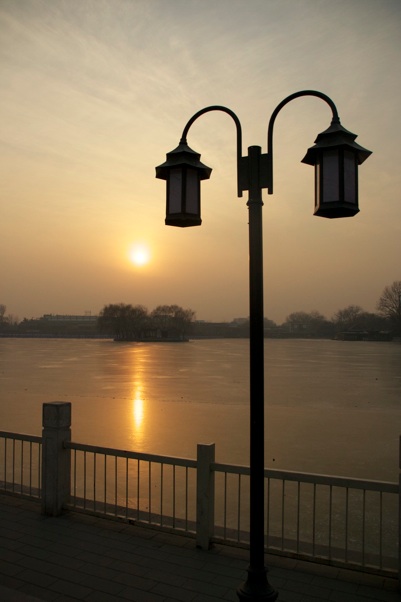 The Beijing weather gradually changed towards our first impressions which in addition to sunset gave a not only pleasant drop in the temperature. We decided that we had enough photos and took a cab back to our quarters. We remembered that we had a lovely hot-pot the first day close by and payed Xaibu Xaibu another visit. Damn sweet and cheap.
Almost back home we did some fitting at Yashow (my two shirts and Ulf's suits+shirts), they had kind of screwed up Ulf's shirts so that had to be redone until tomorrow. My karma ensured that I was done and dusted though. We had planned to eat Beijing Duck before we left and since this would be my last night it was due time.
Laura had picked the place. When entering the door the entire buzzing crowd got quiet and turned their eyes on the foreigners. After a second they resumed their meals and what looked like rather heavy drinking. We were directed to a somewhat secluded part of the restaurant where it was more quiet (still getting looks from the people there though). Just as we were seated someone (a manager?) explained that we should not sit here, instead we got a VIP room with a closed door and a waiter guarding the entrance. Interesting.
We ordered and were told that it would take approximately 40 minutes to roast the duck. Fair enough, we ordered some starters and upon my suggestion we would try out some "Wild Jujubu juice" in addition to beer and a bottle of wine. In came a carton of orange juice, another wine than we ordered and a beer. The duck arrived 5 minutes later to our surprise (not sure I want to know how the managed that). They made a show of cutting up the duck but since they couldn't get everyone inside the VIP room they cut the duck on the outside and had our door open so we could see. Which meant that I saw a whole table looking me in my eyes.
The duck tasted ok, I guess, I really can't tell except that it was plenty of fat on the duck. We then got in plates with meat and what seemed to be liver or heart on a plate. Laura explained that she was not interested in that so me and Ulf took one half each. It was quite hard to eat with chopsticks and the heart/liver was surrounded by a rather hard/crunchy part. Ulf suggested we perhaps should try that too which I of course agreed to, didn't taste that good though. Now what was edible/soft was gone. That's when Ulf said "I see an eye". So the crunchy/hard part was the skull bone of the duck. For the soft parts inside well, I guess it tasted better than expected.
Plenty of wine, dumplings and duck later we were done and the bill ended up at 21 € for all of us, sweet. It was time to get ready for tonight when we was to check out Helen's favorite place, Vics. But not after a cocktail or two at Alfa's who specialized in 80's music. Well, I guess good company evens out bad music, right?
Vics was supposed to have two dance floors we were promised by Helen, one R&B/HipHop which was their main concept and another Techno floor which me and Ulf thought we might escape to when we couldn't stand the hip-hop. There was no Techno-floor. Well, it was better hip-hop than usual and the DJs were quite skilled although the seemed to mess up everything once now and then. I mean having silence gaps between songs is kind of lame when clubbing?
The atmosphere and the people at the club was another interesting subject. Being sober (almost) I saw that a lot of people were drunk as hell, some people I thought only existed in hip-hop movies (and I'm not talking about the girls, but rather humorous bling-bling guys) and of course it was a metal detector at the entrance. All in all it was quite fun though and we didn't get home until past 03.