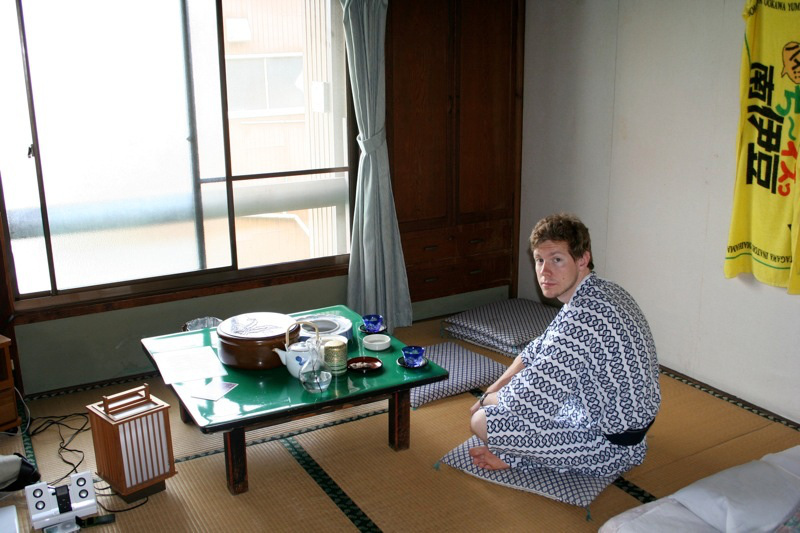 We arrived after 8 transfers, each no longer than a couple of minutes in Fuji. We hit the streets for some warm food. It took quite some time at the place and although the food tasted was good it was probably the worst service we've encountered since we arrived in Japan. We then tried to find an internet café and asked the local geek in a console game store. He was beyond bad in english and couldn't help us, we headed back for the station in order to get some information from the people working there.
Same here, they didn't understand the word Internet (or the word in their language, Internetto) and when we described typing on a computer they said that there were no such place in Fuji. We were also out of power to my laptop so our information was quite limited. We found an unguarded powerpoint at the station and hooked up.
It seems that the city Fuji would have buses to stations for Fuji climbing, right? Well one track starts here, the one with the worst view out of five. We were to head to shin-Fuji instead but for some unholy reason weren't shin-Fuji connected in a way we could grasp to the city Fuji. Then out of nowhere a display showed that trains were leaving for Gotemba in just a few minutes. I recall having read that Gotemba was one of the more suitable starting points for climbing Fuji so we got on to the train.
Ulf then asked me if this was the track most people would take where you could restock supplies and so on on the way. I didn't know, after using the recharged computer we found out that we were on our way to the 'toughest trail' with the lowest starting point. We laughed a bit and thought we would probably use some sleep though. There was of course no internet to be found in Gotemba either, the clock was somewhere between 21 and 22 and the first hotel we checked was measly 8000 yen per single room. Which was out of the question.
That clerk was quite good on english though (mental note; classy hotels have english-speaking personnel) and gave us a map where he pointed out an internet café. We started walking but couldn't quite find the place even with the map. A family with an english speaking father (who later proved to be an english teacher) asked if we were looking for anything. I guess we looked quite lost. He told us that the scale of the map was a bit mean, the internet café was about 5 minutes drive from the spot we were standing at.
He was very helpful when we said we were looking for hotels and phoned the station hotel and asked for price and rooms, a twin room for 12600 yen. This was a last alternative but still way to expensive, we just needed somewhere to crash. He then suggested we try an japanese inn, ryokan, just around the corner and walked us there and we could get a room for 9000 yen japanese style. Not cheap but it was our best alternative so far and we hadn't checked out any ryokan so we decided it would do for the night. He also explained that this week was a national holiday in Japan and most families were out traveling, which I also recall I read somewhere when he mentioned it.
The place had a japanese bath which was really nice after last night's sleep outside the station and the room was spacious and we could charge all of our gadgets. After check-out the following day we will strolled the city in search for internet, food and useful information about mount Fuji. It was quite cold when we got here (25° said a display) and the hikers we saw where wearing winter clothing including gloves and beanies, our gear will probably be our running equipment and some thicker hoodie added to that. We also read that bringing a couple or liters of water each is a very good idea as well, and of course the camera. We are planning to climb Fuji tonight (usually you climb it during the night in order to see the sunrise from it's peak) and then possibly head back to civilization, err I mean Tokyo.