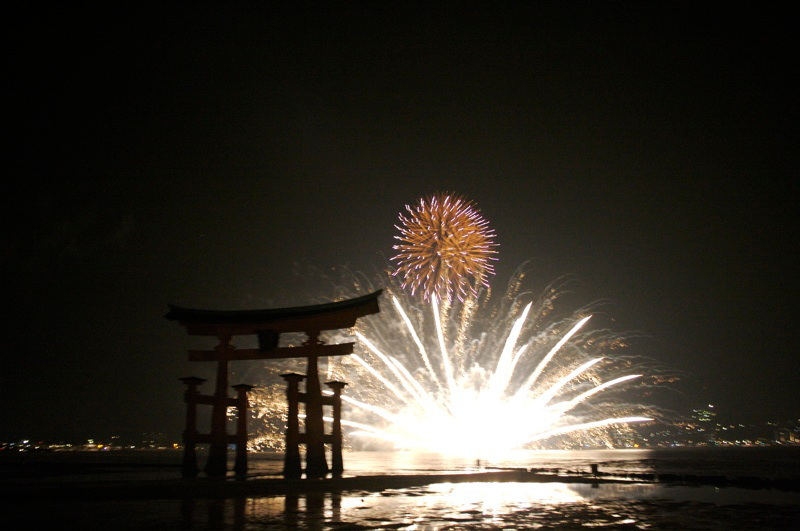 After the Hiroshima Peace Memorial we discussed where to go next, go for Fuji, check out Miyajima or something else? We had stamps on our Seishun 18 card in abundance so we decided we should check how often the transports left for Miyajima from Hiroshima stations. The next stop was in a few minutes, no need to hesitate and off we went.
It was pretty crowded on the train and when we got to the ferry port there were people everywhere. A quick check at some tourist information showed us that each year the 14th of August there is a grand display of fireworks and this was a very popular event for locals as well as tourists. Again, lady Fortune rewarded her brave disciples.
There were groups of young japanese students on holidays, young pairs wearing kimonos all over the place as well as families with children. The island wasn't big in any sense, I would estimate the amount of people somewhere above 100 000 and the area a little smaller than Roskilde including camping. It felt like being at a huge concert. We grabbed some food and went looking for a view that was considered to be one of the three best in Japan. We got there after some struggling in the crowds and got a really good spot.
Then the fireworks begun. I tried to capture some of with my camera but I guess the pictures doesn't justify the reality. It was really nice and beatiful, a nice change from the feelings from Hiroshima.The fireworks just kept coming and after almost an hour we thought we go back to the ferry port.
There was some beach located nearby and I just couldn't let this chance of swimming naked in Japan slip through my fingers. Said and done. We found a secluded area and I jumped into the water. It was nice although I guess we didn't found the actual beach but rather some piece of sand since it was a bit dirty. I of course cut my foot on some rocks on the way up, not bad though.
The trip back to Hiroshima took a little longer since now the fireworks had actually ended and all those people just had to leave at the same time. Back at Hiroshima station we decided that the splurge yesterday at the hotel called for a sleep outside the station homeless-style again in order to correct or budget as well as avoid getting soft 😉
We luckily removed our luggage from the coin lockers just before 24 to change some clothing. When we went back in order to put the stuff back we couldn't get in, which meant we had to sleep with our stuff unprotected. On the other hand, the situation that finding out 15 minutes before the train at 05:53 towards Fuji leaves that we can't get our luggage seemed even less desirable so we considered it to be a good thing that we had our luggage at hand.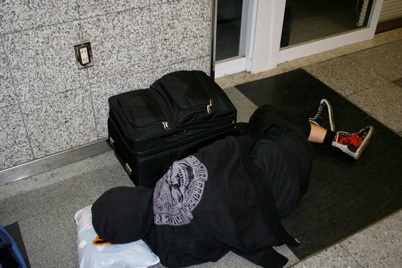 I slept like a baby but Ulf couldn't quite let it go with the homeless and yakuza-wannabes scouting our sleeping spot now and then. Some conversation took place where it seemed some local homeless guy explained that we could sleep in the same place as the rest of the gang but Ulf kindly declined.
I woke up by some puppy that tried to lick me. Ulf had to stop me from transforming the creature to a bloody pulp since I was more sleeping than awake and tried to defend me from this beast. When the sleep was leaving and I stood up ready to defend myself I realized that the beast wasn't that big and according to Ulf quite cute, for a dog. Still I simply don't get what's the problem with dog owners who let their dogs walk around without a leach.
We are currently on the local trains again heading towards Fuji. We will see what we do there, perhaps a good sleep before climbing old Fuji would be nice. But then again, we could sleep on Mount Fuji instead. I guess we will see, we have done 3 of the 8 transfers now and it's not much more than 9 hours left of the 12 hours we started with…